Along with the tradition of summer Consensus Rankings, I usually wrap up pre-draft coverage with a few capsules summarizing my own go at the boards, gathering a few names as virtual Scouting Director, suggesting what direction I might go if I controlled the Angels draft room. I'm often quite a world apart from the Angels' preferences, but can converge now and then, like in 2017, when Jo Adell and Griffin Canning were both top of my first round board, and the Angels nabbed both, or in 2020, when the obvious first round target was Reid Detmers, and the Angels didn't miss.
Other times, we're clearly not on the same page. I'm an infrequent horn-tooter, but I do like my track record over the past half decade or so, particularly in 2016, when the available players at the top of my boards in rounds 1, 2, and 3 were Bryan Reynolds, Akil Baddoo and Corbin Burnes: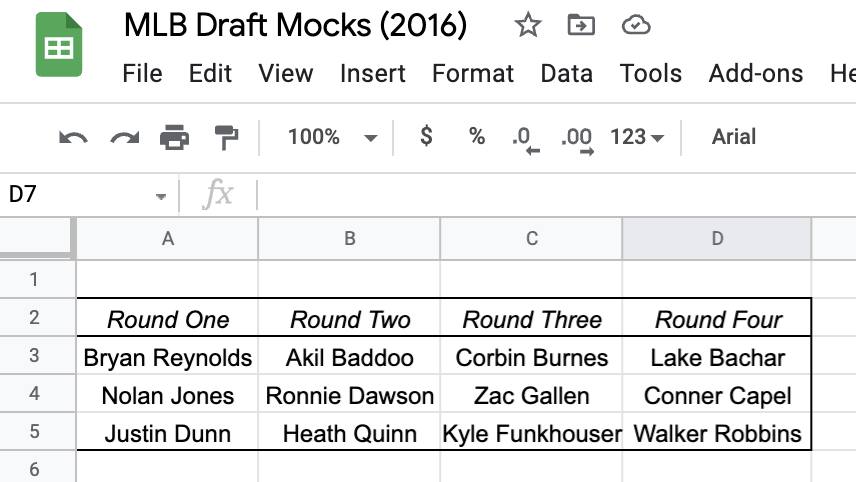 That's about a 13+ WAR deviation from the Angels' trio of Thaiss, Marsh and Nonie Williams – and Reynolds feels the most prescient, as he fell (perplexingly) to the 59th pick. We'd have quite a different OF look with Reynolds and Baddoo out there today, and one of Burnes or Gallen in the rotation.
That was a rare draft that I didn't bias toward pitching, and since that time, I haven't been shy about being pitching-first year after year in strategy.
And this year's no different. This organization quails from any significant free agent pitching acquisitions, yet it has missed the postseason for six years for lack for it. It simply must draft and develop impact pitching. There's simply no good reason to draft prep position players in the first round this year, and no reason not to bias toward pitching with the top 200 picks or so.
The risk of doing so is actually pretty low. One, the Angels have been doing a decent job of collecting some young positional talent through international scouting and drafting. Three of the organization's top seven prospects (Arol Vera, Adrian Placencia, Alexander Ramirez) are recent Latin signs, and they are showing well in the early going in the ACL Complex League. Two, as the draft has shortened (it's 20 rounds now), more positional talent will be acquired outside the draft through minor league free agency, and the Angels have shown some aptitude for finding some jewels in the rough (like 23-year-old Izzy Wilson with 14 HRs and 15 SBs in AA). And lastly, the 2021 draft class is one of the deeper in prep positional talent in some years, so there are potential finds to be had in rounds 6-20 across the nation.
So it's not like a draft or two that leads with college arms is going to create unaddressable gaps at the lower levels of the pipeline. Those exist already, particularly in the A/A+ pitching pipeline. So let's fix it boys – there's a backlog of college pitchers after the abbreviated 2020 draft, so let's restock.
Instead of just putting up a list of targetable players in the Angels' "zone of opportunity" for each of the opening rounds, as I've done in years past, I thought if might be more amusing to imagine a few dream draft classes, and see how players might fit together in a portfolio approach in the top three to six rounds. Each example reflects some of my draft class favorites, but also suggests a counter-case to the Angels' drafting pattern of late.
Dream on, DJs and selectors!
---
1. "KC (2018) and the Sunshine Band"
(Rd 4-6: Brendan Beck, Reed Trimble, Braden Olthoff)
---
This is the high-floor, high-probability pitching-forward draft. I do think it may be my favorite.
Modeled on the year 2018, where the Royals, looking at those cockeyed sloganeers who crow "don't draft from need" every summer right in the face, said, point-blank: Bullshit.
Kansas City needed pitching, needed it soon, and they proceeded to draft four college pitchers in a row, and with five of their first six picks (the only exception was a college hitter). To date, five of those six players have already cracked the Majors, and KC's draft was unambiguously the best of that year thus far.
I loved watching it unfold in real-time every bit as much as I disliked the Angels' draft of that year in contrast, where they front-loaded extremely high risk prep talent, and backloaded the later rounds with fringier college arms with likely relief profiles.
They should have flipped the script. When the Angels selected a wide receiver in Jordyn Adams (ranked 45 on the Baseball America board) at #17, the second-best college pitcher in the nation in Brady Singer (BA Rank: #4) was still on the board, as was the third best college pitcher in Shane McClanahan (BA Rank: #8). Hell, the fourth-ranked college pitcher, Jackson Kowar, slot-appropriate at BA rank #17, was still on the board.
KC would go on to sign both Singer and Kowar, and Tampa Bay would draft McClanahan. The signing bonuses for Kowar and McClanahan were half that of Jordyn Adams' and Singer's and Adams' bonuses were nearly identical, so this wasn't a cost-savings move. Today, all three college pitchers have made the MLB, Singer and McClanahan have proved their top-ten rankings by being among the top ten WAR leaders from the first round, and Jordyn Adams is struggling in High A ball to the tune of a .177/.258/.278 slash line, with a strikeout rate of 36%. (We wish him the best.)
Let's call this what it was: arrogance and stupidity. The Eppler/Swanson draft room felt it had out-thunk the competition, and despite owning a farm system universally regarded as one of the most pitching-poor in the sport, they prioritized athletic position players with iffy baseball track records on the premise that the Angels' developmental system was top-notch and transformative. It's not – its recent track record is in fact pretty poor, in fact. They needed a Kansas City 2018 draft, and they punted (even as they paid Adams a comically high ransom of $4.1M for the privilege of being drafted well above his station).
So here it is – instead of two turntables and a microphone, I give you five college pitchers and an out-field-er. Wicks, Smith, Burke and Beck all have plausible mid-rotation upside, Olthoff is a control specialist who might just work as a backend/depth starter, and Trimble is a well-rounded switch-hitting outfielder with wheels, and very few holes in his game, who seems like a fourth outfielder at his floor.
Thanks for the inspiration, KC.
---
2. "Catch a Falling Star"
(Rd 4-6: Isaiah Thomas, Kevin Abel, Nick Nastrini)
---
Good luck comes to those who wait?
This is the most improbable of dreams, but every draft sees a number of former mock draft heroes slide down the boards, due to panic and anxiety, signability issues, rumors of poor medicals, bad model inputs or rough performances down the stretch. So it's not inconceivable that certain coveted players may fall a few slots, or even a round or two, due to present tense concerns. Rocker, Jackson Jobe and Brady House are among the potential sliders this draft.
Kumar Rocker specifically has been rumored for a few weeks to be potentially slipping into the 7-to-11 zone, though many speculate the pitching-conscious Royals will again stop his fall at #7. And they just might.
He's still at the top of my round one board, though, as I think the downside case for him is as a #4 pitcher, and the upside case is an ace unlike the Angels have had in decades. Despite some inconsistent velocity and rough outings down the stretch, his overall record is superlative. Even at reduced velocity, his slider is plus-plus, and he has four pitches at his disposal that allow for a range of possibilities, from mid-rotation starter to late-inning weapon. He'll move fast, and add value somewhere.
Jaden Hill was a potential top-ten selection, arguably one of the top three college arms in the draft, until his own suffered the all-to-common snap of fate, and he succumbed to TJ. Now many view him as a supplemental rounder, but can he make it to the Angels at #45, as Griffin Canning did in 2017 at #47? He had one of the best changeups in the draft class to go along with a high-90s fastball that makes both a #2 starter and a high-leverage late innings power reliever potential futures for the 6'4″ righty should he recover on schedule in 2022.
Possessing both the young age and impeccable bat control that make for a model-driven organizations' darling, John Rhodes was unstoppable last season (.426/.485/.672 with 10 doubles in 17 games as a freshman), but his hit tool withered this season and he skidded into a real dry spell in 2021 that seemed as much mental as anything. That, and the lack of a fixed position (he plays seven) had him slipping from second round chatter to 4th-6th round in many estimates. He still remains a divisive prospect, but one with an impressive speed/power profile and a comparatively long (for a 20-year-old) track record of success spanning three schools and the Cape Cod League. He's someone likely to pop-up to an analytics-oriented draft room in round three-ish, and here he falls to the Angels' glove.
Isaiah Thomas is another guy who could easily be selected in round three or just north of that. He was one of the Vanderbilt heroes during the CWS, and he's a grinder to be sure, but a K rate north of 25% and a BB rate south of 4% spooks many draft rooms, and is why a kid with a great college track record of run production finds himself in the 90-100 range in many talent rankings. Here he falls to the Angels at #110 – good value despite the alarming K:BB ratio.
Kevin Abel was Freshman of the Year at Oregon State in 2018, but injuries and accompanying reduced velocity and control seeded doubts and has him slipping back later into the top ten rounds in many estimates. He's still a mound warrior with plus secondaries, so there's upside here if the velocity can become even just average again.
Nick Nastrini is another slider – a former UCLA rotation piece who has transitioned to a bullpen role after thoracic outlet syndrome and command issues shut him down last year. But Justin Choi of Fangraphs notes his advanced secondaries and extreme vertical break on his changeup as under the radar resources that could point to future success in either the bullpen or the rotation, if he can stay healthy. It may be a stretch to think he'll survive on the boards until the Angels pick at #170 in round six, but this is the "falling star" draft, and there's an asterisk in every mitt.
---
3. "A Balanced Portfolio"
(Rd 4-6: Justice Thompson, Andrew Walling, Seth Stephenson)
---
In which, through asset diversification, we capture upside, minimize downside, and distribute risk and ROI effectively.
There's a lot of risk in taking a prep righthander with a top ten draft pick. The historical washouts are legion – but there are many exceptions, and it's no given that a potential unicorn like Jobe falls to the side with all the other broken dolls with broken arms that litter the landscape of young first round draftees. Already, Ian Anderson and Matt Manning, both chosen in the top ten selections of the 2016 draft, have already cracked the MLB, ahead or, or on the same schedule as, college performers like A.J. Puk and Cal Quantrill. Sometimes the talent will simply persist and have out.
But it's still a risky gambit. So if Jackson Jobe is not the Tigers' selection at #3, he may fall to #9, and in this scenario, we manage that risk by creating the most balanced group of six we can – three arms, three bats, mix of prep, JC and college, righties, lefties, speed, power, hit, defense. Frankly the sort of smart, coherent drafting you'd like to see the Angels do more of, especially now in a contracted draft scenario where 20 picks are all you get.
What can we say about Jobe? I think the smart kids over at Lookout Landing said it best: "Jackson Jobe, my friends, is different." I won't summarize his four-pitch mix and elite spin here – you can read about it in the article above – but he's the very rare prep arm I've been open to expend a first round draft pick on. He may be the best prep arm, and the furthest along in his development, in the past three or four years.
But because even Jobe is a very big risk, we balance out the big prep righty with a high-floor college lefty in Ky Bush. Bush may be at the top of my second round board, as he's a rare southpaw power pitcher, huge at 6'6″ and carrying mid-90s heat along with a plus slider and developing curve and change. Bush himself is a diversified asset, as advancement in his four pitch mix could make him a #3 in a rotation, or his upscale velocity could hit triple digits in the pen. A favorite of mine, to be sure.
Christian Franklin gives the Angels a fast mover and an advanced, well-rounded college bat to provide some high floor offense with a 4th OF foundation, and maybe more. His plate discipline is good, he has above-average power, and the speed/defense to play all three OF positions. His 2021 K% was high, which is why I have him slipping to the Angels in the early third round here.
I follow up Franklin with another college performer with a lesser hit tool, but a wheels-first speed/defense profile that the Angels tend to like. And what a baseball name: Justice Thompson! If he's not the next Captain America, maybe he'll get eventually get a bench slot in the American League.
Andrew Walling is a junior college lefty from Garrett Richards' old geography (Oklahoma). Like early Richards, he's a little raw, and needs to improve his command, but he has a plus FB-slider combo with above-average velocity, and the potential to develop a full four pitch repertory with legit starter upside.
Seth Stephenson is all speed. The fastest runner in the draft. Undersized super-ute currently on the dirt at shortstop, he's a Fletcher-like contact-first guy who might be a steal in the sixth round like Fletch was before him.
---
4. "Save it for the children!"
(Rd 4-6: Steven Hajjar, Ian Moller, Rodney Boone)
---
This is the pay-it-forward draft, where the Angels negotiate a discount with a mid/late round college arm, and use the proceeds to pay a couple high-ceiling prepsters with college commits.
Three upside prepsters here at #2, 3 and 5.
Montgomery is a two-way riser with a Stanford commitment. He hit 96 mph on the mound while hitting .476 in his senior year. The Angels have a mixed record with two-way prep players (think Kaleb Cowart on the downside), but Montgomery otherwise seems like the sort of player the front office likes (along with likely second-rounder RHP/SS Spencer Schwellenbach). The Angels are even name-checked in this profile of Montgomery, who'll need a decent check to forego college.
Michael Morales is a three-pitch prep RHP with a 93-94 FB and a good feel for pitching. He's a Vanderbilt commit, so again, the Angels will have to shift cash to make it work. Good command profile, plus curve. Lot to work with if the Angels can learn to develop young pitching.
The third prep piece is high school catcher Ian Moller, one of the best prep hitters out of Iowa. Inconsistent performances on the showcase circuit has him dropping into the 4-8 round territory. Very athletic for a catcher and power-oriented, he probably has a long development arc ahead of him, but the Angels need upside catchers in their system, and Moller is that.
To pay for these youngsters, we focus on three college arms, a righty and two lefties, who are more floor than ceiling, but have records of performance and still projection to come. I've written about McGreevy this week, and what I really like about him. Elite command, 93-96 mph FB with sync, good secondaries in a four-pitch mix. I think he's way underrated.
To McGreevy, we add his Gaucho rotation-mate Rodney Boone, a low velocity lefty, strike-thrower, good command, plus changeup. Backend starter profile. Lastly, there's Michigan lefty Steven Hajjar. Big at 6'5″, three pitches, more velocity than Boone, good deception. Another backend starter profile.
In this scenario, the ceiling is with the youth (though I think McGreevy has sneaky upside, and will surprise in time), but those youth could fortify a pitching-catching pipeline that is thin at the bottom. This is my riskiest scenario, but it's the outside play.
---
5. "We'll always have the 'pen…what a relief!"
(Rd 4-6: Dom Hamel, Dylan Ross, Mack Anglin)
---
A variation of the #1 pitching-forward scenario where the downside isn't depth-starter-dom, it's relief risk.
Five pitchers and a two-way guy in Ross replicate the Kansas City strategy, but here we lead with big tools. Bachman and Cusick are known for their 70-grade fastballs and high-90s heat, and Bachman pairs that with one of the filthiest sliders in the draft. Cusick's best secondary is his curve, but his high spin rates give him something to work with that may defeat the perception that he is likely a power reliever in the final estimate. Joe Rock, meanwhile, is hulking lefty with a power breaker and a lot of funk. His starter potential will live and die on his command, which has come and gone and come again over his amateur career, but if it fails him, he has the FB velocity and breaker to work as a long lefty reliever out of the 'pen.
Hamel and Ross have excellent fastballs, but get dinged on boards for their iffy secondaries. But Choi again points us to some of the upside with Dom Hamel in this piece, suggesting fourth starter plausibility. Mack Anglin, aside from having one of badass-est names in the draft (Mack the Shark, Mack the Knife!), does indeed have weird arm angles and a habit of tipping pitches, but his best-in-class spin rates and 65-grade curve/slider combo with delicious horizontal break makes him a tantalizing bet.
---
"6. Pop-Ups and Dangerous Strangers"
(Rd. 4-6: Will Frisch, Calvin Ziegler, Kobe Kato)
---
This is the recency-bias draft, for the new kids in town, who, like the mysterious foreign exchange student who arrived on the scene with all the cool spilling out of his backpack, who seems to do everything right, dazzles the imagination with so much future opportunity, what can you do? Well, load 'em up. These are guys who popped up this season, had amazing 2021s, but puzzle scouts and analysts a bit as to whether they can repeat it over the long haul.
Gavin Williams caught everyone's attention with triple-digit heat and a plus curve/change at Eastern Carolina. Athletic, strong, strapping at 6'6″ and with the fifth highest strikeout rate in Division I ball this year, the kids just don't know what to do. It's all so new.
I was tempted to place Robert Gasser, from Houston, in the final scenario, as he caught the attention this year only when we outdueled Ty Madden before a large crowd. I like Gasser a lot – lefty with a velocity increase in 2021, and a sterling junior college record (14-0 at Delta JC, with a 2.38 ERA). He's still a work in progress, but everything is moving in the right direction.
Jose Torres is a no-doubt shortstop who saw a surprising power boost in 2021 with North Carolina State, after being known more of a hit-first guy previously. He's like Will Wilson on the cheap, but can actually play defense at a key position.
LHP Frisch only pitched ten innings at Oregon State in 2020, but came on strong this season with an impressive fastball-changeup pair, but his lack of track record and sophomore status may impact his signability. That cool foreign exchange student thing again – so friggin' aloof!
RHP Ziegler is a Canadian high schooler – of course no one knows him! But Baseball America had a sweet piece on him in March. Touches 97, big 12-6 spike curveball, developing change.
Kobe Kato is another contact-oriented mighty mouse, here a sixth-rounder in the Fletcher mold again. He was a Longenhagen call-out in this piece, much referenced here.
---
"7. "Just do it…dammit!"
(Rd 4-6: Reed Trimble, Dylan Ross, Andrew Walling)
Wherein we don't mess around, and just go for three big college performers and then mix and match in rounds 4-6 from my favorites in other scenarios.
Madden needs no introduction – he's the favorite of Angels' fans, and a tough Texan who may follow John Lackey in helping anchor the frontend of a future Angels rotation with his traditional FB/slider mix. One can dream, even if I think he's probably more of a mid-rotation guy or late reliever when all is said and done, in dreams we do succeed, no?
Andrew Abbott balances out the college mix as a LHP, Virginia's Friday night starter with a 60-grade fastball and a 13.5 K/9 on the season. Inconsistent velocity on the main pitch, but a lot of late riding life that makes it effective as a swing-and-miss weapon. The Angels have been having a lot of success with undersized lefties with pitchability and improving secondaries, so I like the prospect for Abbott's success in the organization.
Zavala is an Oregon lefty outfielder with off-the-charts plate discipline. .493 OBP in 2020, followed up by a .525 OBP in 2021. Big hit tool, solid barrels, but uncertain power profile. Solid speed, but a weak arm may limit him to LF or a place on the dirt. But this level of contact and plate intelligence is hard to find. Big fan.
For the others – Trimble, Ross, Walling – see above. Another switch-hitting high-floor outfielder in Trimble, and two JuCo pitchers, a righty and lefty, both with starter upside and soft landings in the bullpen. I'd be ecstatic with this draft, much as I would be with #1-3 up at the top.
---
Well, then. That's a lot of dreamin' from Southern California this weekend. Surely there's something good that might happen when we rub the genie's lamp, no? Uh…no?
Here's hoping Perry's geni(us) is benevolent.