Angels (10-10) @ Rangers (9-13)
Let's take a quick look since the last time we played this team…last week.

We've slipped a little in our playoff odds due to lackluster performances against Texas and Houston, and the odds of the Rangers have remained about the same, at barely anything.
This series features three 5 pm Pacific starts from Monday through Wednesday.
Rangers Lineup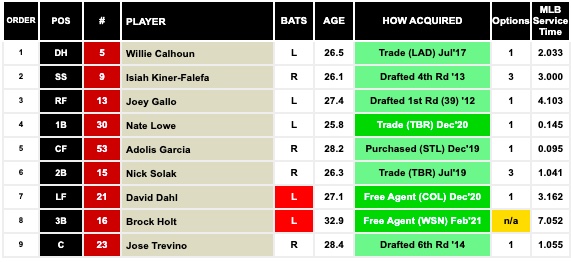 From Last Week (LW): "Isiah Kiner-Falefa leads off at shortstop. He is most well-known for playing great defense at third base and, well, getting mad at Fangraphs for projecting Texas's shortstop position to be last in fWAR. Currently, he's slashing .219/.265/.344/.608, so I'm not sure if he's made his case yet or not."
Kiner-Falefa has 10 hits in the past week (nine singles, one triple), raising his OPS+ to 86. He arguably got a promotion in the lineup, sliding from leadoff to second, the most important lineup role. He is currently leading the Majors in plate appearances.
LW: "Willie Calhoun, the DH, is returning from a groin injury, and he claims he's ready to "beat the shift." The Angels should watch out if that is the case, because gifting the Rangers baserunners is the last thing we want."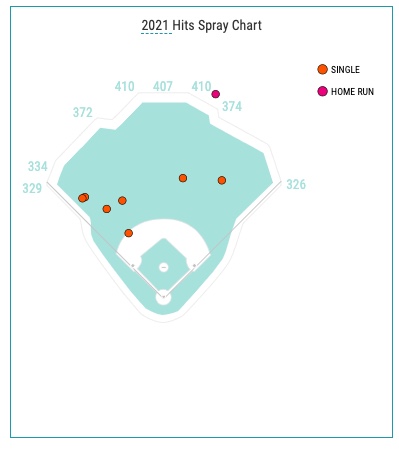 Verdict: Yes. He has been beating the shift. I hope the Angels take this data into account when planning for the three-game set. Calhoun is now hitting .333/.429/.458/.887 on the season, a very good mark for a leadoff hitter.
LW: "The next three spots are occupied by the sluggers in the lineup: Nate Lowe, Joey Gallo, and David Dahl. Lowe, at first base, was acquired over the offseason from the Tampa Bay Rays, and it's common knowledge what generally happens when a team trades with the Rays. To his credit, he's slugging a fair amount and has popped five home runs. We'll see if the trend continues. Gallo is the best player on the Rangers, and he's doing his usual thing (15 walks and 18 strikeouts in 15 games), except the power hasn't been there. His .453 OBP is elite, but let's hope he holds off on finding his home run stroke until after the three-game set. Finally, Dahl, who mans the other corner outfield spot, was expected to provide some spark after Texas signed him this offseason, but he has slumped to a .555 OPS so far."
Gallo still has not found his power, which is deflating his slugging percentage. His OBP is still a cool .444, but without the power, he is not nearly as fearsome the hitter as he has been the past few seasons. As it's unlikely that his power magically disappeared, Angels pitching should still be wary.
Lowe had a good week, bumping his season OPS up to .827. He, like Gallo, strikes out a lot, but he makes up for it with his .351 OBP. I would basically say he is Gallo-lite (the real Gallo, not the facsimile that we have seen thus far in 2021).
Dahl may be in danger of losing his starting spot.
We all remember Adolis García. Hot on the heels of a four home run week, including two against the Angels, García wrestled the starting center field job away from Leody Taveras, who has been demoted. We will see if García continues terrorizing the Angels in Arlington.
Probable Pitchers

LW: "The Angels are also familiar with Jordan Lyles and his penchant for giving up hits. Lyles has put together a stable career, spanning eleven seasons, but his rWAR tally over that stretch is -1.9. He's a guy who seems to have been rotation filler on a lot of bad teams, be they Houston (when they were bad), Colorado (they always need pitching), San Diego (before Slam Diego), Pittsburgh (self-explanatory), Milwaukee, or now, Texas. Lyles owns a career 5.21 ERA with a 1.44 WHIP, which seems below-average for a starter. Hopefully the Angels feast."
In actuality, the Angels only scored three runs off Lyles in six innings, but thanks to Shohei Ohtani's tightrope walking, the Angels came away with the win in that game. Because the hitters just saw Lyles, hopefully the result today is better.
Ohtani flashed his potential last week against the Rangers, and he gets the same team this week. Somehow he survived four scoreless innings, striking out seven and walking six. He didn't have the fastball command, but he got Texas to flail at the offspeed stuff. It's likely he'll need the fastball to be successful today.
LW: "Mike Foltynewicz has not been able to replicate his All-Star 2018 campaign, when he finished 8th in the NL Cy Young voting. His peripherals largely remained the same, but his hits allowed drastically decreased to the tune of a 6.4 H/9, which suggests that the season is an extreme outlier. As much as it's 2021 and win-loss record doesn't matter, it's fun to see 0-3 and black italics in the loss column next to Foltynewicz's name on Baseball Reference and hope we make it four on Wednesday. It'll be a day game and Foltynewicz is extremely prone to the long ball, so hopefully the Angels carry some momentum with them into Houston. The biggest thing Foltynewicz has going for him is that he faces José Quintana."
Foltynewicz also allowed just three runs in six innings. This was the infamous "Mike Mayers on back-to-back days" game, as he allowed some key runs to Texas that put the game out of reach for the Angels. Quintana pitched well, striking out eight and allowing just one run in five innings, and he will look to duplicate that performance Tuesday.
Wednesday the Angels will see Dane Dunning, a sinkerball pitcher who barely tops out at 90 mph. He also likes to throw his slider, and to a lesser extent, a changeup, cutter, and curveball. Sinkerball hitters like Mike Trout should fare well against Dunning. He faces Alex Cobb, who didn't seem to be able to hit his spots against Houston but didn't pitch as badly as his line showed due to some poor defense on the part of the Angels. Hopefully he will have Anthony Rendon and Max Stassi back on Wednesday to cleanly field some of the groundballs he allows.
Series Prediction
The Angels will be looking to bounce back after a bad Houston series. With a big part of the offense back, hopefully they can right the ship and sweep the Rangers. Thoughts?
(Title photo from Willie Calhoun's Twitter)