Rangers (7-9) @ Angels (8-5)
The Rangers enter town to play the Angels for the first time this season with a Jeff Fisher record. Because of their unspectacular start and overall profile, Fangraphs doesn't think much of their chances to make the playoffs.

As of today, the Rangers enter the series with the worst team OPS in all of baseball (tied with the Yankees, of all teams!). While they certainly have some nice pieces, both on the mound and in the lineup, the supporting cast of this team is severely lacking and should hold them back this season.
This series will feature 6:30 pm starts on Monday and Tuesday, followed by a getaway 1 pm start on Wednesday.
Rangers Lineup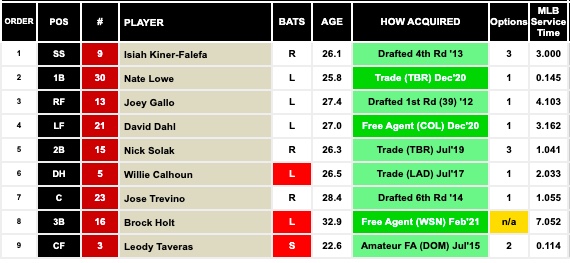 The offense of the Rangers has been abysmal thus far—so much so, in fact, that if certain Angels pitchers don't have good outings this weekstart, I won't hold out much hope for them the rest of the way.
Isiah Kiner-Falefa leads off at shortstop. He is most well-known for playing great defense at third base and, well, getting mad at Fangraphs for projecting Texas's shortstop position to be last in fWAR. Currently, he's slashing .219/.265/.344/.608, so I'm not sure if he's made his case yet or not.
The next three spots are occupied by the sluggers in the lineup: Nate Lowe, Joey Gallo, and David Dahl. Lowe, at first base, was acquired over the offseason from the Tampa Bay Rays, and it's common knowledge what generally happens when a team trades with the Rays. To his credit, he's slugging a fair amount and has popped five home runs. We'll see if the trend continues. Gallo is the best player on the Rangers, and he's doing his usual thing (15 walks and 18 strikeouts in 15 games), except the power hasn't been there. His .453 OBP is elite, but let's hope he holds off on finding his home run stroke until after the three-game set. Finally, Dahl, who mans the other corner outfield spot, was expected to provide some spark after Texas signed him this offseason, but he has slumped to a .555 OPS so far.
Willie Calhoun, the DH, is returning from a groin injury, and he claims he's ready to "beat the shift." The Angels should watch out if that is the case, because gifting the Rangers baserunners is the last thing we want. Jose Trevino is in a catching timeshare with Jonah Heim, and while the former gets the majority of starts, neither is particularly spectacular with the bat. Brock Holt, the Boston fan favorite, plays third, and Leody Taveras, he of the .098/.140/.098/.237 slash line, mans center (so you just know he's going to go off).
Probable Pitchers
Once again, the Angels avoid who I personally think are the top two starters on the Rangers: Kyle Gibson and Dane Dunning.
Kohei Arihara is spending his first year in the Majors after coming over from Nippon Ham. In 2019, he pitched 164 innings with a remarkable 2.46 ERA and a 0.92 WHIP in the NPB. Baseball Savant mentions that he throws a variety of pitches, including a fastball, sinker, slider, changeup, cutter, split finger, and curveball, although the latter two he rarely throws. Hitters are slugging 1.400 off his fastball through his starts in 2021, and he throws it 30% of the time, so the Angels should be on the lookout for that. According to Longenhagen, Arihara is about a 1.0-1.5 win player. Hopefully the infamous "Cy Rookie" effect doesn't bite the Halos here. He faces Dylan Bundy, who, objectively, is awesome.
The Angels are also familiar with Jordan Lyles and his penchant for giving up hits. Lyles has put together a stable career, spanning eleven seasons, but his rWAR tally over that stretch is -1.9. He's a guy who seems to have been rotation filler on a lot of bad teams, be they Houston (when they were bad), Colorado (they always need pitching), San Diego (before Slam Diego), Pittsburgh (self-explanatory), Milwaukee, or now, Texas. Lyles owns a career 5.21 ERA with a 1.44 WHIP, which seems below-average for a starter. Hopefully the Angels feast. He is opposed by Shohei Ohtani, who will probably only pitch three-or-so innings in his return to the bump.
Mike Foltynewicz has not been able to replicate his All-Star 2018 campaign, when he finished 8th in the NL Cy Young voting. His peripherals largely remained the same, but his hits allowed drastically decreased to the tune of a 6.4 H/9, which suggests that the season is an extreme outlier. As much as it's 2021 and win-loss record doesn't matter, it's fun to see 0-3 and black italics in the loss column next to Foltynewicz's name on Baseball Reference and hope we make it four on Wednesday. It'll be a day game and Foltynewicz is extremely prone to the long ball, so hopefully the Angels carry some momentum with them into Houston. The biggest thing Foltynewicz has going for him is that he faces José Quintana.
Rangers Bullpen
Ian Kennedy is the guy the Royals converted to reliever in 2019, and everyone thought he was good for a while and he was the answer, except he was still allowing over a hit an inning and he had a disastrous 2020. Well, now he's the closer for the Rangers. Let's hope it doesn't come to this, but if the Angels do enter the ninth down a few runs, Kennedy will probably be one of the least terrifying closers they face all season.
Kolby Allard is a nice little prospect that they're keeping as a long reliever to get some work. Counting him, the Rangers are carrying five lefties out of the pen, which is always interesting. The bullpen also consists of these players: John King, who I thought was a news anchor, Brett Martin, who sounds like the Coldplay lead singer, Kyle Cody, who I know the Angels have seen before but still sounds like a name generator, and a few more names.
Series Prediction
The Angels will want to bank these wins if they are to win the division. Missing Kyle Gibson is a boon, and anything less than a sweep will be a minor disappointment for the home side. Thoughts?
(Title Photo from Rangers Twitter)