Twins (6-7) @ Angels (7-5)
The recent Angels road trip started out well enough, with two wins against the Blue Jays in Florida. Then a rain delay and postponed stalled momentum, and injuries prevented the Angels from winning the series in Kansas City. They return home, hopefully healthier and ready to get back in the win column. With a two-game losing streak, the Mariners have taken over first place in the AL West.

The Minnesota Twins come out on the road also looking to bounce back from a disappointing homestand. After splitting with the Mariners, the Twins dropped three of four to the suddenly resurgent Red Sox, including both legs of a seven-inning doubleheader on Wednesday.
Twins Lineup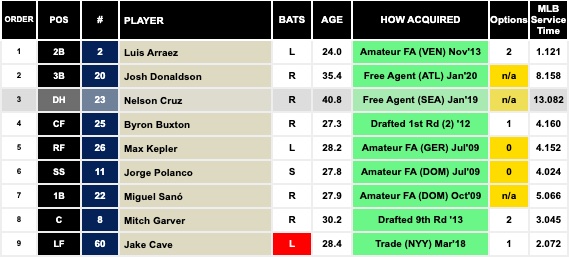 The Twins have been somewhat hurt by injuries over the past week, so it's hard to know exactly what their lineup configuration is. However, some of their key hitters are returning, such as Josh Donaldson and a superstar Byron Buxton. Luis Arráez hits leadoff, using his Fletcher-esque bat-on-ball skills to hit for average. Although he's played multiple positions, expect him to slide in at second base for this series.
Because Andrelton Simmons is on the COVID-19 list and will not be available, that means that Jorge Polanco moves from second to shortstop to his more natural position. The 27-year-old is struggling this season, with a 34 OPS+ through 58 PA, but the switch-hitter will be looking to recapture his 2019 All-Star form.
The aforementioned Donaldson is still raking at thirty-five. Despite missing half of 2020 to injury and a large chunk of 2021 already, Donaldson is still a threat in the lineup, and the Twins will be glad to have him back.
Miguel Sanó rounds out the infield. At first base, the slugger has two home-runs this season, but those two boppers account for 50% of his hits, as he's only hitting .100 this season. If he gets into the lineup this weekend, the important thing will be to keep him from getting hot and regaining his form. If he does not, fan favorite Willians Astudillo may take his place.
Catcher is a timeshare between Mitch Garver and Kyle Garlick, neither truly impressive, and the ageless Nelson Cruz is carding an insane 1.226 OPS at DH (Ohtani has a 1.125).
In the outfield, if Buxton is healthy, he should play a superb centerfield while continuing his torrid stretch with the bat. The former top prospect has hit five homers in nine games and is slugging 1.094, good for an OPS of 1.622. Jake Cave and Max Kepler man the corner positions.
Probable Pitchers

Here are the probables for this weekend, including the chances of winning according to 538's ELO system and adjustments.
The Angels will, thanks to the Wednesday doubleheader, miss the top three (Maeda, Berrios, Pineda) Twins starters. This stroke of luck should be capitalized upon.
Lewis Thorpe is an Australian left-hander who impressed this spring. After disastrous stints in the Majors in 2019 and 2020, Thorpe added strength this offseason and improved his fastball velocity from the 90-91 mph it had previously been, and he posted a sub-1.00 WHIP in Spring Training this year. He makes his first start of the year against Andrew Heaney, who looks to put together some sort of consistency.
Old friend Matt Shoemaker is back in town! Ol' Shoey has been bitten by the injury bug the past few seasons, with the ACL injury in 2019 the latest to sideline him for a long period of time. He came back strong towards the back part of 2020 and parleyed that performance into a one-year deal with the Twins. If you're at the game, be prepared for Saturday Night Fireworks at Angel Stadium to be delayed, because Shoey can take a looooooong time on the mound with runners on. He matches up against José Quintana, who looks to improve upon his 16.20 2021 ERA.
J.A. Happ is your prototypical soft-tossing lefty. He's been in the bigs since 2007, and since then, he's always thrown his 90-92 mph fastball about 50% of the time, combined with a sinker and slider. He has a changeup and a curveball, but he rarely uses them. He opposes Alex Cobb, who has managed to impress me through his first two starts with some sharp stuff.
Twins Bullpen
Alex Colomé heads up the bullpen, which also features Taylor Rogers and former Angel Hansel Robles. Randy Dobnak is a nice story, but they seem to be keeping him somewhat stretched out in case he is needed in the rotation. The rest of the pen seems uninspiring (though the same could be said for that of the Angels).
Series Prediction
This series could have a number of outcomes, depending on who the Angels call up and how the more shaky half of the rotation (in Heaney, Quintana, and Cobb to a certain extent) pitch. However, this is the back half of the Twins' rotation as well, so there could be some offensive explosions to be had. Back at home after an off-day, the Angels should be able to get the offense right, so I do lean towards the home side taking two slightly more than the away side doing so. Regardless, it should be a fun series. Thoughts?
(Title Photo from Twins Twitter)