Perhaps no Angel was a better story during the shortened 2020 season than Jared Walsh.
The 2015 39th-round pick absolutely crushed it a 32-game sample (108 plate appearances). Walsh hit .293/.324/.646 with a 153 wRC+ (Weighted Runs Created Plus) and was worth 0.9 Wins Above Replacement (WAR) en route to a 7th-place finish in American League Rookie of the Year voting. He was a breath of fresh air in what was a down season for the Angels and looked to be a strong candidate to take everyday first base duties in 2021.
After a down Spring Training and not starting the first two games of the 2021 season, Walsh has done nothing but crush baseballs yet again in his first eight games of the season. In 30 plate appearances, Walsh has hit .385/.467/.808 with a 246 wRC+ and crushed three home runs, including his walk-off three-run homer on Sunday Night Baseball against the Chicago White Sox.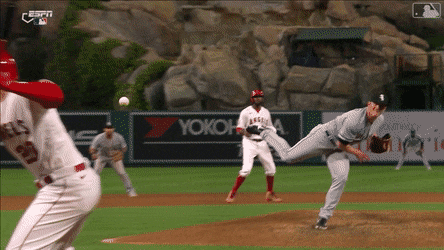 This is a continuation of what Jared Walsh showed last season. Through the first part of the season, Walsh is a top-20 position player by WAR (0.6) and has the sixth-best wRC+ (246) among hitters with 30 plate appearances. That wRC+ sandwiches him between teammate Mike Trout (271) and Ronald Acuña Jr. (239). That's not bad company to be in! Dating back to last year, however, shows an even more encouraging picture. These are the best hitters by wRC+ since 2020 among hitters with at least 100 plate appearances.
Do I think Walsh is a true-talent 173 wRC+ guy? Absolutely not. Do I think he's a legitimate everyday guy who's shown some real offensive ability? Absolutely. What's perhaps more encouraging is Walsh is showing even bigger improvements through the beginning of this season. While we are dealing with a small sample, plate discipline and power are generally things that stabilize quickly. In other words, it's hard to fluke your way into what Walsh is doing so far.
| | 2020 | 2021 |
| --- | --- | --- |
| BB% | 4.6% | 10% |
| K% | 13.9% | 13.3% |
| Chase% | 33.2% | 18.8% |
| Barrel% | 12.6% | 18.2% |
Putting this simply, Walsh is barreling up baseballs more consistently, chasing fewer pitches, and walking more. These are positive developments for someone who already showed strong power and bat-to-ball skills last year. The most notable change, in my opinion, is that drop in chase rate because it implies that he's being more selective. That selectivity in conjunction with more barreled baseballs is an incredibly positive sign for Walsh.
There's no reason why Walsh shouldn't be receiving everyday reps from this point forward, whether that's at first base or in right field with the season-ending injury to Dexter Fowler. Walsh has shown real offensive ability and will play a huge role in this lineup as lineup depth behind the superb top of the Angels order. When, if, and how much Walsh regresses remains to be seen but he has done nothing but mash since the 2020 season began. It's time to let him rip it for a full 162-game season.