Angels (4-2) @ Blue Jays (3-3)
After the offseason spending spree in which they picked up George Springer, Marcus Semien (to play 2B!), Taijuan Walker, Ken Giles, Kirby Yates, and others, Toronto is expected to pair these shiny signings with their nice young core to make a push to be perennial postseason contenders. It won't be easy, as they are in a division with the Tampa Bay Rays and New York Yankees, but they are certainly equipped to play well.
The Angels are coming off an off-day (travel) after splitting a quick two-game series with the Astros. As they only visit Toronto once a season, the Angels will not be traveling north of the border during the 2021 regular season. The Blue Jays are currently playing at their Spring Training park in Dunedin, Florida.
Blue Jays Lineup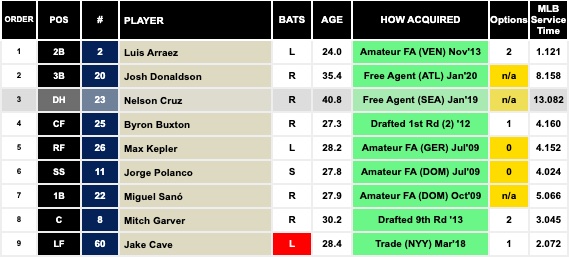 George Springer is currently suffering from an injury, and it does not seem like he will play for Toronto in this series.
Angel fans are familiar with Marcus Semien, the long-time Oakland A's player. After spending the first five seasons being mediocre with the bat, Semien exploded in 2019, slashing his way to a .892 OPS and a third-place AL MVP finish. Although he didn't hit that well in 2020, this season he already has three home runs.
Cavan Biggio, Bo Bichette, and Vladimir Guerrero Jr. form the main component of the Blue Jays youth group, although Lourdes Gurriel Jr., Rowdy Tellez, and Danny Jansen can be lumped in as well. These young players are controllable, and they mash. So far in 2021, Guerrero has had the most success, but Bichette is not far behind him. Biggio, Gurriel, and the rest have fairly poor numbers, but that could easily change this weekend, as we're not yet through 5% of the season. Tellez is 0-for-16 so far.
The other senior statesmen are Teoscar Hernández and Randal Grichuk. Armed with a nice extension that he signed in 2019, Grichuk is mashing so far to the tune of a 206 OPS+.
Probable Pitchers

These probables haven't been officially announced yet, but on the Angels side, it seems fairly logical that after Griffin Canning and Andrew Heaney, the team continues their way along the rotation merry-go-round with Alex Cobb and Shohei Ohtani. After a hard slide on Sunday, Ohtani seemed fine hitting against the Astros, but for some reason, if he is unable to pitch in Florida, José Quintana could easily slot in.
Toronto has only announced that Ross Stripling will pitch tonight. The former almost-Angel, Stripling in his first start of 202 allowed three runs in 3.1 innings. His fastball velocity isn't anything great, at an average 92 mph, but if he pairs it with his slider, curveball, and changeup, all of which he throws at least 10% of the time, he can be successful.
Other than Stripling, all that the Angels know for sure is that they will not face Hyun-jin Ryu.
Steven Matz and Tanner Roark are also likely to pitch. Matz is a sinkerballer, and he can reach an average of 95 mph on the sinker. Matz had a rough 2020, finishing the shortened season with a 9.68 ERA and a 1.70 WHIP, but for the rest of his career, he has been slightly below-average, if not average. Matz will be a good test to see if the Angels' bad luck against lefties has been broken or not. Roark also had a rough 2020 (the Jays are really hoping for some regression here, I suppose). As the years have gone by, Roark is throwing his 4-seam fastball more and his sinker less. He also pairs this arsenal with a slider, curveball, and changeup.
Robbie Ray may or may not be ready to pitch over the weekend. If so, he also (sensing a theme here) looks to bounce back from a 2020 in which he somehow compiled a 1.90 WHIP in 51.2 innings. That's pretty bad. (Let's ignore the fact I wanted to trade for Ray in my pre-2020 If I Were Billy Eppler.) Ray always walks hitters, and in 2020, he took his control issues to a new level. If Ray can't pitch, the Angels might see TJ Zeuch instead.
Blue Jays Bullpen
After Ryu's solid start yesterday, the bullpen is basically rested, save for Tommy Milone, who pitched in long relief and threw 49 pitches on Tuesday.
After the injury to Kirby Yates, the Blue Jays don't seem to be missing a beat with Julian Merryweather's emergence at the top. The rest of the guys don't look too exciting, but Jordan Romano had a solid 15-inning 2020, and Rafael Dolis returned to the Majors in 2020 after spending 2016-2019 in Japan.
Prediction
I've always liked Canning, and we will see if Cobb continues on the Bundy 2020 path later this weekend. With Ryu bookending the series, the Angels may have the pitching advantage in all of these matchups. The Jays have a great offense, but with the shaky state of the rotation and bullpen, look for the Angels to potentially take three of four. Thoughts?
(Title photo from Blue Jays Twitter)