For many of us, a trip to the ballpark is a welcomed experience and a bit of a return to normalcy. If you aren't there yet, that's fine. But if you are, here's a look at what you can expect when you attend a game and some tips that might help make it a more enjoyable experience.
Social Distancing
The Angels have done a good job of spacing the seats out. At no point while we were seated was there anybody near my family. We had an empty row both in front and behind us and several empty seats on each side. To ensure that people don't just gather together in large groups, the team has zip tied the designated empty seats, making them unusable.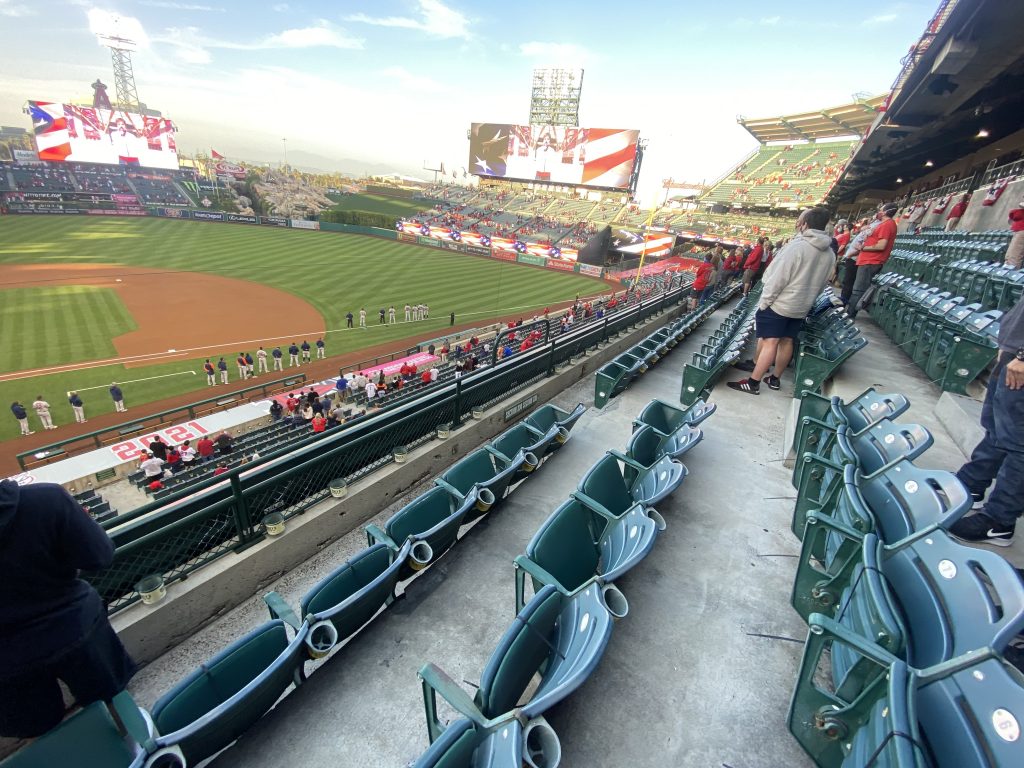 As far as the concourse, the team has built tall booth like structures for the wheelchair accessible seats between the base paths. This serves the double purpose of giving people in those seats some physical protection from the crowd and keeps people from standing around watching the game as the view was blocked even for me (and I stand just under 6'4″).
Parking, Concessions, Team Store
Everything is cashless now. Tickets are delivered through the MLB Ballpark app and you might as well buy parking there too. The parking attendants will accept a credit card, however, if you don't buy parking with your tickets.
Food is also a different animal. No more standing in line to order, you can scan a barcode located all over the stadium or text "Angels" to 474747 to see available food and drink options and order directly through your phone. You get a text message when your order is ready, walk up to the vendor, show the receipt and walk away with your order.
I had Club level seats and the app basically replaced the waiter. I put in my seats and order and a few minutes later my food arrived. I actually preferred this to the old system of trying to waive a waiter down, looking around for him/her during game time.
My son wanted pizza, which isn't offered on the Club level. Here's where a little Angels Stadium know how comes into play. The app will ask you for your seating section. I entered section 130 (field level seats down the right field line) and Oggi's popped up as an option. I walked down to get the pizza after receiving a text it was ready. In and out in seconds.
Our friend Steelgolf articulated some difficulties on Opening Day and sent me pictures of huge crowds waiting for food outside of a Classic Hits. I did not see that Monday. I will say that as I walked around to get the pizza, the line at Classic Hits was considerably longer than other vendors, probably 20 deep, but it was moving.
I did not see any vendors carrying items up and down the aisles. Hopefully that ballpark tradition comes back.
The Team Store has a line out front and staffers limit the number of patrons in the store at a time. The Hall of Fame store upstairs seemed to have less inventory than usual, but I'm not sure who.
Leaving the Big A
The only avenue to exit the parking lot is Orangewood. I found that out after driving up to the Gene Autry way exit only to find all of the gates closed. They should do a better job directing traffic as quite a few people went my way.
Full disclosure, I left about the 7th inning so this might change. Yeah, call me a Dodger fan but Monday's game was long and slow and my three year old needed a bath and bedtime.
Tips
25% capacity means 25% of the normal amount of cars in the parking lot. There's no need to buy preferred parking. It is all preferred parking right now.
I bookmarked the concession ordering page so I can order my food and drink as I wait in line to get into the ballpark. That way I should be able to grab my son's cheese pizza on the way to our seats.
Overall
It felt so great to be back at the ballpark. I felt just as safe as a normal night eating at a restaurant patio or walking in a park. And the fans who are there are genuine fans. The ballpark was loud, full of energy, and a great boost for my mental health.