White Sox (0-0) @ Angels (0-0)
It seems forever since it has been Opening Day for a 162-game schedule. That day has finally arrived! The Angels have managed to escape their Groundhog Day-esque loop of starting each season in Oakland, as the team hosts the Chicago White Sox, an interesting inter-division matchup to kick off the season. The White Sox are coming off a playoff berth in 2020 and hope that manager Tony La Russa can lead them back there.
We've talked a lot about the Angels and whether or not this can be the year they make the playoffs again. The White Sox will be a good gauge to open the season, as Chicago's pitching seems superior, but the Angels have the bats to make up for it. In a four game series, it's rare that all five series outcomes are plausible, but that's how I see this one.
White Sox Lineup

Chicago's big bats, like the ones on most teams, hit at the top, led by SS Tim Anderson, C Yasmani Grandal, and reigning AL MVP 1B José Abreu. Anderson has broken out since 2019, and although at 27 he is not so young anymore, he is another in the long list of talented shortstops that came up together and seem to be turning the position into a more-offensive one. Grandal has been a consistent hitter for more than five years now, posting an OPS+ of above 110 in six out of the past seven seasons (2017). A great addition for the White Sox last offseason, he remains one of the best catchers in the league. Finally, although Mike Trout may reclaim his crown this year, Abreu did have an impressive 2020 shortened campaign. He led the league in slugging, total bases, and hits, and with a solid lineup around him, he will have every chance to replicate his 2020 numbers again.
3B Yoán Moncada and CF Luis Robert are two young players for which the White Sox have high hopes. Moncada showed flashes in 2019, compiling a .915 OPS across a full season of 559 PA, he tailed off last year, only managing a .705 mark. Robert has the power, socking 11 homers last year to help him finish runner-up in the AL Rookie of the Year race, but he struck out 73 times in 56 games. Word of advice: try not to let him make contact. He also won a Gold Glove in 2020.
The rest of the lineup, consisting of LF Leury Garcia, RF Adam Eaton, DH Zack Collins, and 2B Nick Madrigal, does not seem to be too ferocious, much like the bottom part of the Angels', but shutting down the easier outs will be crucial.
Probable Pitchers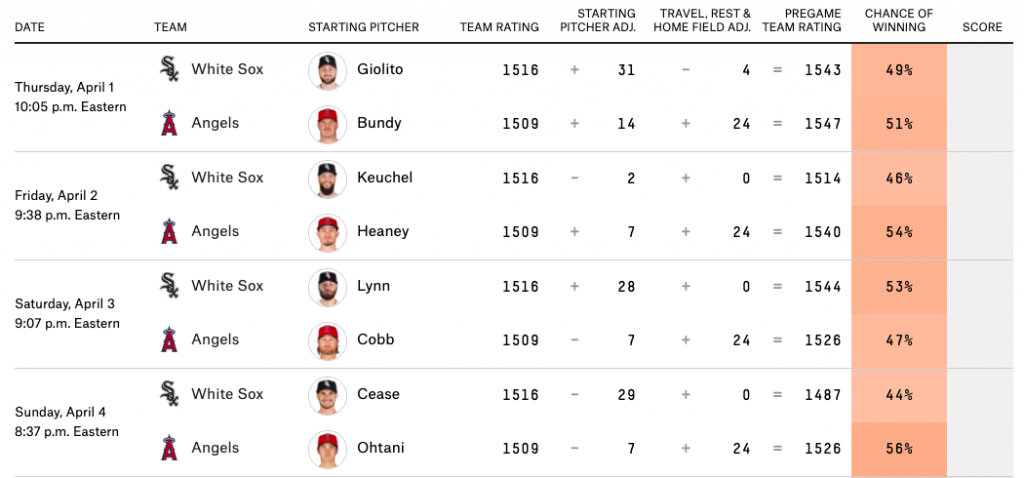 Lucas Giolito gets the much-deserved start on Opening Day. He has a solid fastball (94 mph) and a decent changeup, and he has recently improved his slider. He's been in the top 10% of the league in K% for the past two seasons, and nothing in the data demonstrates that his ability to whiff bats will magically disappear. The Angels will need to make some good contact off Giolito and hope it finds some holes.
Dylan (Cy) Bundy is coming off the best season of his career. From Brent calling this way back in February of last year to the fun little Cy Young push toward the end of the 2020 season, Bundy was truly one of the reasons to watch the Angels. He was able to perform the way he did in 2020 without significant fastball velocity, but it appears he has got a couple of extra ticks this year. Combined with his truly elite secondary pitches, Bundy could be really exciting to watch. Yes, the regression may be very likely, but if not…his next contract (free agent after the season) could be eye-popping.
Dallas Keuchel was one of the top free agent starters in both 2019 and 2020 coming off a decent stretch with the Houston Astros that included the 2015 AL Cy Young award. His numbers tailed off toward the latter part of his time in Houston, and teams didn't want to take a chance on him. After settling for a one-year deal with Atlanta in 2019, the White Sox decided to give him a nice three-year deal, and he rewarded their faith in 2020 with a vintage season, finishing with a sub-2.00 ERA and was first in the Majors at suppressing home runs, allowing just two all of 2020. He doesn't whiff bats, checking in at 6.0 K/9 in 2020, but the Angels have had their problems with soft-tossing lefties in the past…we'll see what happens on Friday.
Andrew Heaney is an enigma. If you watch him on his good days, you see the amazing stuff that made him a top pick and provided the impetus for the Angels to acquire him in 2014. If you get him on his bad days…you'll see a lot of him missing his spots. He's only pitched a full 162-game season once (2018, when he finally seemed to be breaking out), as various injuries have derailed him throughout the years. I don't know what's going to happen with Heaney this year, and I am equally parts excited and nervous to find out.
When Lance Lynn is your #3 starter, you know your rotation is a pretty solid one. He led the league in innings in 2020 and, quite frankly, pitched the best season of his career. However, the underlying data has shown that these results have been coming for a few seasons now. In 2019, Lynn was one of the top pitchers in fWAR, even if the more traditional stats only displayed a 3.67 ERA and 1.22 WHIP, and he parlayed that result into a 5th-place Cy Young finish. In 2020, the numbers finally broke his way, and he finished 6th in the voting. The Rangers decided to trade Lynn to the White Sox this offseason, and although that reduces the number of games the Angels will face him in totality, the schedule means they interestingly get him right at the start of 2021.
When Alex Cobb is your #3 starter, you know your rotation is…well, let's just say interesting. When the Angels acquired Cobb from Baltimore this offseason, I was initially annoyed. Cobb hasn't performed well since his Tampa Bay days, but considering Bundy's 2020 numbers, I will hold off judgment until I see him pitch in regular season games a few times. Brent describes the possible upside for Cobb here. It remains a fairly low probability, but with the quality up-the-middle infield tandem, not to mention Anthony Rendon's smooth glove work at third, wouldn't it be nice if Cobb turned into a quality starter?
Dylan Cease is always prone to the free pass, and the Angels should take advantage. As a result, this tends to inflate his FIP, and his ERA in 2020 was much less than his FIP. He's still young, and we don't have a long track record to help us predict his 2021 performance, but with a career WHIP of 1.50 thus far, hopefully the Angels put on a show on Sunday Night Baseball.
Shohei Ohtani. There's nothing to say. You know his stuff. Pray to the baseball gods that he stays healthy.
White Sox Bullpen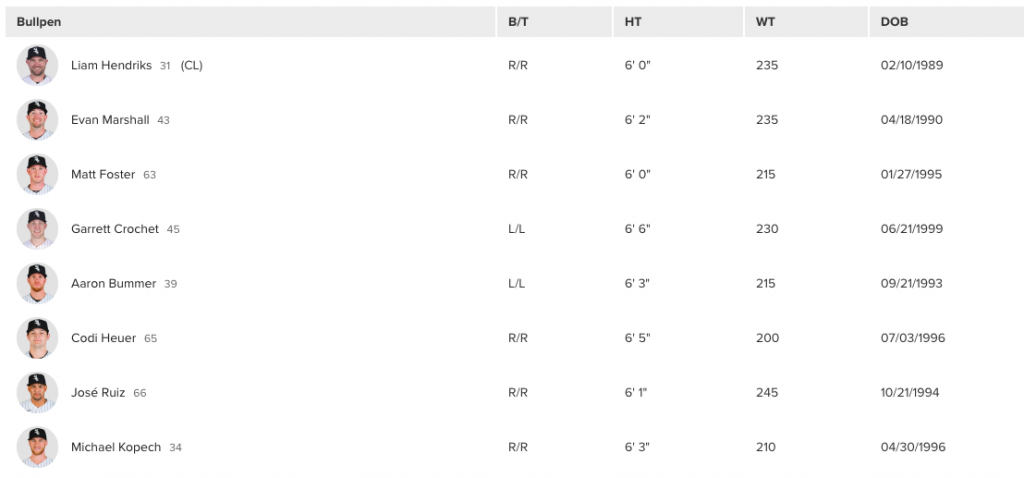 Liam Hendriks was the big get this offseason, inking a three-year deal with the White Sox worth $18 million a year. He's been sterling the past few seasons, and the Angels should try to avoid going into the ninth inning down a couple runs. Garrett Crochet made his Major League debut last season without pitching in the minors, and he has filthy stuff. Michael Kopech, one of the players acquired in the Chris Sale trade, did not crack the rotation and is in the bullpen. This is a solid group, but they are not unhittable.
Prediction
As you see from the 538 predictions, these games all feature very close odds. I see a potential split, winning the Bundy and Ohtani starts but dropping the middle two games. How do you feel about the first series in 2021?
(Title photo from White Sox Twitter)