The season is upon us with Opening Day coming your way tomorrow.
The Angels are looking to finish above .500 for the first time since 2015 and win their first playoff game in over a decade. Projections are mixed on how the 2021 version of the Angels will do. PECOTA projections at Baseball Prospectus provide an optimistic outlook with an 87-win season and Wild Card appearance. Fangraphs projects an improvement (84 wins) but not quite enough for a playoff appearance. Others, such as the ATC projections, have them finishing below .500 yet again.
Once again, there is a wide variance of results for an Angels team with plenty of firepower at the top but questionable depth throughout the roster. In this article, we'll look at all of the positions on the Angels team, ranking them from best to worst based on the Fangraphs Position Power Rankings. We'll rank the positions based on where they finished for each position rather than total Wins Above Replacement (WAR). Below, you'll find the Angels positions ranked from best to worst along with their placement on the lists and projected WAR.
Center Field (1st; 7.4 WAR)

Is this really a surprise? Mike Trout doesn't just have the best projection on the Angels; he has the best projection in the entire league yet again (7.5 WAR). That shouldn't be a surprise since he's led the league in practically every meaningful category since his 2012 rookie season. Trout's reign as the clear-cut best player in the sport could end in the next few years with an abundance of elite talent (Betts, Tatis Jr, Acuña Jr, Soto) but he's holding firm for now. Trout will once again lead the Angels (and probably the sport) in WAR yet again. If Trout gets hurt, the club would obviously be in a dire spot to replace his production.
Third Base (3rd; 5.6 WAR)

Anthony Rendon is the best player the Angels have paired with Mike Trout and the duo didn't disappoint in the truncated 2020 season. After a slow start in the batting average department, Rendon was a monster the rest of the way and finished with his usually strong triple-slash line (.286/.418/.497). Set to turn 31 in June, there could be signs of slowing down in the next few years but Rendon has not shown any yet. This is a legitimate star who would be the best player on a handful of other teams in baseball. Were Rendon to get hurt, some combination of Jose Rojas, Luis Rengifo, and Taylor Ward could take some reps at the position.
Designated Hitter (9th; 1.1 WAR)

This ranking is a bit misleading because 1) the universal DH was (stupidly) not implemented for both leagues this year and 2) Shohei Ohtani's anomaly of a 2020 performance is weighing down his projections. Now, that second reason could be used for plenty of players who endured weird seasons in a weird 2020 season but it's especially applicable for Ohtani. The two-way star was hampered yet again by injuries and was not able to replicate his strong 2018-2019 performance. Based on the early returns this spring, Ohtani's power and plate discipline are back and better than ever before. Obviously, the Angels run into problems on the days Ohtani pitches (which could be a lot), mainly due to Albert Pujols providing sub-replacement level production. I'll take the over on the Ohtani projection but the depth behind him is not particularly encouraging.
Catcher (11th; 2.3 WAR)

Max Stassi had a legitimately awesome 2020 season that was backed up by plenty of measures. Even if he regresses to a league-average line, he has a shot to produce like one of the better catchers in the sport thanks to his elite pitch framing. Kurt Suzuki is a competent option behind Stassi who has been an above-average hitter for each of the past four seasons. He's a bad defender who is 37 years old so there is some risk but he's a fine option for this season. The Stassi/Suzuki duo is a borderline top-10 unit that has a decent depth option in Anthony Bemboom.
Shortstop (12th; 2.7 WAR)

José Iglesias is about the closest comp you can find to Andrelton Simmons. While Simmons was a much better player at his peak, the current versions of these two players provide similar skill-sets: superb defense at a premier position with a swing-happy approach at the plate that leads to below-average offense. In other words, the Angels are watching a very similar player man the shortstop position for the 2021 season. Iglesias obviously won't replicate his .373 batting average from 2020 but he did make some real changes with a career-best 36.5 percent hard-hit rate and 100th percentile expected batting average. It's not as sexy in a crazy time for shortstop talent but Iglesias is a reliably durable and productive player. The depth is there, too, with David Fletcher more than capable of handling everyday shortstop duties.
Second Base (13th; 1.9 WAR)

Count me in as taking the over on David Fletcher's 2.1 WAR projection this year. Fletcher has produced at a 3.83 WAR/162 game clip so far in the majors and has shown real changes in each season. He's improved his batting average, on-base percentage, and slugging percentage in each of his three MLB seasons. While the upside is capped by his low power output, he's the game's premier bat-to-ball hitter and a well-above-average defender at second base. I'd expect something closer to 3 wins than 2 wins. The options behind Fletcher are not great but a combination of Jose Rojas, Luis Rengifo, and Franklin Barreto would at least be interesting.
Bullpen (15th; 2.6 WAR)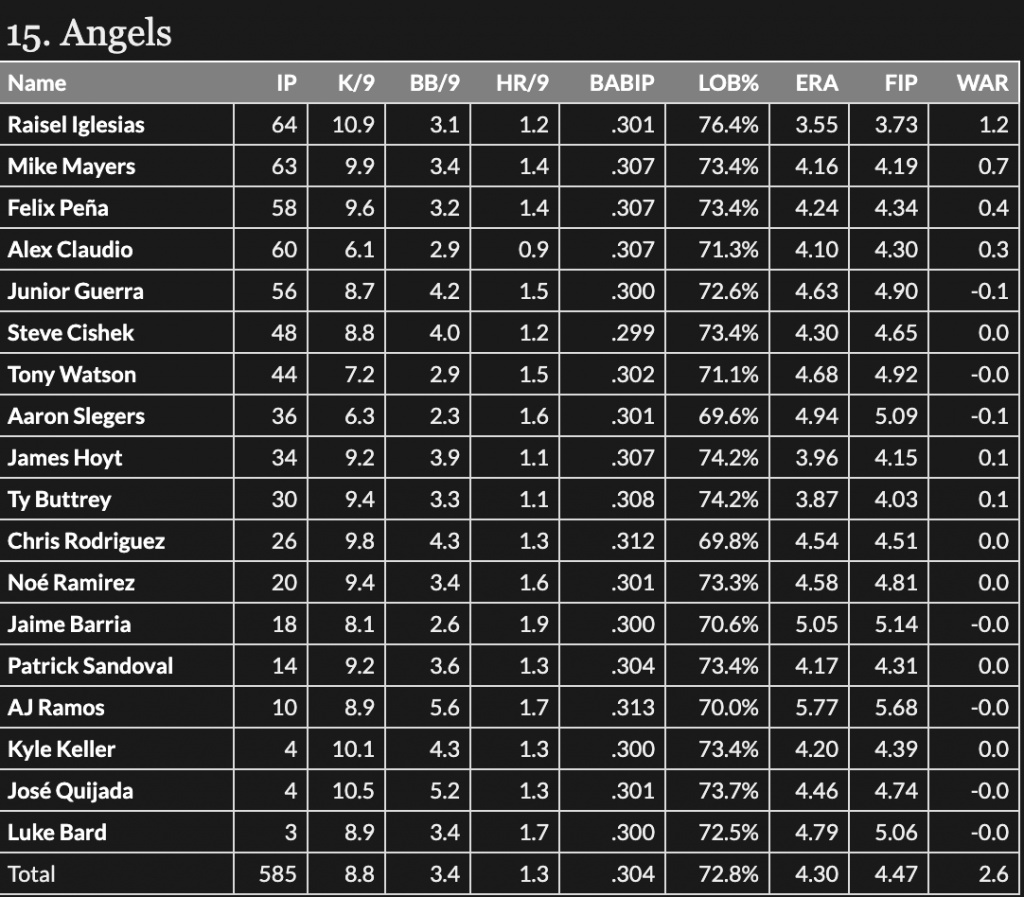 The Angels have completely remade a bullpen that looks unrecognizable from a year ago. The Opening Day roster will likely feature seven new relievers, with only Mike Mayers as a returning member of the 2020 squad. Félix Peña's injury and Ty Buttrey's demotion opened up room in a bullpen that already had plenty of spots open. The Angels responded by acquiring Steve Cishek, Tony Watson, and James Hoyt in a matter of hours on Monday night. With Chris Rodriguez slated to join the bullpen as well, this group will have a very different look in 2021. The potential is there for this group to outperform this projection. Raisel Iglesias is a legitimately great reliever, several of the new relievers have a long track record of production, and Rodriguez has some real MLB swing-and-miss stuff. As usual, there is plenty of variance with this bullpen but the unit has undergone some positive changes that may lead to a better performance this year.
Rotation (17th; 11.1 WAR)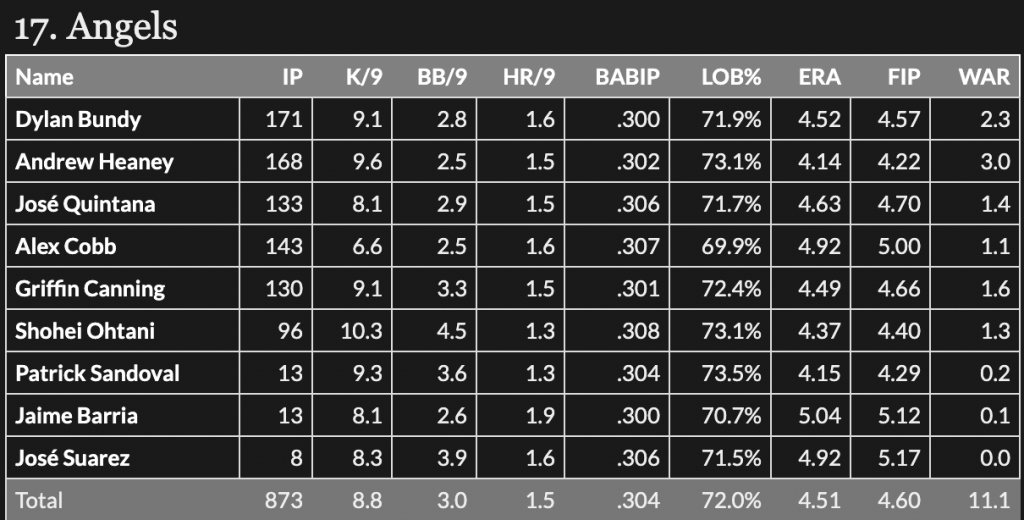 This would be the best rotation performance from the Angels in years. The club hasn't reached 11.1 WAR since the 2014 season (11.2 WAR), which may or may not coincidentally be the last time the club made the playoffs. This isn't the first time a projection system has liked an Angels; the club had similar rankings in 2020 (21st) and 2019 (18th). As usual, this rotation's performance will likely come down to health. If this club was able to magically have healthy performances from their staff, it could be a legitimately solid rotation that supplements a very strong position-player unit. Given the injury history of several starters, however, that's a very unlikely scenario. The Angels playoff fortunes likely rest on the competence or lack thereof in the rotation.
Left Field (23rd; 0.9 WAR)

Justin Upton has been both injured and bad for much of the past two seasons. A hot ending final month of 2020 and a strong Spring Training this year have alleviated some of the concerns but the red flags are still there. At 33 years old, Upton's best days may be behind him but the hope is he can squeeze out a few more above-average seasons at the plate. It's probably foolish to expect the old Upton will return but there's perhaps a 25 home run season with an above-average batting line in there. If things go south for Upton, the club will likely resort to Juan Lagares and Taylor Ward in the short-term. The club is probably hoping Jo Adell and/or Brandon Marsh force their way onto the roster and make meaningful MLB contributions by the end of the season.
First Base (26th; 0.6 WAR)

The Angels are really placing their hopes in Jared Walsh producing this season. After crushing his way to a 7th place finish in AL Rookie of the Year voting last year, the hope is he provides real, everyday production at a position of need for the Angels. Walsh showed real changes last year with above-average contact skills and some real power, lending hope to the idea that he can be a strong short-term option at the position. Just like at DH, Albert Pujols is dragging down the position in a real way and the club is better off using him sparingly in 2021. Unfortunately, based on the early returns of Spring Training, Pujols looks like a guy who will receive plenty of playing time. Jose Rojas, a feel-good story who will make his MLB debut with the Angels, could steal some time here with a strong showing early in the season.
Right Field (29th; 0 WAR)

The Dexter Fowler experiment might be a short one for the Angels. After producing at a replacement-level for the past three seasons, Fowler has put on an ugly showing in Spring Training with a .588 OPS and just one walk compared to 12 strikeouts. Luckily, the Angels might've struck gold with Juan Lagares, who was signed as a minor-league free agent but has absolutely torched baseballs this spring. It's beyond just the 1.030 OPS this spring that you should be encouraged by; it's the fact that it's backed up by real changes, namely some power that he's never shown at the MLB level. With above-average defense and this newfound power, Lagares could be the everyday guy in short order. If both of these guys flounder, Taylor Ward could slide in until the aforementioned Jo Adell and Brandon Marsh are ready to go.
*Header photo courtesy of the Angels Twitter*