As a single mom, Yadira Huerta has done an amazing job raising two daughters. It hasn't been easy, but she always found a way to make things happen, to get the bills paid. After seeing mom come through time and again, her daughters were confident that she always would.
But this time was different. This bill wasn't like a normal bill. This wasn't a power bill that Yadira could put on a credit card and pay in a few weeks. This wasn't a vacation that would require a lot of overtime to pay back.
Alexis, the oldest daughter, had realized a major dream and been accepted to the University of Washington and the first tuition bill, $13,000, laid there on the table. Yadira had no idea how she would pay for it.
"I was on my third day of no sleep," Yadira recalls. "I was just praying to God and trying to come up with a way to make it all work."
And that's when the phone rang with an Angel on the line.
Yadira has raised the girls on her own from the time they were 2 and 6 but Alexis says nothing was missing.
"My mom raised us in a way that made me never question why I was being raised by a single mom, which says a lot," explains Alexis.
A favorite childhood memory is of bike rides with her mom and sister at a nearby park. "Just riding our bikes to the park and having picnics and those times together, that's what I'm really thankful for," Alexis reminisces.
A big believer in education, Yadira has a bachelor's degree of her own and always pushed her daughters to excel in school. It was Yadira's degree and job with the City that made it possible for her support the three of them on one salary, but barely.
"The hardest part for me was the emotional part, I had to be the mom and the dad," she explains. "There were a lot of times when I had to charge a lot of bills on credit cards. I wanted to do it on my own and I didn't want to call mom and dad for problems. So there were so many times that I struggled inside and I didn't let my daughter or my parents know that I was struggling financially."
One reason for the struggle was that both girls were in private school which Yadira greatly preferred to the public schools in Pico Rivera and Boyle Heights. The girls age difference meant that the younger Natalie was a freshman when Alexis was a senior. So for a year Yadira was paying two tuition bills instead of one, a pattern that would repeat when the girls were in college.
While it was tough, Yadira always had faith. "Just thankful to have God in my life and a good support group. 'This too shall pass' is what I kept telling myself," she laughs.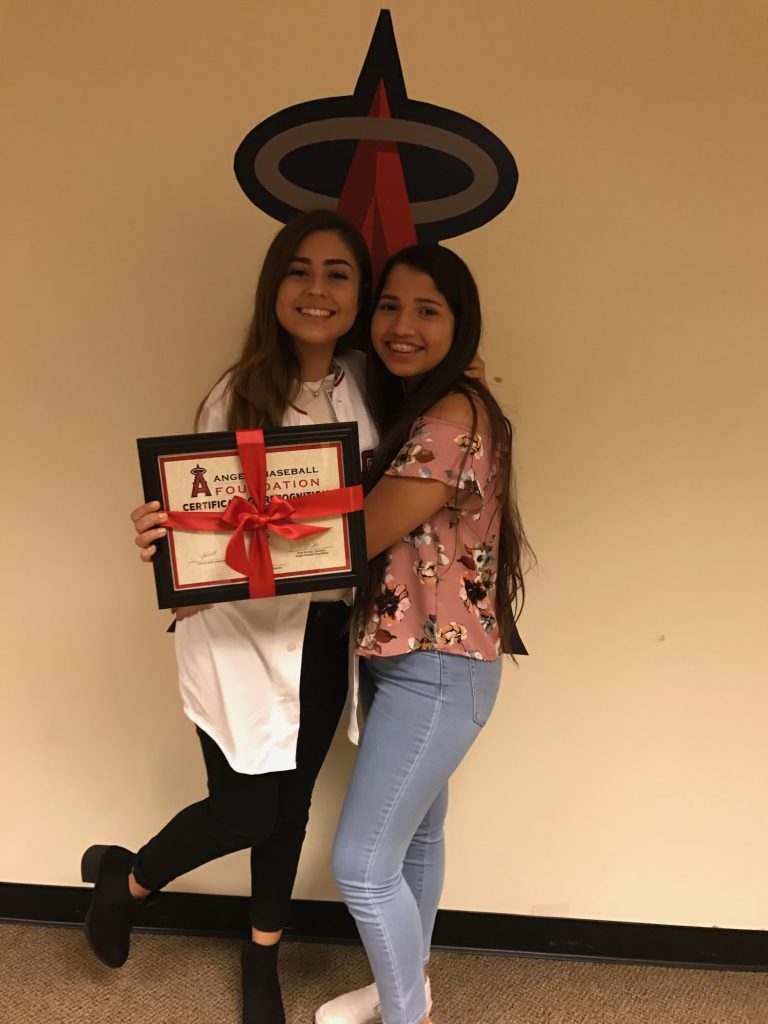 As she finished high school, college applications and decisions loomed. After initially setting her heart on Boston College, Alexis received an acceptance letter to UW and decided to take a visit.
"I went to visit the campus and thank God I have family up there," recounts Alexis. "And I completely fell in love with the campus, it's a gorgeous campus. I loved the culture of the city and just figured I needed a change of scenery and the Pacific Northwest definitely gave me that. I had to buy a rain jacket, ha ha."
"It's the best decision I've ever made."
Now came the money. UW waived Alexis out of state tuition charge for her first two years and offered some financial assistance, but she was well short of what she would need. And right about the time her tuition would go back up, Natalie would be applying for school.
Alexis had faith that Yadira would come through. She always had before. Yadira was stressing and praying, hoping to find a way to come through for her daughter.
Knowing she would need help to achieve her college dreams, Alexis had applied for several scholarships, including the Angels Scholar Foundation, throughout her senior year. Normally reserved for Orange County graduates, Alexis's school had just been approved for the program when she applied.
After a vetting process, the finalists were brought in for a series of interviews with the board members and Arte Moreno. Thanks in large part to her 4.39 GPA, Alexis made the cut to be a finalist.
"Intimidating, but I was just really grateful they gave me a chance to speak to them," she answers when asked how it was interviewing under Arte's watch. "And I guess they ended up liking me because they offered me the scholarship in the summer, which was a total blessing because I had no idea how we would pay for it."
Yadira jumps into the call to continue the story, sharing, "At that time we had already received the first bill for $13,000 and then my daughter calls me at work that day and says 'Mom, I got the scholarship!' And it was just an amazing day and a blessing and an amazing feeling."
"There were tears, tears of joy, and I was just so proud of my daughter."
The scholarship provided by the Angels Scholar Foundation covered everything. Tuition, room, board, books.
"There aren't many foundations that give out full scholarships including room and board and I needed that," explains Alexis. "It took a huge load off my mom's shoulders."
Always looking at the team, Alexis knew her full ride scholarship meant that mom could focus on getting Natalie through school.
Another notable feature of the Angels Scholar Foundation is the involvement of Angels owner Arte Moreno. While many benefactors are happy to cut checks and take pictures, Arte was at every interview and spoke directly with candidates.
Alexis spoke with Arte several times and found him to be sincere and engaging. His words carry weight, yet he also listens intently.
"Just being able to talk to him, listen to him talk about things, it means a lot," says Alexis. "You can tell he really cares."
Part of the program involves mentoring the next wave through. Alexis, now wrapping up a Political Science degree and interning in the Washington State Senate, was placed under the watch of a mentor, Virginia Garcia, who became a second mom in Seattle.
She now looks forward to mentoring those entering the program. Giving back is something Arte both does and expects. There are banquets and other events where the previous graduates come and interact with the next wave. Relationships are forged, mentors assigned, and lives changed. The Foundation is about more than just cutting checks.
Alexis definitely had her life changed, but so have her sister and mom. Natalie is a freshman and beginning her college journey. Yadira is a proud mom who can breath a little easier and enjoy this stage of her daughters lives.
The ladies do have one confession to make. Before this, they were Dodgers fans.
"But now I've been successfully converted to an Angels fan," proclaims Alexis.
"We have both been successfully converted and forever thankful for the Angels family," Yadira chimes in.
Welcome to the fold, Huerta family.