Shohei Ohtani's dominant 2018 pitching performance feels like it's from a bygone era.
Tommy John Surgery wiped out Ohtani's final month of the 2018 season and the entirety of the 2019 season. After not throwing an MLB pitch for nearly two years, Ohtani struggled his way through two abbreviated starts (7 runs in 1.2 innings) in the abbreviated 2020 season before enduring more arm issues. A right forearm strain sidelined Ohtani on the mound for the remainder of the 2020 season, casting further doubt about the likelihood that he'll be a quality MLB starter moving forward.
For a short snippet in 2018, however, the baseball world was privy to witness a healthy and fully-functioning Shohei Ohtani on the mound. In 10 starts (51 2/3 innings), Ohtani posted a 3.31 ERA that was 21 percent better than the league average that season. He punched out 29.9 percent of the hitters he faced and his 34.9 percent whiff rate put him in the elite range for starters. He was nothing short of brilliant in his rookie season.
That brilliance was on full display in his first week at Angel Stadium. Following a quality start (6 innings, 3 runs) in his first MLB start in Oakland the prior Sunday, Ohtani switched over to the plate for a slate of weekday games. Ohtani proceeded to homer in three consecutive games in front of the Angels faithful. After an off-day on Saturday, Ohtani would make his home debut as a pitcher in front of a sold-out Angel Stadium on Sunday. What transpired was one of the most dominant pitching performances by an Angels starter this century and an unforgettable moment(s) in Angels history.
First inning
Ohtani fell behind 2-1 to Oakland's leadoff hitter, Matt Joyce, before pumping a 96 mph fastball past Joyce to even the count. On the sixth pitch of the at-bat, Ohtani unleashed a nasty 86 mph splitter to generate his first strikeout of the afternoon.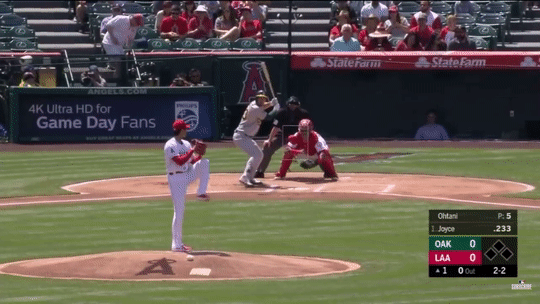 After going down 0-2 against Ohtani, the second-hole hitter, Marcus Semien, watched what should've been strike 3 on a splitter get called a ball. Two more pitches ran out of the zone to work the count full when Ohtani zipped a 96 mph fastball past Semien.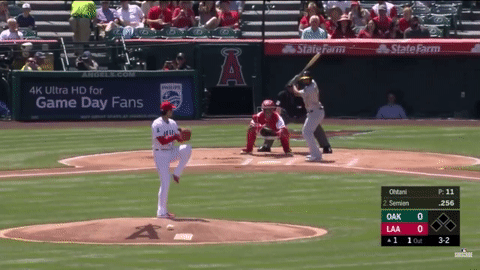 Ohtani finished off his electric first inning by striking Jed Lowrie on three consecutive pitches. A blazing fastball and a pair of nasty splitters capped off an inning where Ohtani struck out the side.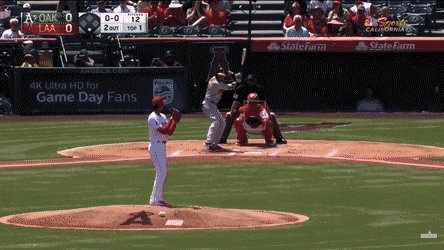 Second Inning
Ohtani kept it rolling in the second inning after striking out the side in the first inning. This wasn't quite as dominant as the first inning given that he "only" struck out one batter but he still retired all three batters in succession. He was particularly impressive against Matt Olson, who swung-and-missed on three pitches from Ohtani.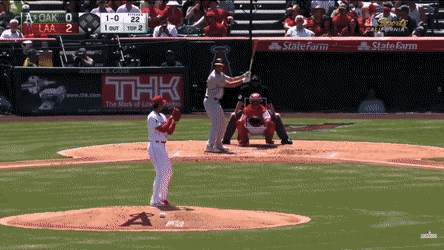 Third Inning
Former Angel Jonathan Lucroy flew out in the first at-bat of the third inning. In the second at-bat, Ohtani had one of his best sequences of the day against Stephen Piscotty. After watching a slider and splitter for strikes, Piscotty flailed at an unhittable splitter just below the strike zone.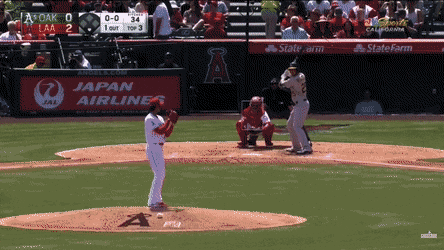 Nasty. Ohtani finished off the inning with yet another strikeout, bringing his total to five through the first three innings. 9 up, 9 down.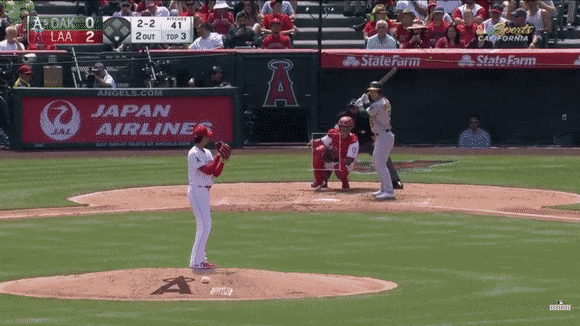 Fourth Inning
After getting Matt Joyce to ground out, Ohtani possibly had his nastiest sequence of the day against Marcus Semien. After watching a slider for a called strike and a splitter for a ball, Semien was then blown away by two heaters, the latter of which hit 100 mph.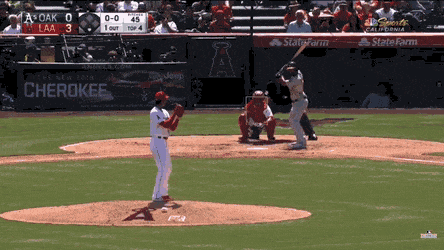 There's not much Semien could've possibly done with that sequence. That was Ohtani at his best, hitting triple digits on the fastball, throwing a slider with frisbee movement, and unleashing his signature splitter. The next batter, Jed Lowrie, grounded out on an 0-2 count to end the inning. 12 up, 12 down.
Fifth Inning
Ohtani started off the fifth inning with yet another nasty sequence, this time against Khris Davis. Two straight splitters made Davis look helpless and on the fifth pitch, Ohtani blew a 99 mph heater right past him.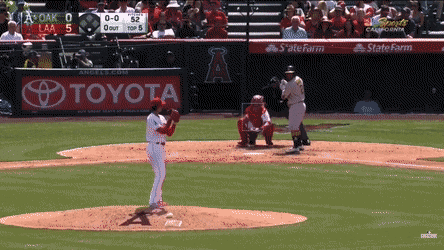 Facing a helpless Matt Olson, Ohtani got the Oakland slugger to swing through three consecutive pitches: a 97 mph heater, a disappearing splitter, and a 99 mph fastball.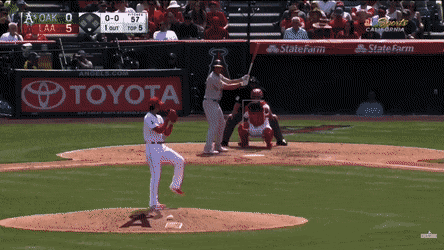 Ohtani finished off the inning with yet another strikeout, with Matt Chapman the victim on this one. With two more swinging-strikes, Ohtani brought his total to 21 through five innings. In other words, he generated more than four swinging-strikes every inning to this point. 15 up, 15 down.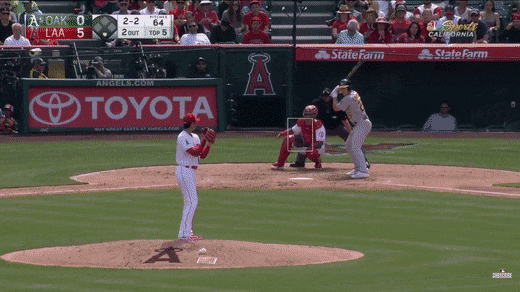 Sixth Inning
Ohtani maintained his perfect game after retiring three in a row in the sixth inning. After a full-count fly-out from Jonathan Lucroy and a first-pitch groundout from Stephen Piscotty, Jake Smolinski flailed at back-to-back splitters to end the frame.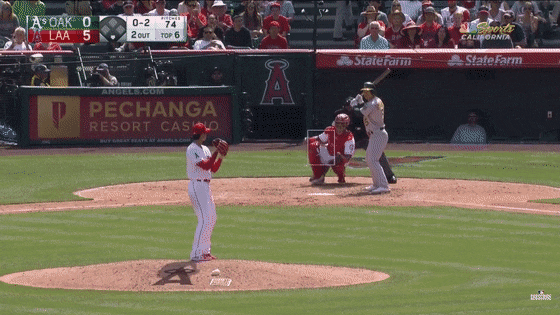 Seventh Inning
After retiring the first 19 batters in a row, Ohtani lost his perfect game on a Marcus Semien single. The seventh inning proved to the toughest and, ultimately, final inning of Ohtani's day. With two outs and runners on second and third, Ohtani unleashed one final splitter on Matt Olson to end his phenomenal outing.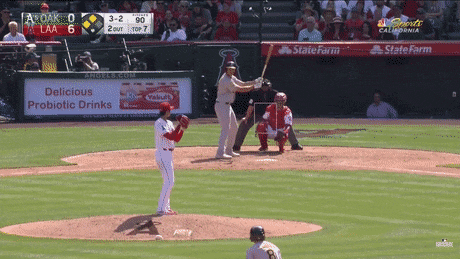 The final numbers
This was a straight-up dominant game to cap off one of the most electric weeks for any individual in Angels franchise history. Ohtani allowed just one hit and one walk while punching out 12 Oakland hitters. His 24 swinging strikes were the third-most in the pitch-tracking era, trailing only Matt Shoemaker (25 in 2015) and Jered Weaver (25 in 2010). By Game Score (86), this was the 50th-best pitching performance in franchise history. Ohtani's game score ranks 11th for Angels pitchers in the 21st century.
It was a truly remarkable performance and one that the Angels organization and their fans would like to see again in 2021. Hopefully, Ohtani can find some good fortune and health and once again dominate hitters on an MLB mound.