Woah! A series preview? Yes. They are back! (We think). The 2020 season certainly hasn't gone as expected for the Angels who now sit 10 games under .500. Anthony Rendon and a few 2nd/3rd tier starter were supposed to fix our woes – right??
The Angels are 3-3 against the A's this year and here is how the games and pitching matchups look according to fivethirtyeight.com: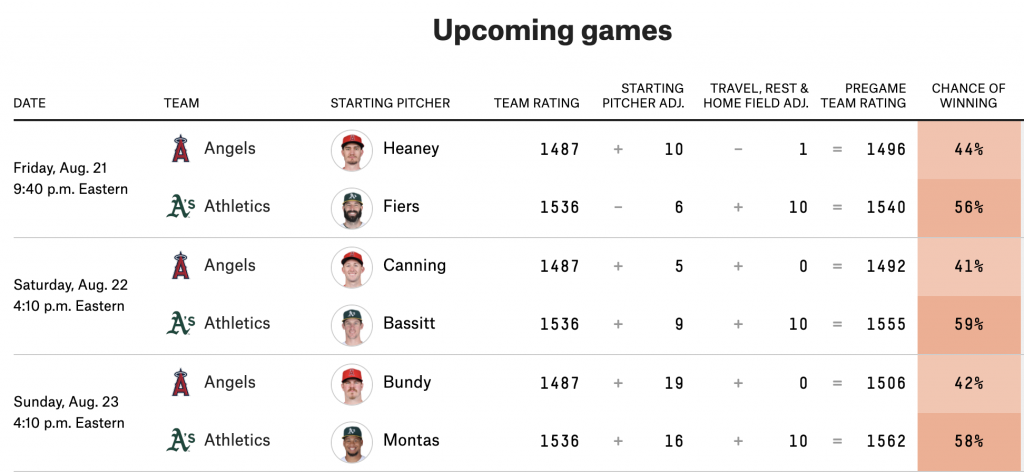 Game 1: Heaney v. Fiers
Friday @ 6:40PM PT
You may surprised to hear that Andrew Heaney has a 2.76 FIP despite his ERA being 4.74. He also has a 1.297 WHIP which is right around where has has fallen the past 3 seasons. In 2 of Heaney's 5 starts, he's only received 3 runs of support which certainly hasn't help but he was also knocked around by the Dodgers and Rangers his last two starts with 9 ER allowed over 9.1 innings. Heaney looked much better his first 3 games of the season so we'll see if these last few games are a bad trend or not. He'll have his work cut out for him against the A's, though he did hold them to 1 run and 2 hits over 4.2 IP on July 24th.
Mike Fiers has been, well, terrible this year. He has a 5.96 ERA and has served up 9 runs on 14 hits to the Angels over his 2 starts and 7.2 innings against the Halos this year. That includes 4 home runs as well.
Game 2: Canning v. Bassitt
Saturday @ 1:10PM PT
Griffin Canning has already taken 2 losses against Oakland this year. He's allowed 10 hits, 4 HR, and 7 ER over 8.2 IP. His fastball velocity is down 1.6MPH so far from 2019. He's also being hit harder and generating less whiffs on his fastball, slider and changeup (his curve is still good).
Chris Bassitt has been pretty good for the high flying A's, though his FIP is a whole point higher than his 2.93 ERA. Bassitt has faced the Angels twice to date, throwing 4 scoreless back in July and giving up 4 ER over 5.2 innings earlier in August thanks in part to solo shots by Mike Trout and Anthony Rendon.
Game 3: Bundy v. Montas
Sunday @ 1:10PM PT
Dylan Bundy has already made his way into early Cy Young talk, but had a rough against the Giants. He has dominated the A's in 2 starts with 17 Ks and 1 ER on 7 hits over 13.2 innings.
Frankie Montas had a 0.78 ERA going in to his 5th start of the year against the D-Backs where he gave up 9 ER over 1.2 IP. Is the magic gone or was that a fluke? Back on July 24th he threw 4 innings of 1 run ball against the Angels.