It's not an overstatement to say that Dylan Bundy has pitched like one of the best pitchers in baseball.
Among all MLB starters, Bundy is near the top in several major categories. He's tied with Shane Bieber for the most innings pitched (21 2/3). His 0.7 fWAR is tied for the sixth-best in baseball. His 12.5 strikeout/walk ratio is the sixth-best. His 52 ERA-, 59 FIP-, and 66 xFIP- are all top-20 figures. Through and through, Bundy is crushing it in every way possible. Based on his previous production, perhaps this start is surprising but a Bundy breakout was always looming on the horizon.
Coming into the 2020 season, swarms of baseball writers, including myself, saw the potential for a Dylan Bundy breakout. Here at Crashing the Pearly Gates, I broke down Bundy's elite secondary pitches and how using them more often would behoove him. Dan Szymborski's list of breakout candidates for the 2020 season at Fangraphs included Bundy, citing a change of scenery in coaching and home ballpark as key factors. Michael Ajeto of Pitcher List also cited a change in pitch usage as a key factor for a breakout. Fangraphs writer Alex Chamberlain found expected stats that showed a strong similarity between Bundy and Shane Bieber. As Foolish Baseball brilliantly alluded to, the Bundy breakout was fairly predictable.
To get a further gauge on Bundy's breakout and if sustainable, let's explore his profile in more depth. First, let's start with Bundy's pitch usage.
More reliance on non-fastballs
One of the most obvious ways for Bundy to break out was to continue to throw his fastball less. After dropping his fastball usage down to a career-low 50 percent last year, that number has plummeted all the way to 39.4 percent in 2020. This change has been both necessary and timely. While Bundy's heater has above-average spin and vertical ride, his velocity has dropped all the way down to 90.4 mph this year. Bundy has commanded the pitch quite well, raising the fastball's edge percentage and chase-and-miss percentage, but there is a smaller margin of error with the pitch.
Obviously, fewer fastballs mean more breaking balls and offspeed pitches. The main benefactor of fewer fastballs has been Bundy's slider, a pitch that was already elite coming into the season. After whiffing 47.9 percent of hitters with the slider in 2019, he's whiffing a staggering 55.6 percent of hitters this year. In laymen's terms, more than half of the swings against Bundy's slider have resulted in a swing-and-miss. Bundy has thrown the pitch 84 times and allowed just one hit. The slider has become Bundy's go-to weapon against right-handed hitters, using it a whopping 50.8 percent of the time against them.
Bundy's improving change-up and heavier reliance have also come with a drop in fastball usage. He's now throwing the pitch nearly 20 percent of the time, pretty much strictly against left-handed hitters (32 percent). The 33.3 percent whiff rate continues a four-year trend of whiffing more batters with the pitch. His .286 xwOBA (expected weighted on-base average) with the change-up is a career-high figure. The shape of the pitch hasn't changed a ton but he's commanding it quite well, cranking up his edge percentage (pitches on the edge of zone) and swing-and-miss percentage.
Bundy has even started using his underutilized curveball a bit more often. The 73-75 mph breaker has always had superb vertical movement and Bundy has mixed it in more in 2020. After dipping below a 10 percent usage from 2018-2019, Bundy is now throwing the curve 12.2 percent of the time. Most importantly, Bundy is using the pitch early in the count, as Alex Fast of Pitcher List pointed out. Bundy has doubled his 2019 first-pitch curveball percentage, giving hitters a different look early in the count. He hasn't used it as a pitch to get whiffs (he has zero so far) but it's been a perfect early-count pitch.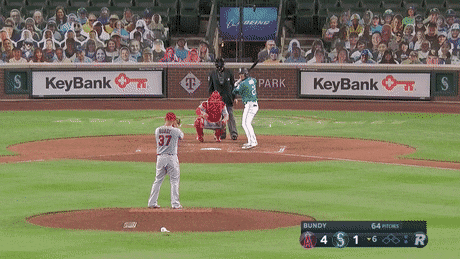 Strong command
In addition to the change in pitch usage has come an abundance of strikes. Bundy's always had fairly strong command but this year has brought on a whole new beast. He's walked just two batters through his first three starts despite the fact that he's pitched deep into every single game. The biggest change in his control has been the sheer amount of strikes he's throwing. His slider and change-up in-zone percentage have roughly remained the same but he's throwing his fastball and curveball in the zone far more often.

As you're probably aware, throwing more strikes doesn't necessarily mean better command. Pounding the zone with hittable strikes will only take you so far. In Bundy's case, however, he's not just throwing more strikes; he's throwing more quality strikes. Bundy's edge percentage has seen significant improvements on every pitch but his curveball.

Essentially, what we're seeing is more strikes with the fastball and curveball and more quality strikes with the fastball, slider, and change-up. The improvements in command and the subsequent results are apparent. Despite throwing more strikes, hitters are offering at pitches far less often. Hitters are swinging at pitches in the zone 55.3 percent of the time, which is a steep drop from his career 67.5 percent. When Bundy goes out of the zone, hitters are whiffing way more often. His 41.3 percent chase rate is way below his career 56.5 percent rate. Put simply, hitters are watching more strikes in the zone and chasing more balls out of the zone.
Is this sustainable?
Expecting Bundy to post a 2.08 ERA and strike out 12 batters for every walk is not feasible. Nobody's true talent level is that good. However, the question you have to ask yourself is are the rest of the skills and changes real and sustainable? I doubt Bundy will continue to post these types of gaudy results but what's encouraging is Bundy has improved basically across the board. He's altered his pitch usage to an optimal level for success. He's created an obvious, applicable game plan against both right-handed hitters (slider-heavy) and left-handed hitters (more change-ups and curveballs). His command has significantly improved, evidenced by hitters watching way more strikes in the zone and chasing more balls out. of the zone. This is all very encouraging.
It's important to note that two of Bundy's three starts have come against a subpar Mariners lineup. It's just as important to recognize that a three-game sample is still very minuscule. This could just be a hot start to his season. But based on his major changes, most of them positive, it's hard to not get excited about the new potential of Dylan Bundy. The former fourth overall pick is still only 27 years old and it's possible that he's finally reaching his potential. If that's the case, the Angels struck gold acquiring Bundy, who has multiple years of club control.
It's early but there is plenty to be excited about with Dylan Bundy.
*Cover photo by Jeff Chiu (AP)*