The Angels called up top prospect Jo Adell. Our very own Jessica DeLine broke down the initial reaction to the move, which you can find here.
Adell's consensus elite prospect status
The hype surrounding Adell and his promotion are both warranted by Angels fans and backed up by the entire baseball world. Fangraphs ranks Adell as the fourth-best prospect in baseball, claiming: "One of the most explosive athletes in the minors, Adell has made a surprisingly quick ascent to the upper levels and will be an elite big leaguer so long as his bat-to-ball skills continue to develop". MLB.com ranks Adell as the sixth-best prospect in baseball, slapping a 65 grade (20-80 scale) on him and a 55 or higher grade on every single tool (hit, power, run, field, arm). Baseball America is even higher on Adell, ranking him as the third-best prospect in baseball behind only Wander Franco and Luis Robert. Baseball Prospectus ranks only Franco ahead of Adell on their top prospect list. Through-and-through, Adell is widely hailed as an elite prospect with the potential to be a superb major leaguer.
As alluded to by Fangraphs and MLB, Adell is not only an incredibly explosive athlete with extraordinary skills but his skillset is also diverse and gives him a much higher floor than others with similar skill sets. The power is clearly the most exciting tool Adell has, as he is consistently flashing elite power and loud contact off the bat, evidenced by this home run he hit in the AFL last year. Fangraphs gives Adell 70-grade raw power and the potential to reach that 70-grade power at some point in the future. This clearly feels like a guy capable of hitting 30+ home runs a year and slugging .500+, making him an immediate option for the middle of the lineup.
Adell combines his prodigious power with borderline elite speed, giving him a chance as a 30/30 threat right off the bat. This superb speed comes handy in the outfield, where he has experience at all three outfield positions but has shown better defense in the corners, mainly in right field. Reports on Adell's arm strength have been consistently mixed since he was drafted, evidenced by the 60 grade MLB gave him and the 40 grade Fangraphs gave him. After showing an elite arm in high school (he was quite good as a pitcher), it's clear that this is one of Adell's lesser tools in 2020. In addition to his raw, material skills, the reports about Adell as a team leader and character skills are through the roof and have been since his high school days.
To reach his true potential, Adell's production will almost certainly hinge on his hit tool and ability to limit strikeouts. Adell has struck out 25.4 percent of the time in the minors, which is roughly 2 percentage points above the MLB average. His 0.31 BB/K is also below the MLB average (0.37) from 2019, signaling that it's not just the strikeouts but also the approach at the plate. Adell fits in with many other modern players who have sought more power in exchange for strikeouts and it's easy to see why. With that said, it's also important to note that Adell has been incredibly young at every level he's been at, including reaching Double-A at 19 years old and Triple-A at 20 years old. It can't be overstated how hard it is to be both young for a league and have the superb production to boot. Adell will almost certainly strike out a lot to begin his MLB career but his elite athleticism and remarkable work ethic/character skills could cut those strikeouts down a ton in the future.
Adell's MiLB track record
Drafted 10th overall in the 2017 MLB Draft, Adell was viewed as a high-risk, high-reward high school talent coming off a monstrous performance in his senior year. Adell led all high school hitters with an absurd 25 home runs in 2017 and was named the Kentucky Gatorade Player of the Year. In his first taste of professional ball as an 18-year-old, Adell flashed his skills across two levels of Rookie Ball in 2017. Across 222 plate appearances, Adell posted a .908 OPS along with five home runs and eight stolen bases.
In his first full season in the minors in 2018, Adell sped his way across three different levels, doing so in his age-19 season. At Low-A, High-A, and Double-A, Adell posted a .897 OPS, crushing 20 home runs and 32 doubles and stealing 15 bases across 440 plate appearances. With these loud numbers came a concerning 32/111 walk/strikeout ratio. Even with the plate discipline issues, Adell had a marvelous season as a teenager who was just two levels away from the majors.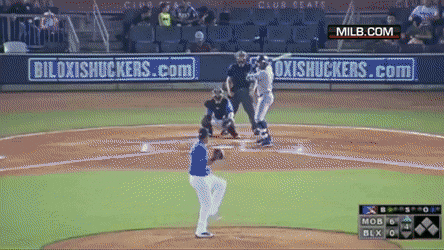 The 2019 season was a heck of a lot more chaotic, which was delayed due to a freak accident in spring training. In a strange turn of events, Adell managed to sprain an ankle and strain the opposite leg's hamstring on the same play. When he returned, he crushed eight home runs and posted a .944 OPS in 182 plate appearances in Double-A. At age 20, he was promoted to Triple-A where he struggled his way through a 27-game sample. In 131 plate appearances, Adell posted a .676 OPS and struck out 43 times. Adell finished off the 2019 season in the Arizona Fall League, where he cut down his strikeouts (26 percent) back closer to his career norms in addition to homering three times. Following 2019, it was clear that Adell was on the cusp on the majors and likely needed a few months of seasoning in Triple-A before receiving the call-up.
How Adell impacts the Angels
In an alternate universe, the status quo coming into 2020 would've continued and we'd be more than halfway through the season. In that universe, Adell was likely called up at some point after April and receiving a bulk of the everyday at-bats as a right fielder in the Angels lineup. Obviously, we are not in that alternate universe and the ramifications of COVID-19, beyond the effects it's had on the everyday world, delayed the MLB season and canceled the MiLB season. As a top prospect waiting in Triple-A, Adell was not just seeing his season delayed but he also didn't have the luxury in playing everyday games (other than Summer Camp games) to help prep him for this promotion to the majors. That makes today's promotion of Jo Adell, the best non-Trout prospect of the past decade, an unusual event in Angels history.
Beyond the oddities of this plague season, Adell will also join the Angels roster at a time where the roster has seen major shake-ups (and likely more coming) in the past few weeks. After missing the first four games, Anthony Rendon returned just in time for Andrelton Simmons to hurt his ankle and land on the IL. Just as Mike Trout is ready to return from paternity leave following the birth of his first child, Shohei Ohtani may land on the IL due to arm discomfort. Less than 24 hours after the Angels announced that Ohtani was dealing with arm discomfort and needed an MRI in his second start post- Tommy John surgery, the Angels promoted their top prospect to the majors. It's a hard pivot from the news we received last night and, quite frankly, fitting for how this season has gone so far.
As far as Adell's immediate impact is concerned, it is so hard to project anything in a season that could be canceled at any moment. If things go well for baseball, the Angels, and Adell, then we'll have a roughly 50-game sample of MLB time for Adell. For reference, Mike Trout had a 40-game sample in his first cup of coffee in the 2011 season. Allowing Adell this time to work through his hiccups, flash his skills, and simply play in some games may do wonders for him. If all is well and this season is completed, Adell will have likely received tons of playing time, giving him the experience needed to come into the 2021 season ready for a full-time role (if Adell performs well enough).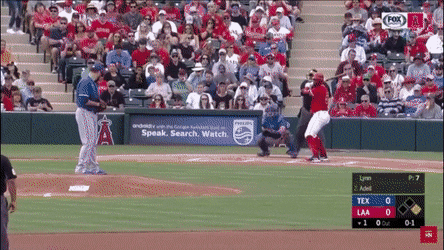 As far as the long-term prognosis for Adell and the Angels, it can't be overstated how important a player like Adell is. Because of the current financial infrastructure of MLB, Adell will make chump change for the first three years as a player who will likely impact the game in a major way. Just for reference, the preseason ZIPS projections from Fangraphs foresee Adell as a 3.5-win player in 2021 and a 4.1-win player in 2022. Unless he signs a team-friendly pre-arbitration extension (which is possible), Adell might be making the league minimum and performing as a borderline All-Star as soon as next season. Projection systems, which are notoriously conservative, may even be selling Adell short. If the recent trend of top prospects, rookies, and young players producing is any indication, Adell might be a guy that produces immediately in the majors.
As Angels fans, I know the natural instinct is to temper expectations (hell, just look at the Ohtani development). But make no mistake about it: Jo Adell is a legitimately good prospect who has the tools, stats, and resume to warrant excitement. Projecting prospects is incredibly volatile, especially with players with Adell's skill set (high strikeouts/contact concerns), but there is a hell of a lot to love about Adell. If things go smoothly the rest of this season, we'll see a heavy dose of Jo Adell and the set-up for seeing him as a full-time potential star as soon as 2021.
Get excited, folks. Jo Adell is here.