Marly Rivera of ESPN reported just hours before the 2020 season was slated to start that the season will likely feature sixteen teams making the postseason, depending on whether the owners agree to earn more TV money or not.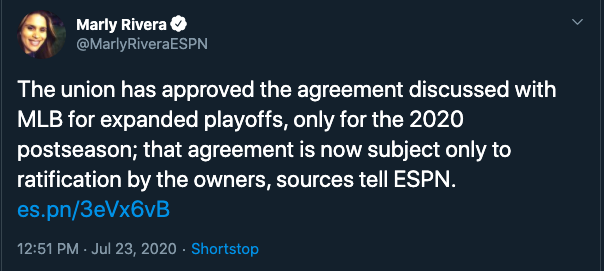 The first round is supposed to be Best of 3, which means that even if a team goes 60-0 in this shortened season, their season can end in two games if they run into, say, Dylan Bundy and Andrew Heaney, who pitch the best games of their lives.
There's a lot here. One reason I thought the 2020 season would be legitimate despite the shortened length is that in baseball, even through sixty games, the cream has a way of rising to the top. The postseason is always a crapshoot, but at least it is exclusive. Now, it may not even be that. Another argument is that since the sixty game season was already going to be weird, we might as well make it the weirdest it could be.
The Angels will be looking at increased playoff odds, considering I do feel they are in the top half of MLB teams. Mike Trout may get his postseason appearances, and a hot run may carry the team to a title. Three cheers for that, I suppose. Just sit back, enjoy the ride, and hope it doesn't derail in the middle.