Acquiring Andrelton Simmons was current GM Billy Eppler's first major move when he took over the job in 2015. The move was not without its controversy as the club traded top prospect Sean Newcomb and longtime shortstop Erick Aybar to acquire Simmons. A half-decade later, it's clear that this move to obtain Simmons was a huge success as he has produced as one of baseball's best shortstops since then.
Simmons is far-and-away the most talented defensive player to ever put on an Angels uniform. In many ways, he's one of the best defenders ever in MLB history, period. Simmons brought his elite glove to Anaheim after years of superb production and has not missed a beat. Since 2016, his first season in Anaheim, Simmons ranks first in Defensive Runs Saved (95) and second in Ultimate Zone Rating (59). Baseball Savant's Outs Above Average rank Simmons as the second-best infielder (44) since the stat has been tracking infielders. In other words, every measure possible thinks Simmons is elite and the highlights back it up. Whether it's to his left, right, in front, or behind, Simmons has the range to reach any baseball. When he does reach baseballs, he consistently flashes one of the strongest throwing arms in the game.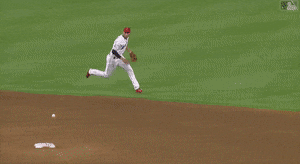 In addition to his elite defense, Simmons has been no slouch at the plate. Since 2016, he's hit a perfectly acceptable .280/.327/.396 with a near league-average 97 wRC+. After an atypical 90 wRC+ in his debut season in Anaheim, Simmons produced a 102 wRC+ in 2017 and 108 wRC+ in 2018. Right when it appeared that Simmons may be a legitimate force at the plate, Simmons endured a down, injury-riddled 2019 season that produced an 81 wRC+. Still, the overall track record has Simmons right around a league-average hitter, which makes him a superb everyday player with the defense he provides.
Simmons is in his contract year with his 7-year $58 million deal ending. After a down 2019 season, the 2020 season represented a huge year for Simmons to regain some of his value. COVID-19 makes things even more difficult for Simmons, who (maybe) has a 60-game sample to prove his worth and give the Angels a reason to extend him. Given the lack of shortstop depth in the upper levels of the minors, he may be extended regardless of how he produces this year. In any case, Simmons has been a true joy to watch and is a generational talent at the shortstop position.