The Los Angeles/California/Anaheim Angels have played almost 60 seasons of baseball. As the baseball world is suspended due to circumstances outside its control, it is time to look back at the history of this organization. There have been many talented players to put on the uniform, and we at Crashing the Pearly Gates wish to highlight the best who have ever represented the Angels. Without further ado, here we go!
——————————————————————————————————
#58 – Reggie Jackson
Reggie Jackson's prime years were certainly not with the Halos, but he did spend some memorable years in Anaheim, including the last 3 of his 14 total All Star nods. Jackson, AKA Mr. October, played 21 Big League seasons, including his age 36-40 seasons for the Angels. He'd later sign a 1 year deal with the A's in 1987 to finish out his career.
Jackson had a remarkable career leading up to his signing with the 1982 California Angels. He was colorful, controversial, and sought after by the Yankees, Orioles and Braves. George Steinbrenner once said that letting Jackson go was his biggest regret. His signing was a big deal for the Angels and instantly gave them national attention.
Jackson's career with the Angels was notable indeed. In 1982 he won the Silver Slugger award and was part of killer Angels roster that included the likes of Rod Carew, Fred Lynn, and Don Baylor. Some fans will tell you this was one of the best Angels teams ever, and after winning 93 games in the season they ultimately lost the AL Championship to the Brewers 2 games to 3. Mr. October had perhaps lost some luster that year. as he hit only .111 over 20 playoff plate appearances.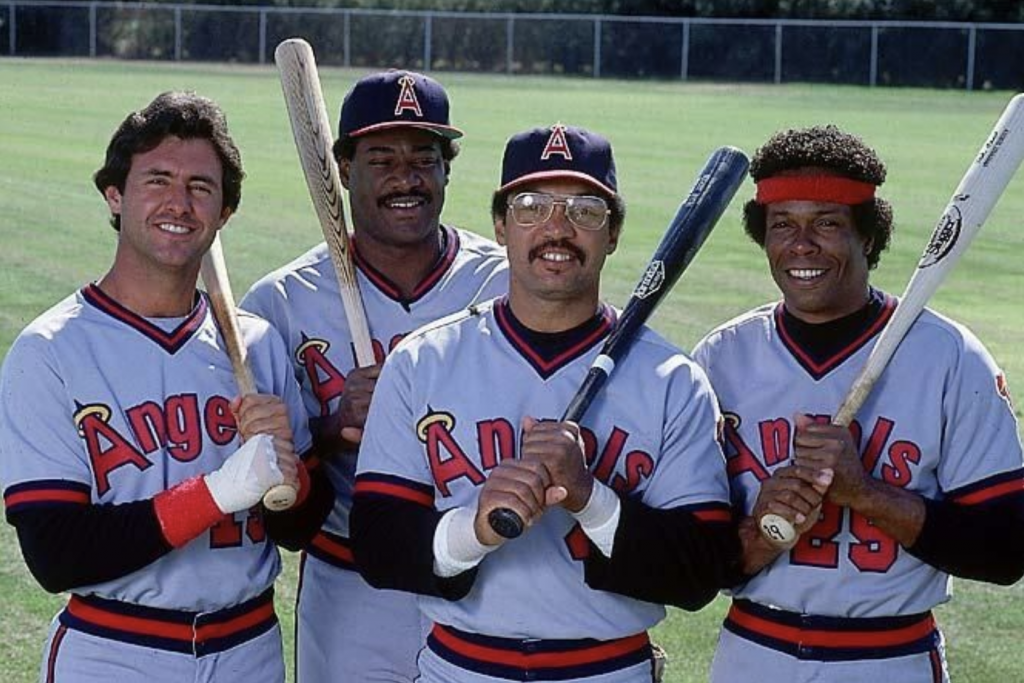 Over his 5 years as an Angels, Jackson batted just .239 with a .782 OPS. He hit 123 home runs and had an OPS+ of 114 which was 25 points lower than his career number. Jackson did mash 39 home runs in that 1982 season and age 39 hit 27 more with an .847 OPS
Jackson found himself in the top 10 All Time of a few Angels records including home runs, but Mike Trout and Albert Pujols have bumped him off those. He still holds the #7 spot for intentional walks – right behind Wally Joyner and just ahead of Rod Carew. Jackson also holds the #7 spot for AB per HR with 19. His place in Halo History is firmly entrenched.