When you type in BUCK to the BB-Ref main page, Buck Rodgers shows up among managers (not players) despite playing in 932 games across nine seasons for one team. And that is a problem.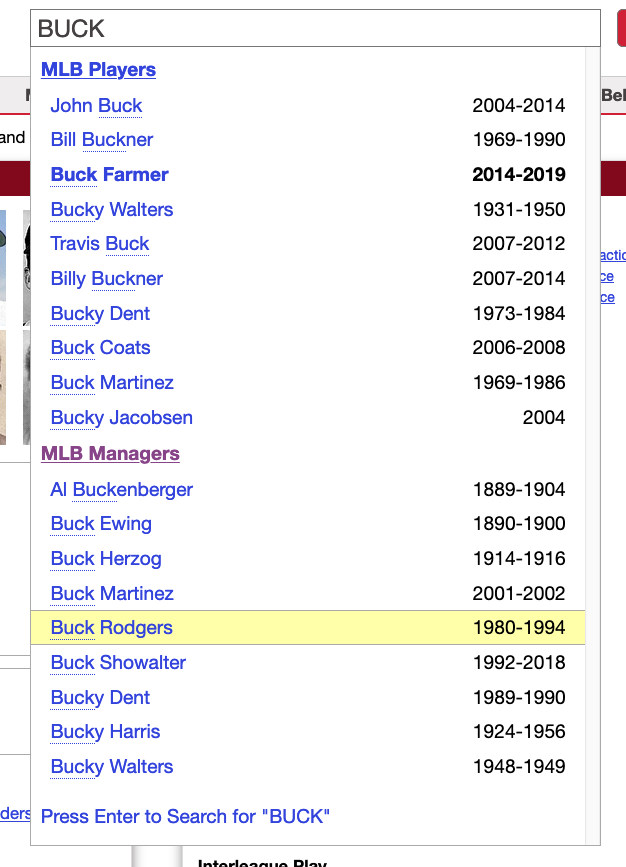 If our top 100 Angels list included managers, Buck Rodgers would rank higher. He was part of the "almost tragic" team bus crash that defined the early nineties for the franchise. However he was a defensive master behind the plate. His 6.8 Defensive WAR is tenth all time for an Angel, just a smidge above Bengie Molina's 6.7 dWAR… but Bengie also had a bat.
Buck's bat was… well… not where it is at… he was the other half of the battery when Dean Chance won the Cy Young Award in 1964 (when it was only one pitcher in all of MLB not one from each league, and Chance beat out a guy named Sandy Koufax for it) and he was there for the meteoric start of Andy Messersmith's career.
He had 704 hits in 3,033 Plate Appearances and 541 of those hits were singles. That is just not good. That is almost Jeff Mathis territory. But wiht more than twice the Plate Appearances.
But along with Jim Fregosi and Bobby Knoop, Buck (real name Bob, but imagine if there was a player named Hank Solo, they'd call him Han and Buck Rodgers was for all intents and purposes, the Han Solo of this era) was the Angels in the 1960s. He played late in the 1961 debut season of the club and he played in the next to last Angels game of the 1960s on October 1, 1969. That is three stadiums, two name changes and a grand total of 3.4 career WAR. Buck might be on here for sentimental reasons. Announcers would reference him when discussing catcher defense well into the 1980s and the lens of nostalgia is more pleasant than the harsh, glaring lines of mediocrity on a Baseball Reference Player page, so that don't mean he's junk, but let's understand why someone with such a long stay with the team did so at a time when analytics were less important than tobacco juice and not based on what we would come to know as objective merit.
In five or ten years perhaps someone will compile a Top 100 Angels list and with a few more seasons some of the once great Halos will not be mentioned. So instead of referring to a 1930s science fiction character, when someone mentions Robert Leroy Rodgers it might be apropos to call him Ozymandias.