Spring time is here. Time to see what the OF looks like for 2020. As the outfield is in flux due to losing Kole Calhoun and the uncertainty of the readiness of Jo Adell, this season will not end the same as it starts when it comes to the outfield.
CF

Let's get the obvious out of the way. Mike Trout is the CF of the Angels again for another year. He is already the best player the Angels have ever had and will be HOF eligible on opening day. His 7 seasons of at least 8 FWAR is also very rare for a player. Only the best of the best HOF players have more seasons of 8 FWAR.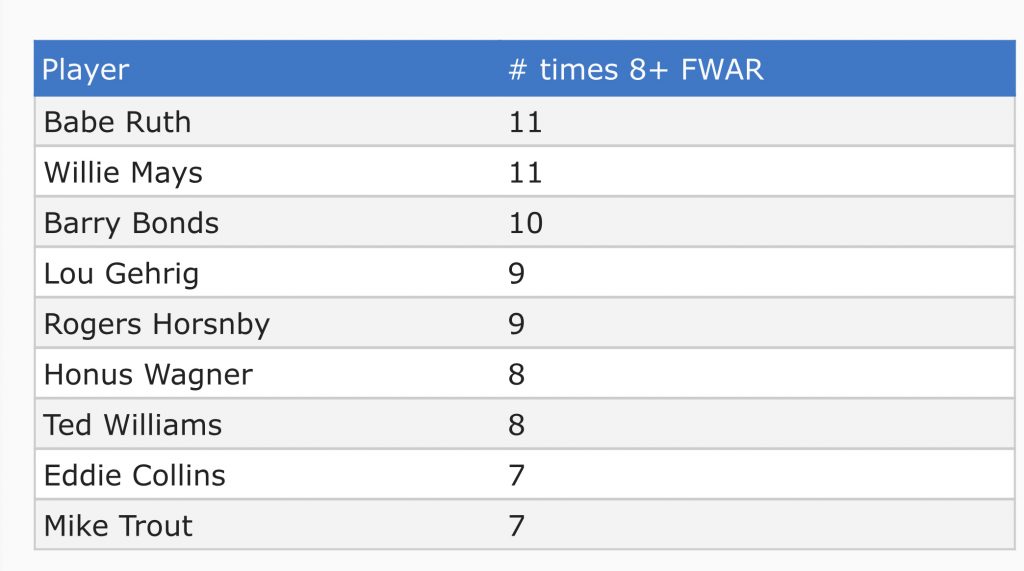 Projections predict Trout to have another above 8 FWAR season. The sheer consistency of Trout is comforting after so much of the Angels hasn't the last decade. What is uncertain however, is if Trout can actually be healthy all season. A fully armed and operational Mike Trout hasn't been seen in years.
Goodwin and Hermosillo look to be the backups in CF when trout needs a day off his feet. Hopefully it isn't much time this time, as Trout losing CF time due to injury or injury concerns is getting concerning at this point.

LF

Justin Upton is a Hot Pocket. He is hot and cold at the same time. That's just who he is. When healthy at least. Upton last year missed most of the season due to injury which caused the fans to groan about him and his contract on the team. While understandable, especially with the prospects the Angels have, Justin Upton can be a solid contributor.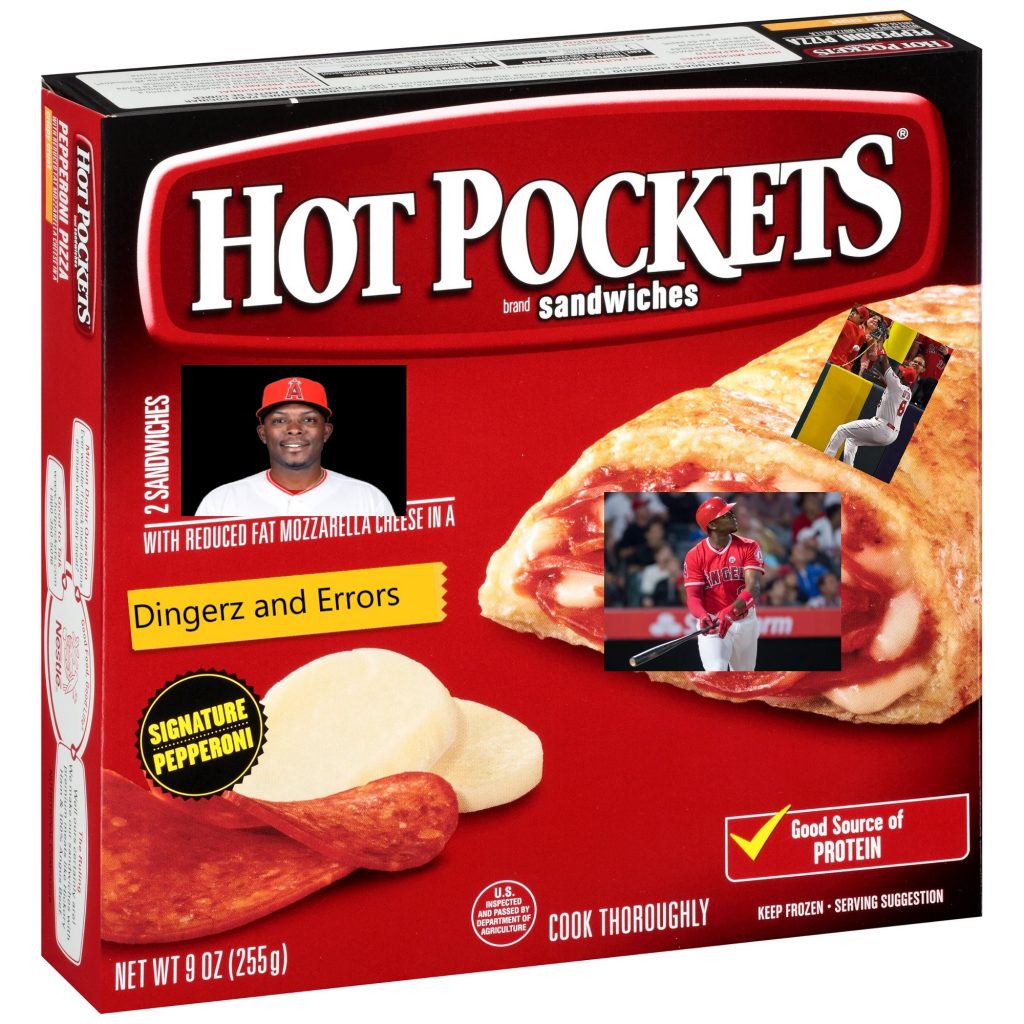 In 5 out of the last 7 years, Justin Upton has been worth at least 3 FWAR. Especially now with Rendon and Ohtani healthy, Justin Upton doing just that would be plenty for his role. He isn't the player to protect Mike Trout anymore or even the second best righty bat. Going down in the order will help him out as well as less pressure to do well. Maybe. After all, Adell and Marsh are right around the river bend.
Upton is projected at half that though. While projections are usually conservative in nature, it is slightly concerning that Upton would have such low numbers. Although in this case it seems to stem from his terrible defense. It isn't without precedent either as he hadn't had positive defensive numbers from Fangraphs since 2011. Realistically, he is likely to move to 1B before the end of his contact be it here or elsewhere.
David Fletcher and Michael Hermosillo look to be the backups in LF for the Angels. Joe Maddon did say he wants Fletcher out in the OF more so seeing some time out there makes sense. That Upton gets a vast majority of the time doesn't make much sense though due to age and defense. Fletcher moving to LF late in games or RF and have Goodwin move to LF seems to be likely. Expect Ward to get some playing time come September, if he is still on the 40 man.
RF

Brian Goodwin has been a breakout player for the Angels that Billy picked up on the waiver wire. His role has been as a 4th OF for the Angels but with Calhoun gone, Brian looks to get the starting gig. For now. His role was almost usurped by Joc Pederson in a failed trade the Angels made with the Dodgers which shows how not in the long term plans he is.
If he is in the starting OF for more than a month this season, he looks to do the same old player he has been which is a reverse split lefty decent player that can defend decently and be overall decent. These types of players are good enough for the price, even after Goodwin won this arb case.
That isn't what is expected however, Jo Adell is a unanimous top 6 prospect in baseball and is looking to play come May. Not that Fangraphs believes in the hype. While it is true and typical for caution to be implemented, it does make this evaluation more tricky.
The way this graph shapes up it appears that Adell won't even have half a season this year, calling him up late July and then play every day like they did Trout back in 2011. This may be the plan that the Angels go with, and if that is the case, it will be a year of transition in RF that will not be final until 2021.
Fletcher looks to get some games in RF as well, perhaps for the same reason why he would be in LF at times. He can play anywhere. Late game defense is the most likely outcome for this, as his short time in the OF has posted positive fielding numbers and the IF is crowded. Hermosillo is also on here but again, there is no room for him in the Angels future.
OF Rotation
There are essentially 5 outfielders for the Angels in 2020. For three positions that means that there will be mixing and matching going on.
Mike Trout
CF will see Mike Trout most often, about 140 games worth give or take injury concerns. (He hasn't reached 130 games in CF since 2016) Last year when he was in CF and not DH his OPS+ was 195 compared to his limited DH production of 106 (in 56 PA). The only reason why he should DH is to keep him off his feet but with a crowded outfield and much lower production, a full day off is much wiser. He has a career .748 OPS as a DH in 287 PA.
Justin Upton
Upton has actually played more games in the OF than Trout has last decade, going over 140 games almost every year. His defense in LF is bad no matter the metrics, which would suggest he DH more instead of losing value in the field. However he has only 70 career PA at DH and with better players at DH, this is unlikely. resting him days should be full days off, or be subbed in for a defensive replacement late in games.
Brian Goodwin
Goodwin is the one most likely to play the most innings in the OF. For the start of the season he would be in RF with spot starts in CF when Trout needs a day off and moving to LF late in games to replace Upton. Maddon would keep him playing basically every day even if Adell comes up this season. The hope is to have him repeat his 2019 season where he had a .796 OPS and worth 2.1 BWAR. His defense is just the slightest below average, which is miles better than Upton's. His ability to play CF and relatively low cost will keep him on the roster through this season.
David Fletcher
Fletcher has caught Maddon's eye and is what makes this preview more interesting. Maddon wants Fletcher to play RF, this is hinting at having no true 4th OF on opening day and instead keeping plenty of IF depth. He has played 27 games in the OF in his short career thus far and seems to be good at defense there; although these have been mostly as late game defensive replacement. Maddon may start him out in RF over Goodwin or just move him out to RF late game to cover Goodwin replacing Upton. Whatever happens, expect him to pop up constantly in RF or LF along with his more familiar positions in the IF.
Jo Adell
When it comes to preview, this is where crystal ball shenanigans happens. No one knows what Billy and Maddon will do about Jo. Boras is his client, and if Adell is ready he will remember if he gets time manipulated. Most say he is not ready, however, as he has missed time in the minors and has limited action in Salt Lake. He could turn up in May, or not actually be ready until July. If he is healthy and he does look ready, he will play every day up on the MLB level. The Angels have been grooming him for RF and will take it over sooner or later. Expect high strikeouts and raw power from him when he does arrive.
Everyone else
Michael Hermosillo could take the 4th OF spot if the roster lines up correctly. Or it could end up going to Taylor Ward, as Maddon seems to love the versatility of his players and is hoping that he can figure it out in the MLB level.