Many familiar faces will return to the Angels bullpen in 2020, a bullpen that was severely overworked last season. A combination of the Angels rolling out baseball's worst rotation (last in ERA and fWAR) and the heavy use of the opener led to a bullpen that logged the third-most innings of any bullpen in MLB history (761 2/3).
By fWAR, the Angels bullpen finished middle of the pack but that was likely helped by the sheer amount of innings thrown. Judging by the group's ERA- (103) and FIP- (103), they were below average from a pure run prevention standpoint and from a peripheral standpoint. The Angels bullpen was one of the 10 bullpens that finished with a below-average ERA- and FIP-.
The 2020 bullpen doesn't project particularly well for these reasons and the mediocre track records for many relievers factors in as well. That doesn't mean this group is doomed to be bad, however. Reliever volatility is well-known within the baseball spectrum and general manager Billy Eppler has a strong track record of putting together good bullpens. With two high-end relievers in the fold and the return of a potential high-leverage reliever, this could be a perfectly fine bullpen.
I listed the relievers in different categories based on how likely it is that they'll make the team. The new 26-man roster means there is a reasonable chance that the Angels carry eight relievers, opening up the door for several pitchers. In addition to looking at raw ERA and fWAR, I also looked at FIP and DRA. Given the insane volatility of this position, it was important to look at a variety of statistics.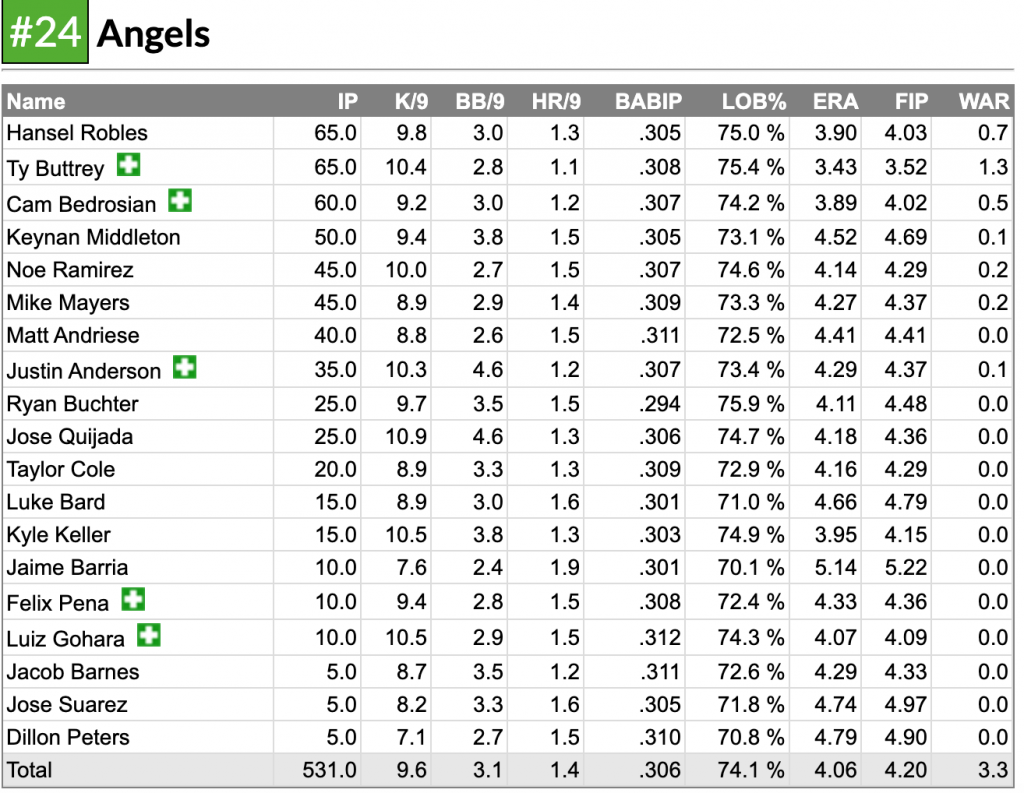 Surefire Locks
Hansel Robles, RHP
Ty Buttrey, RHP
Cam Bedrosian, RHP
Keynan Middleton, RHP
Robles and Buttrey were both top-20 relievers by fWAR and should be the two best Angels relievers once again. Hansel Robles shoved in a high-leverage closer role, posting career-best marks in ERA (2.48), fWAR (1.8) and FIP- (63). With a career-high 97.2 mph average fastball, more reliance on a really good change-up and a career-low 5.7 percent walk rate, Robles has turned himself into a quality reliever. "El Caballo Blanco" being the owner of baseball's best introduction video only adds to his entertainment value.
Acquired for Ian Kinsler in 2018, Ty Buttrey has been a great addition with his 3.86 ERA and 3.42 DRA in 88 2/3 innings. Buttrey misses bats (27.4 strikeout percent) and limits walks (7.4 percent) but he has slightly underperformed his peripherals due to issues with stranding runners (career 71.8 percent). He's a quality reliever who may reach another level with some good luck and better ability to strand runners.
Bedrosian enters his seventh season as an Angels reliever, an impressive feat for any player at this volatile position. He's a fine reliever who has settled into a useful pitcher despite his declining fastball (career-low 92.9 mph heater last year).
Middleton is now fully healthy post-Tommy John Surgery and he may be the bullpen's biggest x-factor. If the 26-year-old can start to tap into his explosive skill set, he may become the high-leverage reliever that some people have expected him to be.
Strong Bets
Noé Ramirez, RHP
Matt Andriese, RHP
Ramirez enjoyed a career-best 2019 season (3.99 ERA and 0.9 fWAR) and somehow managed to make an appearance in every type of inning (1-9 and extra innings). That may say more about the sad state of Angels pitching last year but nonetheless, Ramirez was a useful reliever and should crack this roster.
There is nothing particularly exciting about Andriese but he has shown value both in the rotation and bullpen. He'll likely be used as a swiss army knife that pitches in a variety of situations and gives a club league-average ERA in 50-70 innings.
Bubble Guys
Félix Peña, RHP
Mike Mayers, RHP
Ryan Buchter, LHP
Luke Bard, RHP
With the extra spot for 26-man rosters this season, we'll likely see one of the bubble relievers grab the final spot. Peña pitched admirably last year in numerous roles, which included closing out the no-hitter following the death of Tyler Skaggs. A knee injury prematurely ended his season but he should be ready for Opening Day and will likely make the roster if healthy.
After this, it's a bevy of pitchers who will compete for a spot(s). Mayers' hard high-spin fastball and lack of options years may get him on the roster even though his career 7.03 MLB ERA isn't pretty. Buchter is a lefty with a track record, which immediately qualified him for a spot in this bullpen, even if the down 2019 season and new three-batter minimum rule make him riskier. Bard is a high-spin rate, Billy Eppler favorite who has failed to produce much of anything.
Depth Options
Justin Anderson, RHP (injured)
Taylor Cole, RHP
Kyle Keller, RHP
Jose Quijada, LHP
Luiz Gohara, LHP
Hoby Milner, LHP
Jacob Barnes, RHP
Jake Thompson, RHP
Neil Ramirez, RHP
Anderson will likely find his way back to Anaheim once he recovers an oblique injury that will sideline him 4-6 weeks. Cole, Keller, and Quijada are all on the 40-man roster, which likely gives them a leg up on the others. Gohara is certainly an intriguing option as a 23-year-old former top prospect but a shoulder injury that wiped out his entire 2019 season makes him a high-risk bet. The remaining pitchers are uninspiring options who likely won't make the roster.
Prospects
Hector Yan, LHP
Adrian de Horta, RHP
Aaron Hernandez, RHP
Daniel Procopio, RHP
Robinson Pina, RHP
Oliver Ortega, RHP
Brett Hanewich, RHP
None of these guys will likely reach the majors in 2020 but it's worth mentioning them. Yan was a 40-man roster addition, showcasing the Angels clearly value his future. While he's mostly started games, he's an erratic lefty with limited offspeed stuff, making him a prime bullpen candidate. The rest are interesting relief prospects with varying levels of stuff and production.