Seriously, again with no broadcast by he Angels or the Royals. I thought we were done with this.
Whoever listened did hear a game, one where Tucker Davidson went 2 innings, giving up 2 runs on 3 hits, striking out 3 and walking none. They also heard Zack Weiss giving up 4 in the 4th. And César Valdez giving up 2 in the 8th. These factors were too much for the bats to overcome in this loss.
Unlike last time, I can't even show fan highlights due to not much to even show for the Angels outside of a Brett Philips catch that would be hard to film anyway.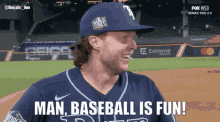 Hopefully, this is the last, LAST time this happens, because it is an embarrassment.
Angels are now 4-2 on the Spring, behind the Cactus leading Royals. Next game tomorrow, ON TV.