Janson Junk and the mostly Angels B team visited the Sneks at their Spring Training facility. It is a bit odd that Arizona doesn't play their spring games at their home park.
What really was strange was that they tied. Ties do not happen in baseball. It was a disgusting display of practicality that would make any baseball fan mad.
Recap
1st
Jo Adell grounded out to start the game. But a Mayfield walk and back to back singles by Walsh and Ward scored the first run of the day. A Marsh lineout and a Rengifo groundout ended the inning. 1-0 Angels.
Janson Junk got the start on the mound. He had a quick 1-2-3 inning, with some defensive help. Still 1-0 Angels after 1.
2nd
After Kurt Suzuki grounded out, Tyler Wade walked and Michael Stefanic doubled to put two on for Jo Adell. A wild pitch brought in a second run and Adell walked. That is when the Sneks changed pitchers, which was a mistake. The new guy had Jo Adell steal on him, which allowed Stefanic to score on the bad throw, then a wild pitch sent Adell to third. Mayfield doubled Adell in.
Walsh got a HBP, but the inning ended with a Ward GIDP. 4-0 Angels.
The long inning may have caused some rust on Junk, as he threw junk and had 2 on with no outs. A run came around to score, but just the one. 4-1 Angels after 2.
3rd
Marsh and Rengifo struck out and Suzuki flew out in the 4th.
A third inning for Junk went almost perfectly, but a botched play at first base allowed a runner on. It didn't come back to haunt him, as he got the next batter out. Still 4-1 Angels after 3.
4th
Wade struck out, but Stefanic singled and stole second. He was stranded there, however as Adell flew out and Mayfield struck out.
D-Cell came in to get some work in, and immediately gave up a double. It was fine, however, as he got out of it with no trouble. Still 4-0 Angels after 4.
5th
Walsh struck out. Ward walked, and Aguilar came in to pinch run. He stole second, but Marsh struck out and Rengifo grounded out to strand him.
Jose Quijada came in for the 5th and actually pitched well. For the first two batters. As an Angels' pitcher, he couldn't get that third out easy and allowed a solo home run. 4-2 Angels after 5.
6th
It is substitution time, Chad Wallach is now catching, and struck out. Tyler Wade singled and Arol Vera pinch ran for him. Stefanic struck out to end the inning.
Jamie Barria got the 6th, and had himself a quick 1-2-3 inning. Still 4-2 Angels after 6.
7th
Velazquez flew out, and Rojas popped out. But, Ryan Aguilar hit a 2 out solo shot to put an exclamation mark on his day. 5-2 Angels.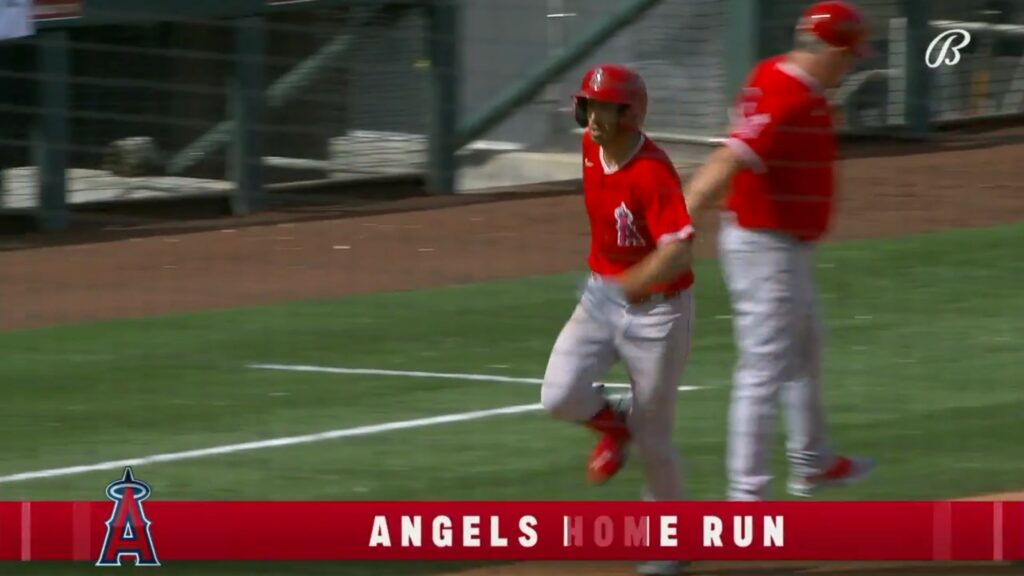 Barria's second inning went not as great, but he was able to strand a one out single at first. 5-2 Angels after 7.
8th
The Angels went down in order in the 8th. Guzman struck out, Humphreys and Vera grounded out.
Barria went out for a third inning of work and things went off the rails. A one out misplay ay first allowed a runner on, a runner that immediately scored on a 2 run home run. 5-4 Angels. A couple of doubles meant another run and the game was now tied 5-5.
9th
Now tied, the Angels had to rally to win. Gatewood grounded out on replay, and Sierra struck out. Kyle Kesser singled to keep hope alive. Rojas walked to put two on. But a strikeout by Aguilar ended the inning.
Kyle Barraclough had the ninth and shut the, down. However, due to there not being an "important game" it ended in a tie. Like some sort of unholy abomination.