Angels (12-11) @ Mariners (14-12)
It's a weekend at Jerry's for the Halos, who are hopefully refreshed by the day off and the flight up. Seattle is currently half a game up on the Angels in the standings, placing them at 2nd in the AL West race, but that ground can easily be made up with a series win.

Seattle has a good young group of players, and this series will be tougher than expected. This weekend, we have the standard Friday 7 pm -> Saturday 6 pm -> Sunday 1 pm lineup, and then the road trip will finally be over.
Mariners Lineup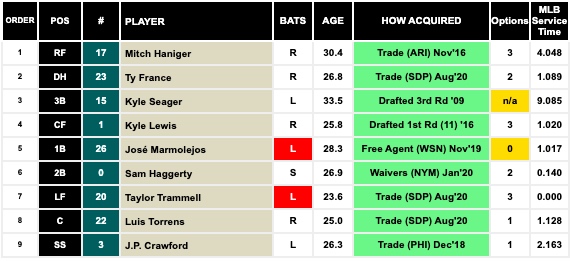 Mitch Haniger, hard as it is to believe, is now 30. It seems like just yesterday he was breaking into the league. After missing a majority of 2019 and all of 2020, Haniger is back and is hitting like he normally does, which is boringly above-average. He's missed the past few games with an injury, but he is back in the lineup and should be a capable hitter at the top with his .820 OPS this season.
Ty France is the surprise. He hit well for the Padres in 2020 and got moved up to Seattle in the Austin Nola deal. Many fans outside the Pacific Northwest haven't heard of France, but so far in 2021, he's raking at a higher rate than he did in the previous season. France plays second base primarily, but he also gets the rotating DH slot frequently and can also man first. If he continues hitting at a .301/.394/.484/.878 clip, the Mariners will put him wherever in the field to keep his bat.
Months after Kyle Seager was called overpaid, he's doing what he always does: hit and play third base. After a hot start to the season, Seager has cooled off, but his season long OPS of .788 looks similar to 2020's .788, 2019's .789, and even 2014's .788, his lone All-Star year. Considering Fangraphs's projections up top, Seager probably won't be around for the next great Mariners team, but there's no denying that Angels fans won't miss seeing his pesky, ready bat in the lineup.
Kyle Lewis is one exciting player branded as one of the young stars of baseball (despite being just four years younger than Mike Trout). He's missed time for injury reasons and struggled in the early part of 2021, but coming off an AL RoY win, he will be back. Hopefully not this series.
Of the remaining hitters, no one else is hitting particularly well, but it's worth mentioning that two other regulars, catcher Luis Torrens and outfielder Taylor Trammell also came over in the aforementioned Nola trade. If the Mariners can get three regulars out of that one, it's a pretty good piece of business.
Probable Pitchers

Seattle has a lot of left-handers in their staff, but two of them, Angel-killer Marco Gonzales and Nick Margevicius, are currently on the IL.
Chris Flexen is your prototypical pitcher of yore, with a 93 mph fastball, a cutter, changeup, and curveball. He's good both limiting walks (he's in the 82nd percentile!) and home runs (allowing just one so far). This strategy has helped him be successful so far in 2021, with a 2.61 FIP and a 2.74 ERA. These kinds of numbers simply do not seem sustainable, as he doesn't get a lot of whiffs, doesn't induce soft contact, and gives up a ton of hits. If you don't strike out the Angels, they will make you pay, and hopefully the offense does that tonight. He faces Andrew Heaney, who is pitching out of his mind right now.
Ljay Newsome will make his first start of the season Saturday. In just 10.2 2021 innings, he's been very successful, posting a WHIP under 1.00 and a sub-3.00 ERA. As we all know, starting is a different animal, and we will see if his 93 mph fastball, changeup, and curveball play. He faces Griffin Canning, who might need a good start to prevent himself from getting demoted to the minors and shrinking the rotation to five.
Justus Sheffield is not having a good time right now. He has a 5.32 ERA and 1.59 WHIP in four starts, and nothing gives the indication that he can turn things around. With the Sunday day game, the Angels should knock him around.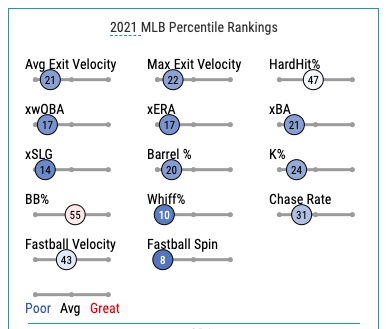 Mariners Bullpen
A longtime Oakland A, Kendall Graveman got moved to the bullpen in 2020 and hasn't looked back. In 10.2 innings, he's allowed an eye-popping two hits and two walks while striking out twelve. One of the worst starters in baseball added velocity (he's now throwing 97), moved to the bullpen, and has been one of baseball's best relievers in the early going. Go figure.
Rafael Montero has been the closer in name, but he blew a save on Wednesday, and Graveman successfully closed out Thursday. Montero is still having a solid season, and he's a fearsome arm out of the pen.
The Mariners also employ Keynan Middleton, who will certainly appreciate the Seattle cheers if he enters a game over the weekend. Middleton has walked at a 5.2 BB/9 clip, and he's not striking out too many guys, but he has limited the hits extremely well so far. We'll see if that holds up.
Series Prediction
Don't set expectations too highly. This series, at the end of a road trip, is a trap, and a series win would be welcome. Just don't get swept.
(Title photo from Mariners Twitter)