Astros (4-0) @ Angels (3-1)
It is a little hard to believe that today will be the first time that the Astros visit a fan-filled Big A since the news of the cheating scandal dropped. Although the fans will be limited to capacity, it seems they will finally get booed in Angels Stadium, something that was going to happen in 2020 before the pandemic created "domed" baseball.
On the baseball side of things, George Springer is gone north of the border, but the other major players of the Astros recent success are still present. Familiar faces like José Altuve, Carlos Correa, Alex Bregman, and Yuli Gurriel still comprise the meat of the batting order. The Astros come into SoCal having swept the Oakland A's, scoring 8+ runs in each of the four games. It will be a tall task to slow this team down.
Astros Lineup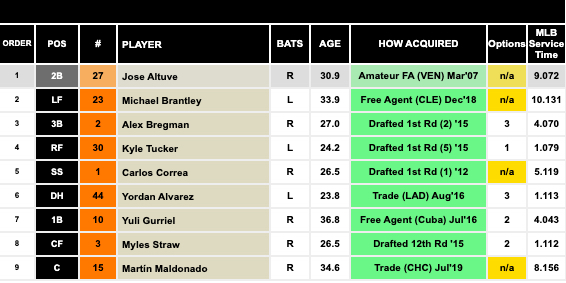 These are the names that have burned through Angels pitching in the past. In the infield, Gurriel, Altuve, Correa, and Bregman form as solid an infield core as there is in the Majors (although Walsh-Fletcher-Iglesias-Rendon might have something to say about that), with not an easy out among them.
Michael Brantley in left field has been a solid addition to the outfield the past two seasons, but he was hit by a pitch on Saturday and remains day-to-day. The Astros don't feel that he has to go on the Injured List, so we may see Brantley this series. Kyle Tucker, an erstwhile top prospect, finally got an everyday role in 2020, and he shined to the tune of an 0.837 OPS (123 OPS+). Myles Straw doesn't hit that well, but he displays positional versatility (mainly short and outfield, although he has played other infield positions), and Houston likes him well enough to seemingly give the everyday center field job.
The Astros catcher tandem consists of former Angels Martín Maldonado and Jason Castro, both of whom we recognize from past years. The big new story is Yordan Álvarez, the big slugger who is the designated hitter for this talented team. After winning the AL RoY award in 2019, Álvarez missed most of 2020 with an injury, but he is now back and is mashing. Although his defense leaves much to be desired, Álvarez is a top-10 hitter in baseball, and he will be recognized as such if he completes a healthy 2021. Let's try to avoid this guy:
Yordan Alvarez career 162 game pace:

51 HR
155 RBI
185 H
49 2B
92 BB
1.068 OPS
172 OPS+

Thank you @Dodgers pic.twitter.com/9X4fkG5nMG

— Apollo Media (@ApolloHOU) April 4, 2021
Probable Pitchers

The Astros will trot out righty Luis García on Monday night. (No, this isn't the same pitcher that pitched for the Halos a few years back.) This García signed out of Venezuela in 2017, and he made his Major League debut in 2020. With Framber Valdez and Jake Odorizzi temporarily on the shelf and Justin Verlander recovering from Tommy John surgery, García was able to sneak that 5th rotation spot. According to Baseball Savant, García throws a fastball (50+% of the time), changeup, slider, cutter, and curveball, although the slider and cutter are almost exclusively thrown to righties and the curve to lefties. The changeup garnered a 47.6% whiff rate in 2020, albeit in a small sample size.
José Quintana makes his Angels debut. Quintana has struggled the past three years with the Cubs, but he throws a beautiful curveball, and perhaps he can emulate the Dylan Bundy/Alex Cobb model rather than the Matt Harvey/Julio Teheran model and use his secondary pitches and the defense to success. Facing off against a great hitting lineup like the Astros, it's hard to be confident in his success, but stranger things have happened.
Zack Greinke has pretty much never had a bad season in his career, as he tries to add to his borderline-Hall of Fame resume. This will be the second start of his season, and he went six scoreless in the first, giving up three hits, walking none, and striking out four. Last season, Greinke took a perfect game into the sixth inning against the Angels. Let's hope the same doesn't happen in Tuesday's getaway game.
Because of the 6-man rotation that the Angels employ, Griffin Canning will make his first start Tuesday afternoon. Canning impressed me in 2019, but he was a little more hit-prone in 2020, and his WHIP increased to 1.37 in the shortened season. The former UCLA product, Canning will need to deliver a strong 2021 to convince me that he should be in our future plans as another rotation stalwart rather than another guy who demonstrates flashes of success but never puts together consistent performances.
Edit: Dylan Bundy now starts tomorrow.
Dylan Bundy will start tomorrow, not Griffin Canning after Canning got warm in the bullpen last night in case of extra innings. Bundy will be on normal rest.

— Fabian Ardaya (@FabianArdaya) April 5, 2021
Astros Bullpen

The Astros bullpen is very talented, and the team showed they could cobble together a success with a bunch of guys casual fans had not heard of in 2020. Of course, Ryan Pressly is the big name in the back of the bullpen, and just like with Hendriks last series, the Angels should try to avoid him. Joe Smith is a familiar face, and the Astros also carry two lefties in Brooks Raley and Blake Taylor. Everyone but bulk man Brandon Bielak is rested, and they should be ready to go in this two-game set.
Prediction
Odds are that the Angels will be able to take at least one of these two games, but seeing the way that the Astros mashed against the A's makes me nervous. Quintana will need to deliver serviceable innings in Game 1, and Greinke is always tough in Game 2. The Angels are 3-1 right now, but I see them dropping both games in this set. Thoughts?
Edit: With Bundy starting Game 2, I am more confident in our chances.
(Title photo from Astros Twitter)