Jered Weaver is here at number 5, just off the Mt. Rushmore of the Franchise. A Long Beach Dirtbag that started off rocky with the fans but, by the end of his Angels career, became one of the most beloved Angels of all time.
Rocky First Impression
Now younger fans may be wondering, "Wait, rocky?" and wonder what I meant. Back at the 2004 draft, Jered Weaver was selected 12th overall. Being a player at Long Beach State, Weaver was a local which should have made him easy to sign.
Instead, it led to nearly a year of tense negotiations with the Angels. Jered Weaver's agent was Scott Boras and as per usual, his client wanted as much money as possible. Just 2 years earlier, the Angels gave their 12th pick 1 million dollars as a bonus. Jered Weaver asked for more, a lot more.
For 2004 the number 1 pick got a 3.15 million dollar bonus. Jered Weaver wanted more than that. This led to him threatening to not sign, an argument that lasted until the final day when the Angels gave in and he signed for 4 million, the largest of the 2004 draft.
Oh Brother…
When you are not the first in your family in a professional sport, comparisons will always be made. Jered Weaver was no exception, being called Jeff by some broadcasters by accident. He did look up to his older brother, but Jered Weaver is a competitor through and through.
This escalated when the Angels signed him as a free agent in 2006, which meant that the duo would be in the rotation together for Jered's rookie season. It was only the 6th time that happened in MLB history. Not that it lasted as Jeff was traded to St. Louis mid season but still.
Jered and Jeff didn't get to face each other until 2009, when the brothers started against each other in the Freeway Series at Angel Stadium. Jeff came out on top, which may have fueled Jered for the rest of the season. Still, as it was an AL game, they didn't pitch TO each other that time.
Thus, it made for a fun game in 2010 when the Weaver brothers faced each other in a game at Dodger Stadium. Although Jeff had become a reliver by then, Jered got the better of him this time.
Weaver the Younger
Let's rewind a bit to 2006. Jered Weaver made his MLB Debut on May 27th 2006 and stayed up for a few starts when Bartolo Colon was injured. After being sent down when Colon got healthy, he came back up for good when his brother was traded to St, Louis.
It was an incredible year for Jered Weaver. He finished 5th in Rookie of the Year voting, started 19 games with a 2.56 ERA, an ERA+ of 177, and recorded 105 strikeouts in just 123 innings. This resulted in 4.7 Baseball reference WAR. Not only was that the highest on the team in 2006, but 7th for all pitchers in the AL. Also he went 11-2 back when wins meant something.
What was glaring though was his FIP. It was 3.90, with an expected FIP of 4.36. Even as a Rookie, Jered Weaver relied more on finesse and using his defense over strikeouts. This was despite being able to throw in the upper 90's during this time.
As such, even though he has one of the best Angels Rookie Pitching seasons of all time for Baseball reference, it is only 8th best at Fangraphs with 2.5 Fangraphs WAR. Still, he had the 2nd best Angels Rookie LOB percentage of all time at 86.2%. This is just behind Reliver Ken Tatum's 87.5% in 1969.
Playoff Dirtbag
2007
Maybe FIP is right despite how much I hate it, as Jered Weaver's 2007 did not go nearly as well as 2006 did. For only a .16 uptick in FIP, Jered Weaver's Baseball Reference WAR went down to 2.7 despite throwing more innings. WAR is an accumulative stat, so to drop off that far is not a good sign.
That wasn't bad, not at all, although it made him the 3rd best pitcher in the rotation. Which, seeing how great a year John Lackey and Kelvim Escobar had in 2007, it was not the end of the world. What was though was Boston, and, well, 2007 Boston vs Angels in the playoffs was not fun. Jered Weaver did well in that ALDS however, 5 innings, 2 runs.
2008
2008 was more of the same. a FIP of 3.90, an ERA that went up, a Baseball reference WAR that went down, yet still a good season overall. 11-10 isn't the best, especially in that era, but in 2008 he wasn't the ace of the team so it wasn't a big deal.
An odd game this season was vs the Dodgers where he and Arredondo no hit the Dodgers n 8 innings and lost. It isn't an official no hitter. as the Dodgers didn't need to hit in the bottom of the 9th, but it best shows how good Jered Weaver can be when he is in the zone.
Then came the 2008 ALDS vs Boston. This time Weaver does an even better job, pitching a shutout in his 2 innings. Of course things ended like in 2007, and the hope was put on for next year.
2009
Maybe FIP is junk after all as 2009 Jered Weaver had an unavailable 4.04 FIP yet did much better than the prior 2 seasons. Perhaps part of it was the amount, this was the first season he had over 200 innings. Going 16-8 with an ERA that starts with 3 instead of 4 also helps.
He was the best Angel pitcher that year with 3.5 Baseball Reference WAR but the team's strength was hitting. Giving up 26 home runs is not ideal, nor wad his higher walk rate. But what Weaver did well was be a competitor, recording 4 complete games and 2 shutouts n 2009.
What really made the year better for him, however, was how the playoffs went. 2009 ALDS vs Boston finally went right, and Jered Weaver pitched 7 and a third innings allowing only 1 run in a win over Boston. The first playoff series win for the Angels since 2005, and finally downing the Red Sox.
Unfortunately, the ALCS did not go nearly as well. For Jered Weaver, this was evident in the 3 games he pitched in with 3 earned runs in just 6 and a third innings. Although the MFY reaching the World Series isn't Weaver's fault, it was a step down from before.
All Star Weaver
2010
Jered Weaver got something to click in that playoff run, because for 2010, he went from being a good mid rotation guy, to the team ACE. Maybe it was John Lackey leaving in Free Agency. Perhaps it was being so close to the World Series. Or maybe it was because the All Star Game was at Angel Stadium in 2010 and he really wanted to go.
That 2010 team was not that good, but Jered Weaver was. Not only did his Baseball Reference WAR increase to 5.2, but he won the strikeout title in the AL. Yes, Jered Weaver, with 233 strikeouts, led MLB. So for once in his career, his FIP and his ERA were actually close. 3.06 vs 3.01. 34 Starts, 224 innings, an ERA+ of 132, and a reduced home run rate, Jered Weaver was, at 27, an ACE.
His All Star nod in Anaheim was his first in his career. It is something special to be introduced at an All Star Game in front of your home crowd. He didn't get to pitch, mostly because the game was managed by the MFY manager Joe Torre and was being spiteful or something, probably.
Jered Weaver ended up finishing 5th in CY Young voting in 2010. His 13-12 record did not hold him back as it was the year Felix Hernández won with the same record. His 233 strikeouts are the 10th most in Angels history and only one of 2 Angels with 200 strikeouts in the 21st Century. It was a start of a 3 season run that cemented him in Angels history.
2011
If 2010 was Jered Weaver the strikeout king, 2011 Weaver was the AL silver medalist year. This is not just because he placed 2nd in the AL CY Young voting but because he was second in the AL for a lot of stats that year.
2nd in Baseball Reference WAR for pitchers at a very nice 6.9. He was 2nd in ERA at a ridiculous 2.41. Weaver finished 2nd in WHIP at 1.010. This resulted in being 2nd in ERA+ at 156. It was not the first time that Jered Weaver lost an award due to Justin Verlander. Although in this case, he was actually not as good unlike in 2006.
Jered Weaver did get to be number one in one thing though, as he started the 2011 All Star Game in Arizona. He pitched a mostly clean first inning, with only 1 walk and no runs allowed. The AL didn't win though, thanks to future Angel CJ Wilson.
His 2011 was the 13th best season as a pitcher in Angels history by Baseball Reference WAR, and still the best one in the 21st century. It was the 7th best ERA in Angels history by a starter. He had the 7th best ERA+ by a starter. Jered Weaver in 2011 had the 3rd best WHIP by a starter in Angels history.
Our Dirtbag
But it was not the All Star Game, or the CY Young silver medal, nor the best season by an Angel pitcher since the 90's that made Jered Weaver one of the most beloved Angels ever. It was a simple act that was the antithesis of what happened in the 2004 MLB draft. An extension mid season at a team friendly discount.
This man was a Scott Boras client, his Free Agency concerned Angels fans. He threatened to not sign when drafted over money. This was a player who was pissed that he did not go number 1 overall, was 28 years old, in the prime of his life with a chance to make serious bank. And instead of waiting for free agency instead did something Boras clients never did and signed an extension. "How much more do you possibly need?"
This was the moment that Jered Weaver went from a fan favorite to a beloved Angels HOF player. Sure we can argue about how much players should be paid and owners vs players all day and if it was good for the game or not. But for Angels fans, none of that mattered. All that we cared about was that the best player on the team, the face of the Angels, was here to stay. It is because of how it went down that when he stopped being good fans did not care. This right here, is why he is Top 5 Angels of all time while Nolan Ryan is not.
2012
Jered Weaver in 2012 was microcosm of the last 3 seasons, he started the year as the face of the franchise. He was the longest tenured pitcher on the team, the one placing high in awards, and keeping fans interested when the team wasn't making the playoffs. By the end of 2012, Mike Trout became the future.
Jered Weaver peaked on May 2nd 2012. That was the day that he threw a no hitter vs the Twins at Angel Stadium. It was an odd game to be sure. Mark Trumbo played 3B, Vernon Wells was in LF despite Mike Trout being on the team, Peter Bourjos was in CF, and it was a blowout 9-0 win.
Nothing better shows the transition of the team than the 2012 All Star Game. Jered Weaver made his 3rd straight appearance, and Mike Trout made his first. Introduced right after each other, this encapsulates the whole dynamic. Jered Weaver pitched a scoreless 5th and picked off Bryce Harper for good measure.
He finished with 4.4 Baseball Reference WAR, 15 ERA+, a 2.81 ERA, and an MLB best 1.018 WHIP. This got him to 3rd in the AL CY Young voting and even got some MVP votes. On top of all that he won 20 games. Sure, that is meaningless but not to the pitchers.
Jered Weaver in the 3 year span of 2010-2012 was one of the best pitchers in Angels history. 2.73 ERA, 141 ERA+. 51-25 and 16.4 Baseball Reference WAR. Even Fangraphs liked him, as his 14.3 Fangraphs WAR was 7th best in MLB during this span. This is better than David Price, Cole Hamels, CJ. Wilson, and Zack Greinke.
86 MPH Fastball
Jered Weaver really did not age well. His last 4 seasons with the Angels produced only 6.3 Baseball Reference WAR and it was negative in 2016. While he did go 48-41 in those seasons, it was on the back of a 98 ERA+ and an ERA of 4.13. Really, 2013 and 2104 aren't bad, they are just cancelled out by his 2015 and especially 2016.
He did pitch well in the 2014 ALDS vs the Royals, 2 runs in 7 innings, but that was the last hurrah of his career. Remember what I said earlier about being beloved even when doing badly? That was Weaver in 2016. He had lost almost all the speed on his fastball and was now below average. Yet the fans still love him.
He is open about all of it, and talks about it with his tongue in cheek. Jered Weaver didn't reach the high of earlier in the decade, and was done at the age of 33. He signed with San Diego for a season but retired after that. While his arch nemesis Justin Verlander still plays in 2021, Jered Weaver is having fun now while not being hated by the whole baseball world.
Jered Weaver's Legacy
Jered Weaver is 7th in Angels Baseball Reference WAR and 3rd when it comes to pitchers. He is second in wins at 150, 14th in ERA, 10th in ERA+, 3rd in innings, 3rd in strikeouts, 5th in games pitched, 2nd in starts, 2nd in winning percentage, and 5th in WHIP.
His fired up personality on the mound caused issues sometimes. Enough to make a whole video about it. It is easy to see how fans on other teams may not like him that much when he throws at players and does these sort of things. But he is OUR Dirtbag, so we like him because he is so passionate.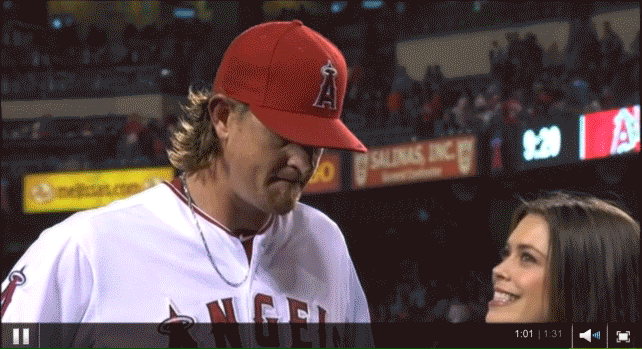 I mean this is a player who has tweeted that he would throw at the Astros until he is banned from baseball. That is a very polarizing view to be sure. Like many other aggressive players, it really depends if he is on your team or not in the end.
While he won't get into Cooperstown, he will be in the Angels HOF soon enough, and his place here at 5th on the Angels All Time list shows that he deserves it. With his funky delivery and all. I am so glad to have been given the opportunity to write this piece. Jered Weaver was the first player that I looked up stats for on the regular. I checked the Angels lists so much because of him.