The Angels were swept over the weekend by the Dodgers, the second straight weekend sweep the team has endured. Cue "the weekend is a problem for the Angels, my column:" takes. David Fletcher made a helluva play at shortstop. Albert Pujols and Justin Upton sat multiple games.
Baseball also celebrated the 100th anniversary of the Negro Leagues on Sunday. They are also considering adding the Negro Leagues to the list of official major leagues before the current iteration. The Angels put up some cardboard cutouts of Cool Papa Bell, Oscar Charleston, Rube Foster, Biz Mackey, Bullet Rogan, and Martin Dihigo. Dee Gordon has an idea to get more Black kids involved in the game of baseball.
Taylor Cole will not pitch this season after undergoing shoulder surgery. Cole pitched decently over his time with the Angels thus far, and I was surprised that he didn't make the team initially in March.
Although the St. Louis Cardinals finally returned to action, MLB was foiled in their efforts to get all 30 teams playing on the same day when the Cincinnati Reds had a positive test. Meanwhile, Trevor Bauer got into a little tiff with Scott Boras.
A slew of stars are injured, including Ronald Acuña Jr. and DJ LeMahieu.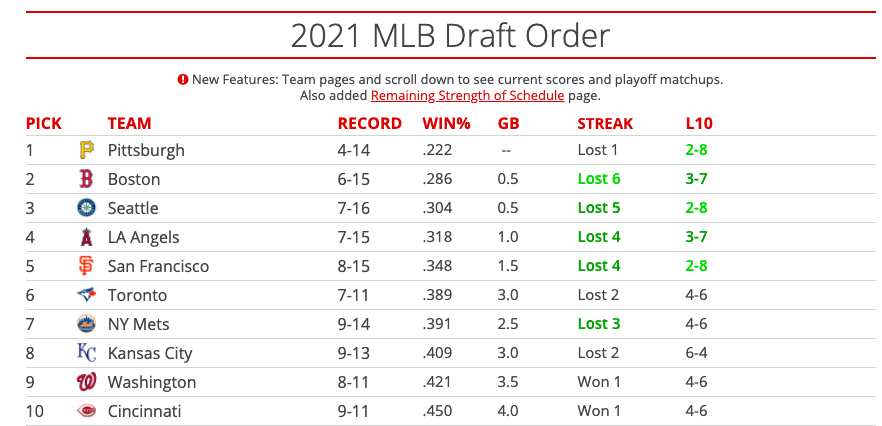 Enjoy this snapshot of Tankathon. San Francisco looms.