Everyone has their favorite player from when they were young. Vlad was mine. The Impaler, Big Daddy Vladdy, whatever he was called, he was my absolute favorite. I may have gotten a bobblehead of Salmon first, but Vlad was the one whose merchandise I bought.
Born in the Dominican Republic, Vlad had a tough life on the island. But he would get his chance with the Expos, and he broke through to become an amazing player. By 2003 he was already a 4-time All-Star and 3-time Silver Slugger. He was the last star the team had and with the team looking to move (eventually to Washington), Vlad was as well.
Signed as a Big Splash by brand new owner Arte Moreno before the 2004 season, Vladimir Guerrero had high expectations when his $70 million contract was doled out. The last few FA signings of the past for the Angels didn't pan out too well. At the time, giving that much money and length to a 29-year old wasn't odd and there was reason to believe he could be the same player he was in Canada, even if the turf there really did a number on his knees.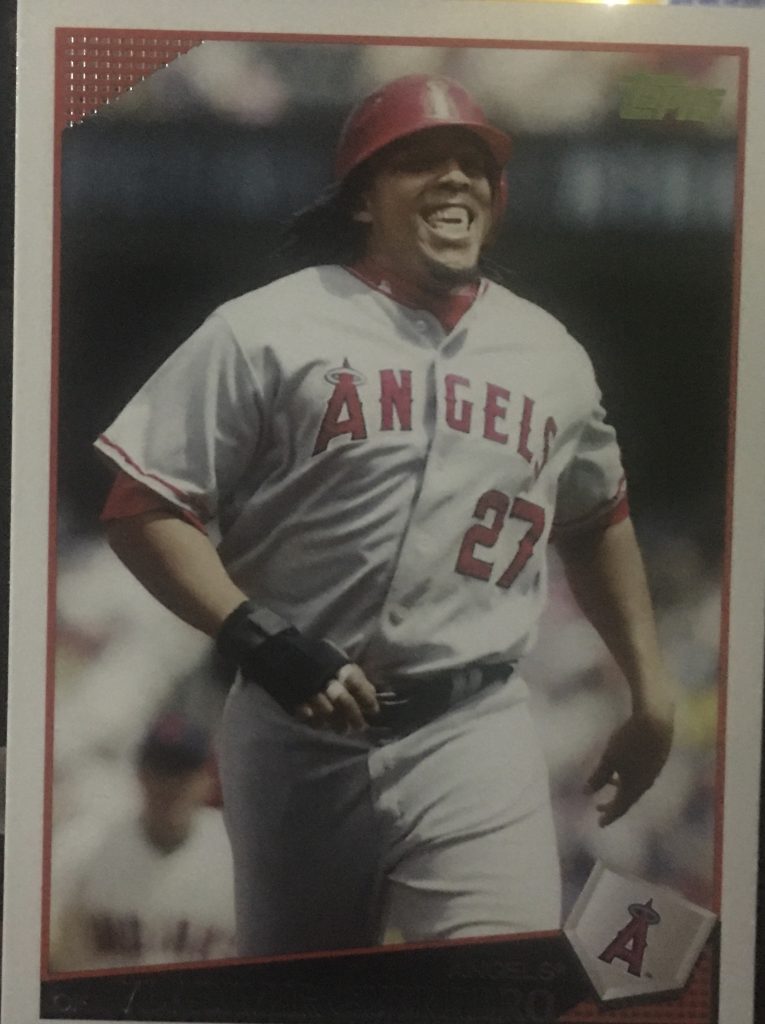 MVP Campaign
Let's rewind to 2004. The Angels were not good in 2003, but now they had Vlad, someone who was 1 home run away from a 40-40 season in 2002. Things would improve. The team won the famed World Series in 2002 which, helped the perception of the organization, but when it came to personal accomplishment, there was much lacking. The team's only AL MVP award came when Don Baylor won the honors in 1979. That the team had more ALCS MVP winners than pennants was really the only noteworthy thing when it came to Angels and MVPs.
Vlad himself didn't get many votes while in Canada. Even in that 39-40 season, he only finished 4th, as Barry Bonds was on his otherworldly tear at the time. Because writers tended to vote only for players on good teams, unless he and the Angels impressed, Vlad wouldn't have a chance.
So of course he won it. He didn't have the best season in the AL that year, (Ichiro was on fire!) but it was an excellent season and the Angels won the AL WEST. Batting .337 with a remaining slash of .391/.598/.989 and an OPS+ of 157, it was one of the best in Angels history at that point. It was the 8th-best OPS in Angels history, and at the time, it was only behind 2000 Glaus and 1995 Salmon. That 157 OPS+ was tied for 4th-best in Angels history at the time, and Vlad broke the Angels record for runs scored in a season with 124.
Seriously, 2004 was a monster year for Vlad, for hitting 39 home runs as an Angel happened only 3 times before that point, and only 2000 Glaus had a better slugging. A .598 slugging was something OTHER teams did, not Angels. This was production that the team had been longing for, and this was the first year on Vlad's contract. What else could he do? He hit for 80 extra base hits, which was only the 5th time an Angel has ever done so. He led the AL in Total Bases that year with 366, tied for 1st in Angels history with 2000 Erstad. Of course, as a leadoff hitter, Erstad had 67 more PA than Vlad did in his record-setting season.
Vlad could hit anything, and it showed in his numbers. As a free swinger he should have struck out a ton, but he didn't. Why? Because EVERY BALL WAS HITTABLE TO VLAD. 100 strikeouts? Nah, not for Vlad, he NEVER reached that mark. And he batted .337 in 2004, the third-highest mark in Angels history. So how was he so good at hitting the baseball? Because he played la plaquita in the DR, where the goal was to protect your plate from being knocked over. So Vlad swung at EVERYTHING, and became so good at it. Playing baseball where they are trying to make the ball look good to hit? That was too easy for Vlad.
Oh yeah, he also won the Silver Slugger, and he made it to the 2004 All-Star Game as a Starter. And in the playoffs? How about a Grand Slam? Despite his heroics, the Angels lost to Boston in that series. But Vlad's first season was undoubtedly a succes. He even stole 15 bases and had 14 IBB, the second-most in Angels history at the time. With 5.6 bWAR in his first year and ready for more, Vlad wouldn't disappoint.
Angels Legend
How do you follow up the second AL MVP award in Angels history? By being IBB-ed 26 times, shattering the Angels record and leading the AL. Seriously, while he wasn't as avoided as Bonds was in the NL, Vlad was pitched around in 2005 a fair amount. Except, as said before, THAT DOESN'T WORK. So they had to intentionally walk him; after all, you still had to throw the ball back then. Vlad compiled a 5.7 bWAR season, hitting .317 with a remaining slash of .394/.565/.959 for an OPS+ of 154. Sure, the numbers weren't as gaudy as in 2004, but they were still better than almost any Angel in history. For a second year in a row, Vlad was a Silver Slugger, and got another All-Star Game start. He even finished 3rd in MVP voting.
2005 was also special for Vlad Milestones. It was the year he hit his 300th career Home run, passed 1,500 hits, and 150 stolen bases. The Angels would go on and face the MFY and win in 5 games. Vlad did as he always did and hit .333 with 5 runs scored. But an issue came up in the ALCS vs. the White Sox. Vlad went 1 for 20 and the whole team went ice cold. It went better than 2004 but 2005 ended in going home again. Not that it put a damper on the season, but Angel fans still talk about 2005, albeit for one main reason.
2006 saw Vlad make the All-Star Game again as a starter, and he even hit a home run. It was also the year of the legendary Pepsi Ad with him and A-Roid. On the field it was another excellent year, as Vlad hit .329 with a remaining slash of .382/.552/.934 and an OPS+ of 138. Not as good as the last two, but he hit 30 home runs for the 3rd year in a row, 104 in 3 seasons. That is rare for the Angels. Only 5 players have had 3 seasons of 30 or more home runs and only 4 have done so in back to back to back years. One was even an inside the park home run!
As a RF, Vlad had a cannon of an arm. He caught people sleeping even at 1B! While his most impressive assists were in Canada, he still had some in Anaheim. While he never won a Gold Glove, it was a skillset that he loved to show off.
While the Angels did not make the playoffs in 2006, Vlad was still Impaling, winning another silver slugger and getting 9th in MVP voting. 3.8 bWAR was a drop from the previous seasons and this was due to his declining ability to be in the OF. His legs were not what they once were. Still, Vlad was a slugger and his slugging was above .550 again, something that has happened only 18 times in franchise history. That was his 3rd time doing it, only Mike Trout has done so more.
2007 was another amazing year for Vlad. He was in the All-Star Game as a starter AGAIN. That was 4 in a row. Only one other Angel had done that, Mike Trout. But what was remembered wasn't the game, but the day before. The Home Run Derby is one of my favorite things ever. And I always want to see Angels in it. To see Vlad WIN it, was amazing.
The regular season was pretty good as well. Vlad hit .324 with a slash of .403/.547/.950 and an OPS+ of 147. That was the third time he had an OPS of .950 or better, something that Angels only did 15 times in their history. Only Trout has done it more times. Hitting 27 home runs like his number, Vlad won the silver slugger again and finished 3rd in MVP voting. It was the third year in the row he led the AL in IBB, and broke the Angels record again at 28. Vlad has all 3 top spots still.
Post season was vs Boston and it didn't go well for Vlad or any of the Angels. There were talks that Vlad was struggling in October and it was correct. 4 series, one extra base hit. It was a blemish on an otherwise immaculate record for Vlad.
Chasing Milestones
2008 saw age catch up to Vlad in a big way. For the first time his OPS fell under 900 and his batting of .303 with a slash of .365/.521/.886 was still better than most in Angels history but was a big step back. This is especially obvious seeing he led the AL in GIDP. His knees were shot and was DH more and more. Still, he had milestones to get, like his 2000th hit.
It was a down year all around, BWAR dropped to 2.4, OPS+ was 130, and the playoffs featured Boston again. But this time, Vlad stepped up. He hit .467 in the ALDS with a double in Game 3 to win it. 7 for 15 with 4 walks. It wasn't enough to get past Boston but Vlad had figured out October. Next year for sure.
Vlad's contract had an option attached so it was used and for a 6th year, the Impaler was in an Angels uniform. 2009 was a year of sorrow as Nick Adenhart was killed. The team came around and Vlad did his best to still be what he once was rather than a declining star. Even though he missed many games, only appearing in 100, he still made Angels history and hit his 400th Home Run.
The numbers were down all around, only 15 home runs, he hit under .300 for the first time since 1996, and a slash of .334/.460/.794 was just worth an OPS+ of 107 and .7 BWAR. He was old, but he had one more October to prove himself.
In the ALDS vs Boston, Vlad came through in the 9th, driving in the go ahead run. He hit .400 in the ALDS and the Angels swept. The Angels were to face the MFY, a team they had owned this millennium. Vlad did well too, hitting .370 with a home run in game 3 to tie it. But alas it was not enough and the Angels lost the series.
Post Angels Career
Vlad signed with Texas, a team he crushed with the Angels. And he had himself one last hurrah. The All Star Game was at Angels Stadium and he was voted to start. The Fans cheered. He won the silver slugger again and got to the World Series. The Rangers lost because they are the Rangers and it was hard to watch but I did cheer for him.
He did end up playing in Baltimore in 2011 but it was the worst of his career and he retired after no team would put him on an MLB roster anymore.
But what really got me is that, in 2010, right after Vlad left, 27 was given to Mike Ryan. It was a shameful display from Arte and the team, so it was dropped and then given to Mike Trout.
I was absolutely not a fan of that. I knew Vlad was a HOF player, and had a chance to get into the HOF with an Angels cap, why do this? When Trout ended up being Trout, I was for sure thinking Vlad would be an Expo in the Hall and the Angels would get shut out again.
Legacy
Vladimir Guerrero was elected to the MLB HOF in 2018 and to my surprise, it was with an Angels Cap. I was elated! The Angels had a HOF Cap! I ended up crying as I watched the speech even though some of it was Expos, and really, all other team fans being so mad about him going in as an Angel. It was a moment that I got to enjoy and something my dad missed when Nolan Ryan went in as a ranger due to the Angels own fault.
Vlad got into the Angels HOF as well although the biggest question is, what to do about 27? Seriously. What do you do? The first Angel is in the HOF and his number is worn by an even better current Angel. Do you just retire it for Trout? Both? It has been a while since the ceremony so Trout didn't change his number, but what do you do in the situation? We know the number will be retired, but will it be retired for Vlad?
Vlad has the record for Angels batting at .319. His 141 OPS+ is second all time, very far ahead of 3rd. He has the third-best win probability added. The 7th most home runs. The 12th most hits. The 4th best OBP, 2nd best slugging, and 2nd best OPS. Only two players have a .900 OPS with the team: Vlad and Trout. Only 2 have slugged .500, Vlad and Trout. Vlad's 112 IBB are still 1st and his offensive win percentage is 2nd to Trout. A team of Vlads will beat a team of anyone but Trouts. Vlad is 16th in Angels bWAR, 10th among position players.
He will forever be one of my favorite Angels. And the lack of his mom's cooking is what is holding the team back. That the team failed to get Vlad Jr. is a shame that will make me despise JeDi forever. Even if it wasn't a sure thing he would come here, not even having the shot was so disgraceful to the Angels and Vlad'ds legacy that he should be ashamed.
One day, I would like to see the Angels pull a MFY and retire 27 twice out beyond RF. But I feel it is a long shot especially as long as Arte owns the team. Whatever happens, Vlad deserves that act of gratitude.