The Los Angeles/California/Anaheim Angels have played almost 60 seasons of baseball. As the baseball world is suspended due to circumstances outside its control, it is time to look back at the history of this organization. There have been many talented players to put on the uniform, and we at Crashing the Pearly Gates wish to highlight the best who have ever represented the Angels. Without further ado, here we go!
——————————————————————————————————
#31 – Rod Carew
First, funny story regarding that picture above. Am I wearing an Indians Jersey at the Big A? Why yes I am. Of course the one frigging time I meet Rod Carew I am there with my friend whose brother played with the Indians. When you go on the field courtesy of an Indians player, you wear an Indians jersey. It was while we were waiting for tickets that I spotted the legend (we cornered him shortly after this for the group pic):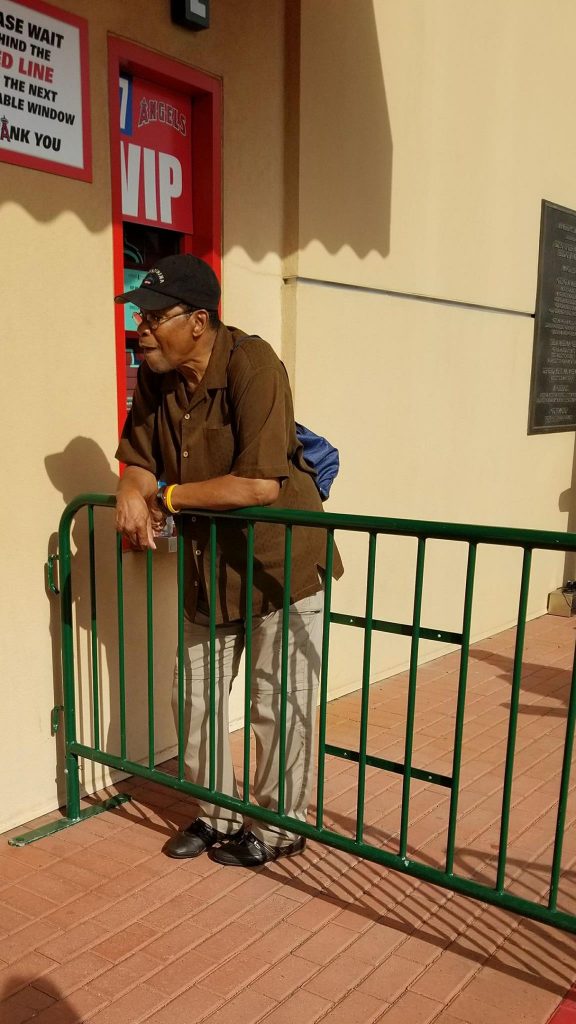 Carew was born on a train in Panama in 1945. He played semi-pro ball in NYC where the Twins scouted him and inked him to a free agent contract in 1964.
Rookie of the Year, 7 batting titles, an MVP, 18x All Star, and 1991 first ballot HOF inductee. Certainly one of the greatest to play the game. Ever. In 1978, Racist owner of the Twins (whose statue was just removed), Calvin Griffith made comments that caused Rod Carew to say he would never play another game for the Twins. Griffith's words were:
Black people don't go to ballgames, but they'll fill up a rassling ring and put up such a chant they'll scare you to death. We came (to Minnesota) because you've got good, hard-working white people here."
The Twins loss was the Angels gain. February 3, 1979 was the day Rod Carew became an Angels and he helped lead them to their first ever post season appearance. Carew hit .318 that year with a .419 OBP and was helped by a potent lineup with the likes of Don Baylor, Brian Downing, and Bobby Grich. As a team, the Angels had the highest OBP and second highest AVG in all MLB. Of course, it also helped that the Angels had 32 year old Nolan Ryan in their rotation
Carew hit .314 in his career as an Angel over 7 seasons, good for 2nd on the all-time list behind Vladimir Guerrero and his .393 OBP is second only to Mike Trout. He joined the 3,000 hit club as an Angel in 1985 against none other than the Minnesota Twins.
Despite hitting .280 with a .371 OBP over 127 games in 1985, Carew's age 39 season would be his last. No teams, including the Angels offered him another contract. Carew believed the owners were colluding against him and that he was forced into retirement. Carew would appear to have been right since in 1995 an arbitrator ruled that owners had violated the collusion agreement and he was awarded nearly $800,000 to compensate for would could have been his salary in 1986.
In 1986, the Angels retired Carew's #29, one of only 6 retired Angels numbers and was also the 4th inductee to the Angels HOF in 1991.
As a testament to his hitting prowess, since 1986 the AL batting award has been called the Rod Carew American League Batting Championship Award.