For the Angels to recover from a 72-win season, their worst season of this century, several players need to bounce back.
Much of this season is contingent on the bouncebacks of two vital players and the return of a certain two-way player on the mound. While the new additions of Anthony Rendon, Jason Castro, Dylan Bundy, and Julio Teheran will help, the club desperately needs other returning players to produce. The following is a list of players that need to return to career norms or bounce back in a way that we haven't seen so far in their careers. Without some of these players bouncing back, the Angels will likely be out of the playoffs for the sixth straight season.
Shohei Ohtani, the pitcher
Ohtani crushed baseballs as a hitter in 2019 but didn't throw a single pitch following Tommy John Surgery. Technically, we can call him a bounce-back candidate because of his uniqueness as a two-way player. Ohtani's skills as a pitcher were on full display in 2018 before his elbow barked in a June start, which led to just one more appearance the rest of the way. Ohtani won't pitch until mid-May due to a knee surgery that postponed his post-rehab TJ throwing program. When he is back, the Angels need him to pitch as he did in 2018.
Ohtani's work as a pitcher is well-known at this point. In my opinion, he has the two nastiest pitches on the Angels staff as well as two other strong pitches. He has the build, the command, and the stuff to pitch like a frontline starter. It's an understatement to say the Angels need a pitcher capable of dominating games like Ohtani has done. The two-way designation will always limit Ohtani's potential and innings output on the mound. But if he's able to give the club 75 high-end innings this season, it'd go a long way in helping get the Angels back to the playoffs.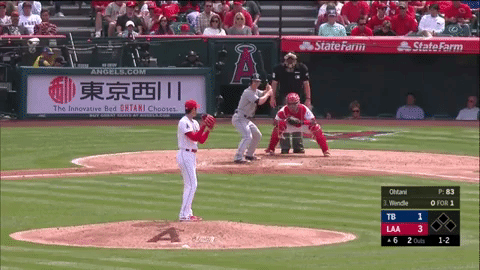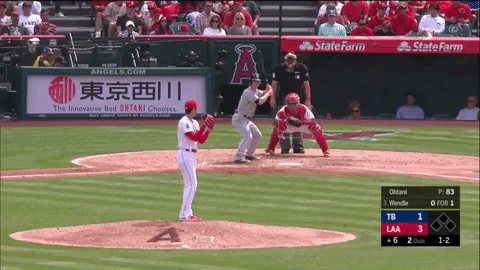 Andrelton Simmons, SS
The next two position players on this list will play integral roles this upcoming season. On the heels of back-to-back 5-win seasons, Simmons produced a subpar 1.7 fWAR and 81 wRC+ in 2019. Due to a nasty ankle sprain that led to two separate Injured List stints, Simmons played in just 103 games, a career-low amongst all his full MLB seasons. Simmons struggled to barrel up baseballs (1.7 percent) and slugged a measly .364 in an environment where everybody and their mothers were hitting dingers.
It's unclear if the injuries affected Simmons at the plate but they very clearly didn't in the field. Despite missing 59 games, Simmons was the fifth-best defender in baseball according to Outs Above Average (16). Based on his defense alone, Simmons is probably close to a league-average player in a full season. If his offense bounces back somewhere between his 2018 level (108 wRC+) and 2019 (81 wRC+), Simmons will be back as a 3+ win player. A bounceback is also mutually beneficial for Simmons and the Angels. Simmons is entering his final year before free agency and the Angels need him to produce near his career norms to contend this year.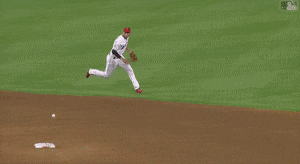 Justin Upton, LF
Saying the 2019 season was a struggle for Upton would be a massive understatement. Dating back to his first full season in 2008, last season represented Upton's career-worst marks in wRC+ (92), OBP (.309), SLG (.416) and fWAR (-0.2). This was no surprise as his exit velocity, hard-hit rate, and strikeouts all trended in the wrong direction. Upton's recently disastrous defense also compounds the drop-off in offensive production. In 63 games last year, he posted a dreadful minus 5 Outs Above Average. So why the optimism around a potential bounceback?
Upton's season was clearly impacted by multiple injuries. Upton missed the start of the season due to a major toe sprain and missed the final three weeks of the season due to patellar tendinitis. There are no such injuries as Upton enters the 2020 season. Now, I admit that projecting a bounceback for a 32-year-old coming off a career-worst, injury-riddled season sounds a bit crazy. I think Upton's days as a 3+ win, 120 wRC+ player are over but I think he has a strong chance to bounce back as a league-average player. I'm expecting roughly 2.5 wins and a 110-115 wRC+, which the Angels would gladly take.
Andrew Heaney, SP
I feel like I've been down this road before. I find myself intrigued by Heaney's underlying statistics, project a breakout and then ultimately get disappointed at the end of the year. Heaney dealt with more injuries in 2019 and threw just 95 2/3 innings. His ERA was 9 percent worse than league average in that time. At this point, 2020 feels like a make-or-break year for the 28-year-old. In six MLB seasons, he's only thrown 438 innings with a below-average ERA (4.44).
The cause for optimism stems from Heaney's ability to miss bats and limit walks, the two most important factors for gauging success. Heaney owns a healthy career 23.3 strikeout percentage and 6.4 walk percentage. Last year, his strikeout jumped to a career-best 28.9 percent. With a trio of intriguing pitches, including a killer curve, and strong command, the ingredients for success are there. Heaney's home run issues, especially against righties (career 1.85 HR/9), may limit his overall effectiveness but he's capable of providing league-average innings. As usual, everything relies on his health. If he can replicate his 2018 season (180 innings & 2.8 WAR), the Angels would be absolutely thrilled.
Keynan Middleton, RP
Middleton is primed for a breakout year after missing most of the 2018 and 2019 seasons to Tommy John Surgery. Coming into the season fully healthy, Middleton has a real shot for grabbing important, high-leverage innings. Angels fans are very familiar with Middleton's electric, upper-90s fastball. The pitch boasts elite velocity and above-average spin and horizontal movement. The secondaries, too, are reasons for optimism entering the year. Middleton's slider produced positive results and his change-up made serious progress prior to getting hurt in 2018. Middleton is poised for a breakout season and a bigger role in the Angels bullpen.
Other notable players
Max Stassi: After a superb 88-game stint with Houston in 2018 (2.8 WAR & 100 wRC+), Stassi was dreadful last year. His 5 wRC+ was the third-worst mark among hitters with at least 100 plate appearances. If his true talent level is somewhere between those two years, he's a perfectly capable backup catcher who can play 40-ish games. His major hip surgery last September suggests he was playing through a lot of pain last year, which is hopefully gone when the season rolls around.
Michael Hermosillo: Complications following sports hernia surgery led to a poor showing in both Triple-A and the majors. Hermosillo looks fully healthy this spring and looks to have really grown into his body. More intriguing is a very obvious swing change that looks much more natural for Hermosillo. There's an opening as a bench outfielder to start the year but if Hermosillo doesn't take advantage and top prospect Jo Adell is ready, he may find himself in Triple-A for most of 2020.