The Angels visited the White Sox today and sent out their big guns on the road. Ohtani, Adell, and Marsh hit a home run, as the hitters from the starters to the MiLB guys all looked ready for the season.
It was a seriously excellent offensive showcase, and the pitching did amazing as well outside of the third inning. This is certainly something Angels fans can get used to.
Recap
1st
Ohtani started the game off with a bang with a first pitch home run.
Duffy walked with one out and scored on a 2 out home run by Jo Adell, his 3rd of the spring!
Rojas walked, and Stassi singled. Thomas doubled, scoring Rojas. That makes it 4-0 Angels as they blitz the White Sox in the first.
Cesar Valdez had himself a shutdown inning, putting down the White Sox in order, still 4-0 Angels after 1.
2nd
Shohei Ohtani walked to start out the 2nd, but a GIDP by Tyler Wade and a Duffy fly out ends the inning.
Things got a bit dicey for Valdez in his second inning, but he got out of a jam with 2 runners on with no one scoring. Still 4-0 Angels after 2.
3rd
Brandon Marsh hit a solo shot to start the 3rd. Jo Adell followed it up with a single, but was stranded there. 5-0 Angels.
Valdez fell apart in his third inning. He allowed multiple home runs and was pulled, getting only 1 out. 5-3 Angels.
Austin Warren came in and immediately gave up a single. It was a bit rocky, but he got the final 2 outs without any more damage. 5-3 Angels after 3.
4th
The Angels went down in order in the 4th, with Ohtani striking out.
Warren came back out for the 5th, and the subs started to come in for the Angels. He allowed a single, but stranded the runner to keep the score at 5-3 Angels.
5th
Matt Duffy hit a solo home run to start the 5th, it was the 4th home run for the Angels on the day. 6-3 Angels.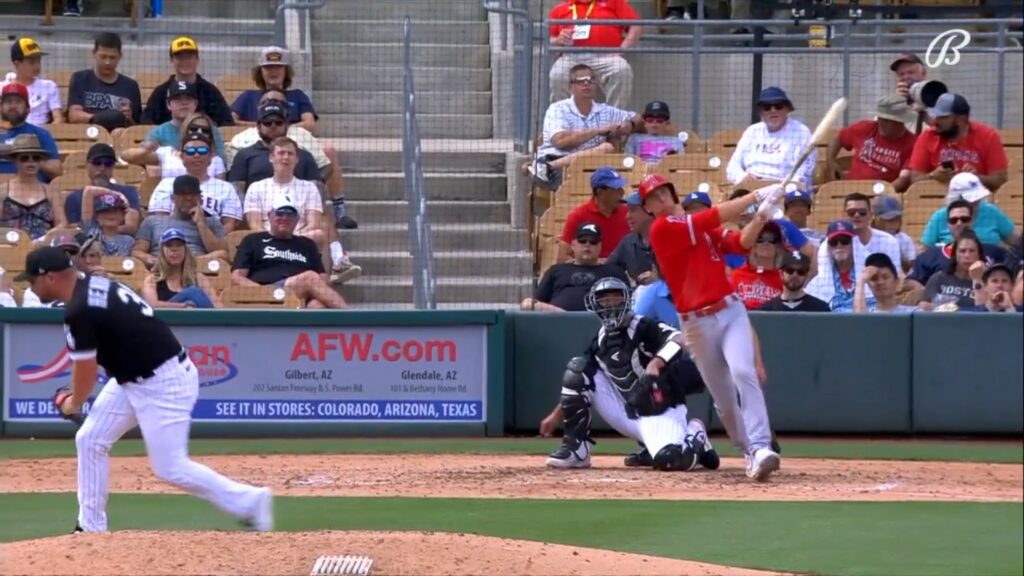 Jo Adell walked, stole second and scored on a double by Rojas. 7-3 Angels.
Archie Bradley came in for the 5th, he worked his way around a leadoff single and kept the score 7-3 Angels.
6th
Stefanic walked but was caught stealing in an otherwise uneventful inning.
Jimmy Herget came out to pitch the 6th, having himself a clean 1-2-3 inning with some help from his defense. Still 7-3 Angels after 6.
7th
The Angels went down quietly in the 7th, but at least Jordyn Adams got a chance to hit. He struck out but that was besides the point.
Herget went out for another inning and it went as well as last time, with a quick 1-2-3 inning. Still 7-3 Angels after 7.
8th
It got wild in the top of the 8th. Kean Wong singled off the glove of an infielder. Thaiss hit into a fielder's choice. But then Ryan Aguilar singled to the pitcher and that allowed Thaiss to reach 3rd as no one was covering. Then Rengifo singled to the pitcher as no one was covering first. Stefanic singled, and Mayfield singled, all in all scoring 4 more runs. 11-3 Angels.
Jose Marte had the bottom of the 8th, and he put down the White Sox in order. Still 11-3 Angels after 8.
9th
The Angels kept piling on, with Orlando Martinez hitting a leadoff home run as well. Because why not? 12-3 Angels.
Oliver Ortega ended the game, not cleanly, but within 3 batters thanks to a double play. Angels win 12-3.