Angels (30-32) @ Diamondbacks (20-43)
It's that time of year, when the Angels make the inevitable push towards .500. Sometimes they make it and sputter out shortly afterwards, and sometimes they fall short before reaching the mark. This weekend, nothing but a sweep will keep the Angels from remaining below even at the end of the series. The good news is D-backs fans are more likely watching Tankathon than checking their playoff odds. Arizona is currently last in the Majors (the product of playing in a division with the Dodgers, Giants, and Padres) and has eyes on the #1 pick. They have also just fired their hitting coach Darnell Coles and assistant hitting coach Eric Hinske. (Both are mentioned in Moneyball.)
So just a perfect time for an Angels meltdown, isn't it?
This series consists of a 6:40 pm game Friday, a 1:10 pm game Saturday, and a 1:10 pm game Sunday. The important thing to note is that the Angels will not have the DH. The roof will be closed all weekend due to heat.
Diamondbacks Lineup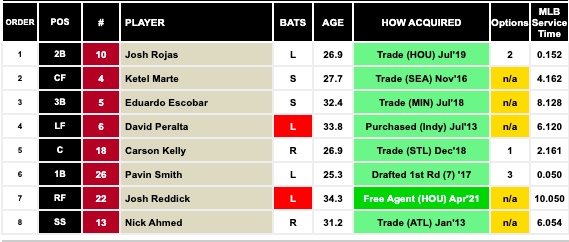 The D-backs don't really have a set lineup, and those who are stalwarts don't necessarily play consistent positions. Such is the life of a rebuilding team.
For example, in the last five games, leadoff man Josh Rojas has started at second base, shortstop, and left field. The utility man has an OPS of .762 and has been the best hitter who has been in the lineup day in and day out for Arizona this year.
Ketel Marte is the star. He's only played in 25 games this year due to injury, about half of Arizona's total, but he is back and appears to hitting as well as he was in 2019. He doesn't strike out a lot and is slashing .365/.404/.573/.977. Containing him will be crucial for Angels pitching.
Eduardo Escobar provides the power, socking 14 home runs in 61 games, but he doesn't hit for average. He might get one this weekend, but let's hope it won't be a crucial bomb.
Carson Kelly, the catcher, is the team's second best hitter. He's getting on base at a .396 clip and provides a decent amount of pop from the catching position.
Tim Locastro, speedster extraordinaire, can't seem to hit well enough to get a regular spot in the lineup. He remains on pinch-running duties for now.
Kole Calhoun is on the 60 day IL.
Probable Pitchers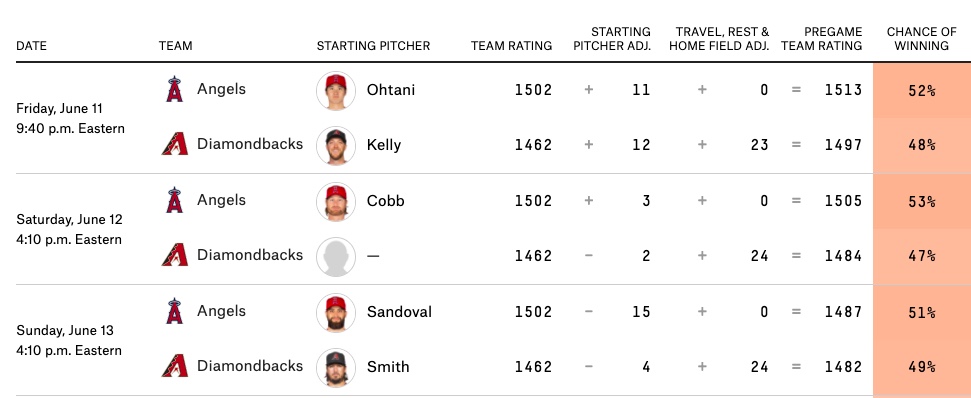 There's not a lot of excitement around the current state of the Arizona rotation. Talented youngster Zac Gallen is on the IL, as is Luke Weaver, Madison Bumgarner, and Taylor Widener. It's not what you want to see.
Friday the Angels will face Merrill Kelly, seemingly the one guy who has been healthy all year. Kelly, a 32-year-old who finally broke into the league in 2019 with the D-backs, doesn't really do much well except not walk guys. He's got a 91 mph fastball (the type Justin Upton crushes), and he mixes it in with his sinker, curveball, changeup, and cutter. Eno Sarris's metrics basically confirm what seems to be true: Kelly has below-average stuff and above-average command. He will face the most interesting man in baseball, Shohei Ohtani.
It should be Caleb Smith on Saturday. Smith, who was one of the youngsters the D-backs got for Starling Marte, is promising but hasn't pitched too well so far. He gave up an NL-leading 33 home runs in 2019. The Angels have proved that they can feast on the long ball, so that will be the goal for this game. Alex Cobb has certainly pitched better of late, and he gets the start on Saturday.
The D-backs may send Jon Duplantier to the mound on Sunday. In 48.1 career innings, he has a 5.77 ERA and a 1.61 WHIP. Patrick Sandoval pitches for the Angels.
There are not any bright spots out of the Arizona bullpen.
Series Prediction
A sweep would get the Angels to above .500. I won't get my hopes up, but…
(Title Image from D-backs Twitter)