After eight games against non-divisional competition, the Angels are once against facing a team which they are trying to hunt down. The Oakland Athletics are facing a stadium dilemma, but that clearly has not prevented them from playing good baseball in 2021.

Fangraphs does like the Astros a lot more than the A's, but it would not be surprising to see the A's win the division at the end of the day.
This series features a 6:30 pm start on Friday, a 7 pm start on Saturday, and a 1 pm start on Sunday.
A's Lineup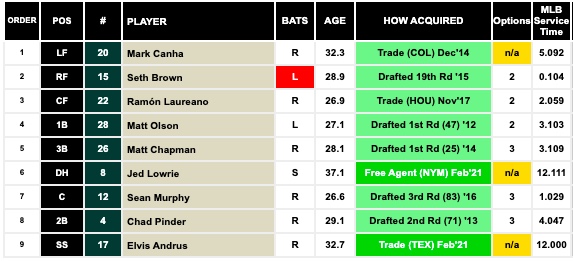 In Oakland's lineup, you have the usual smorgasbord of hitters that one identifies as having seen them in previous years, but you wouldn't call them stars. Nevertheless, together they form a potent offense, and the Angels would love to have each one of them in one fashion or another.
The leadoff hitter, Mark Canha, is a perfect example. Ever since Oakland selected him in the Rule 5 draft before the 2015 season, Canha has contributed, in most years on the weak side of a platoon. In 2021, he seems to have the everyday starting left field job, getting on base at a .373 clip and providing eight home runs. One of those players that has relatively low national name recognition, Canha helps the A's offense function.
Ramón Laureano plays a mean center field, as the Angels found out a few years ago in that clip that keeps playing on MLB.TV commercials, and his bat is good enough to make him a reliable asset. Hitting third, he is tied for the team lead with 10 HRs.
Matt Olson os the best hitter on the team. In 2017, he burst onto the scene with a 1.003 OPS in 59 games as a 23-year-old. Although that was likely unsustainable, he maintained solid production in 2018 and 2019 before having a down year in 2020. This season, he's back. He's slashing .261/.342/.535/.877 to provide a competent middle-of-the-order bat for Oakland.
The other Matt, Matt Chapman, has never recovered the offensive magic that, when combined with his defensive wizardry, earned him back-to-back 6+ fWAR seasons, but he is still a league average hitter to date. It's hard to find a better defensive third baseman in the league.
Meanwhile, Elvis Andrus, acquired from Texas in the offseason, has had a rough time with things. He's basically getting everyday playing time, but his OPS is .474, a mark that would put practically anyone below replacement level regardless of defensive prowess.
Probable Pitchers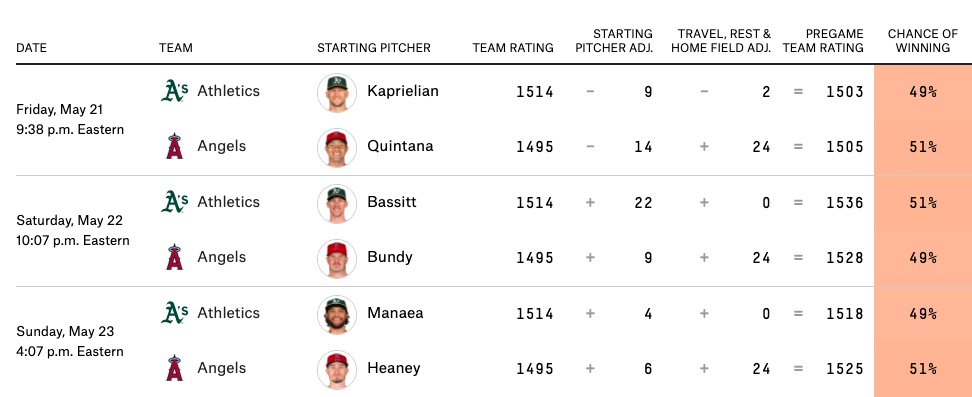 James Kaprielian is a former top pick out of UCLA who was acquired from the Yankees in the Sonny Gray deal. He throws a fastball at 93 mph, along with mainly a slider and a changeup, although he'll dabble with a curveball and sinker. Although he is a rookie, and the Angels seem to struggle with those, the Angels should be able to make solid contact against him. He faces José Quintana, who is a lefty. The A's, well, they hit lefties well:
Chris Bassitt is the best pitcher on the A's. His peripherals aren't that great, but he uses an effective pitch mix to get the job done. He won't wow you, but he's still striking out a tidy 9.6 K/9 this season, and his numbers against are similar to what they've been his entire career. He faces off against Dylan Bundy, who is still looking for his first win of the year.
On Sunday, Sean Manaea pitches for Oakland. With the day game and Manaea's characteristics (he gives up a lot of hits and walks few), that good be a good opportunity for the Angels to leave the yard a few times. If he leaves his sinkerball up, it should be a good day for the home side. He faces Andrew Heaney, who gets moved up in the rotation to avoid another Patrick Sandoval start.
A's Bullpen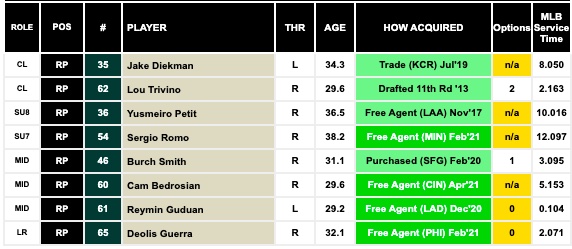 After co-closers Jake Diekman and Lou Trivino, neither of whom have been particularly effective, the Angels may see old friend Yusmeiro Petit, old friend Deolis Guerra, and best of all, old friend Cam Bedrosian, just called up from AAA for the series.
Series Prediction
This feels like a good weekend for the Angels to play some good baseball. With the caveat that baseball is random and no one knows anything that will happen, I am feeling a Halos sweep.