Indians (21-17) @ Angels (17-22)
The Angels avoided being swept in Boston on Sunday afternoon, thanks to some late Shohei Ohtani heroics around the Pesky Pole (side note: what a oddly-shaped park, from left field to right. I will never cease to dislike it).
The Cleveland Indians come into town having lost the last three games of their series with the Mariners. A team on a mini-slump? Say no more.

This is a three-game series, with Monday and Tuesday at 6:30 pm and Wednesday a minor getaway at 5 pm.
Indians Lineup
The team that traded away Francisco Lindor in the offseason has the fifth-lowest OPS in the Majors. Go figure.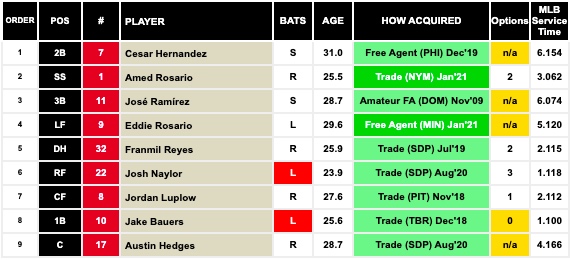 This team does not hit for average at all. There is some pop, but there are very few strikeouts and very few base hits.
The hitter leading the way is José Ramírez, who became the most talented position player on the team after Lindor was moved. He has rather quietly been one of the most consistent players in baseball since 2017, and he's racking up the numbers again in 2021, with eleven home runs and a .919 OPS as of Sunday morning.
Jordan Luplow has been inserted into the starting lineup for an offensive spark, and he's adding solid production in limited time, only hitting .190, but his walks and extra base hits are good enough to give him a .814 OPS.
Other than the aforementioned two and Franmil Reyes, who has bopped nine home runs, the rest of the lineup is not scary at all. Most of the other regulars feature an OPS in the .500s and .600s. Only Josh Naylor is a league-average hitter, and he barely scrapes that mark.
If the Indians are still in the playoff hunt at the trade deadline, expect them to acquire an offensive weapon. They sorely need it.
Probable Pitchers

Patrick Sandoval makes his first start of the season on Monday. He's had three outings from the bullpen thus far in 2021, two solid ones, one disastrous one. His stuff should play really well on the mound, and it's the walks that have killed him both this year and in his career. The Indians are a good matchup for him, as he can attack the hitters without fearing disastrous repercussions. If Sandoval is still missing the plate and walking Cleveland hitters, I'll squint a little harder at his numbers.
Sandoval matches up against Sam Hentges, the lefty who is trying to plug the fifth spot in the Cleveland rotation. In thirteen innings, Hentges has gotten knocked around, and his peripherals aren't that great either. However, he's a lefty and rookie, facing the Angels, so…
Tuesday the Angels send Andrew Heaney, coming off one of his cold outings, to the mound against Zach Plesac. Plesac is the anti-new era pitcher.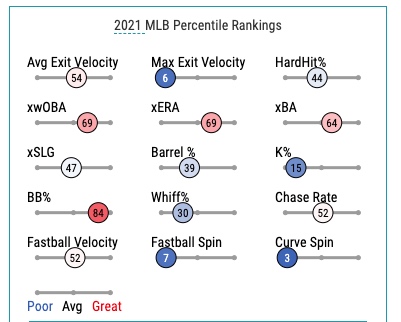 His fastball doesn't spin and his curveball doesn't spin. He induces a lot of contact and doesn't walk or strikeout many hitters. If you hate the way baseball pitching is trending, you'll love Plesac. Plesac carried a no-hitter through seven-plus in his last time out against the Mariners. Considering he's bamboozled hitters countless times with his stuff and the Angels haven't seen him since he pitched a CGSO on September 10, 2019, expect the Angels to have some trouble with his wizardry.
On Wednesday, Shohei Ohtani returns to the mound after getting pushed back a couple days (demonstrating the need for a six-man rotation. Side note: because the Angels' starters have more time between starts, shouldn't they be pushing it more each start, and shouldn't Joe Maddon be giving them longer leashes? Just some thoughts). Ohtani matches up against (literally, as one would think he will hit as well) Aaron Civale, another pitcher with below-average velocity, not a ton of strikeouts, who is extremely successful. Civale throws a fastball, cutter, splitter, curveball, slider, and sinker to devastating effect.
Indians Bullpen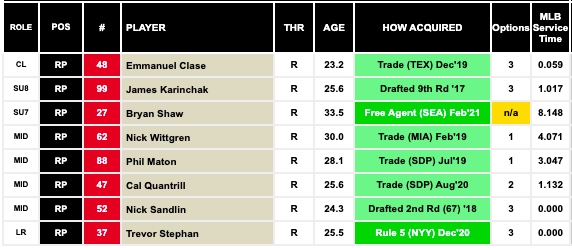 The bullpen is a huge strength for Cleveland. Somehow the most dominant reliever in baseball, James Karinchak, is not the closer, AND that decision might be a good one! Karinchak, who basically throws from behind his head, meaning his release point is somewhat around where a left-hander's might be, throws fastball-curveball, and he strikes out over 53% of batters he faces. It's good for a WHIP of 0.46 in 2021. Hitting sucks in 2021.
Emmanuel Clase, the closer, throws a 101 mph cutter. He's allowing a ton of hits at the moment, but they haven't translated into runs, as his ERA is somewhere around 1, and his stuff is too good for the hits to continue falling. He's elite as well.
Bryan Shaw and Nick Wittgren are still kicking it around in Cleveland, rather successfully, demonstrating that the pen has all sorts of crazy depth.
Series Prediction
The Angels absolutely must win Monday night against the weakest pitcher of the lot. From there, the goal will be to win one more. As we can see from 538 above, the expectation is probably 1.5 wins apiece in the series.
(Title Image from Indians Twitter)