Dodgers (17-15) @ Angels (13-17)
The Angels have just been swept by the Rays, and the Dodgers enter this weekend series having lost five of six. One of these teams will win this three-game set, and one of these teams will be happy emerging from the weekend. It's not that likely that it is the Angels.

Regardless, the Dodgers still appear fine in the standings. As the Angels do not, I will not be displaying them this weekend.
The weekend consists of a 6:30 pm Friday night game, then a 6pm Saturday night affair, followed by a 1 pm Sunday day game.
Dodgers Lineup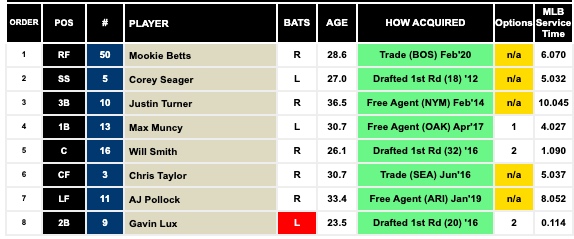 Lotta talent in this lineup. This is with Cody Bellinger, the 2019 NL MVP, still sidelined.
Mookie Betts is not, of course, the best player in baseball, but he checks in somewhat healthily in the Top 5, and there are definitely arguments that he is in the Top 2. His 2021 campaign is off to a slow start, as he only has a .339 wOBA (weighted on-base average, normalized to factor in slugging into an OBP-like number), but I don't think anyone has any doubts that he will right the ship. His 2021 OPS is .767. If Trout's OPS were .767, I think the sky might actually fall.
Corey Seager is in a contract year, and he is not playing like it. The shortstop is on pace for his worst full-time season in the Majors, with a .781 OPS. The batting average is down, and while that is not overly representative of hitting ability, it is at least a little indicator of what his results have been like. With a batting average of .250 and an xBA of .297, metrics suggest that he has been a little unlucky. He's also getting a lot of hate for his defense at the moment. A Dodgers fan has posted three clips from the past week of his defense.
Note for posterity: this is not someone I would want Arte to sign to play SHORTSTOP at a market price this winter. I would love Corey Seager on my team at any other position.
Justin Turner is slashing .333/.422/.593/1.014. He's one of the few Dodger hitters currently producing.
Max Muncy and Will Smith are both having mildly disappointing seasons, as much as that can be said for two players whose OPS+ are 141 and 130, respectively. Muncy, in particular, is carding a .422 OBP that is supported by an absurdly high walk rate (his BA is .221 and he leads the Majors in base on balls). Smith has not become the best-hitting catcher in the league yet, as thought by some, but he's still reaching base at a respectable .365 clip and is competent behind the plate.
Chris Taylor continues to be the most randomly successful Dodgers player. He is slashing .263/.397/.474/.870.
Probable Pitchers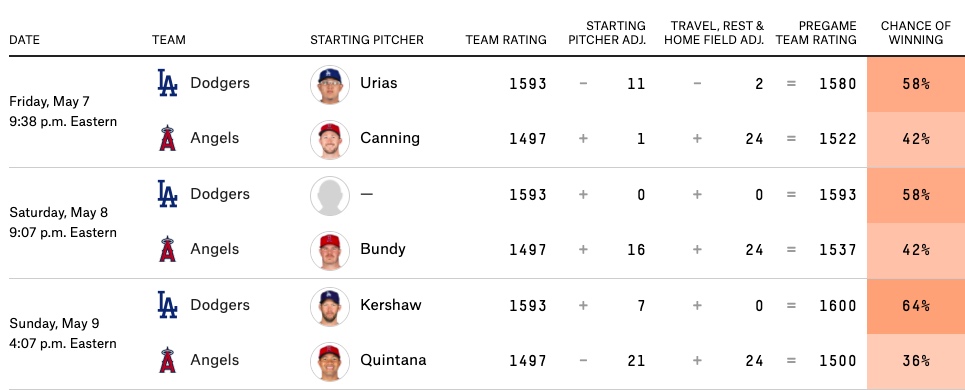 I am unsure why 538 gives Julio Urías a negative pitching adjustment. The 24-year old has pitched extremely well since 2019, and he's averaging over six innings a start in 2021 with a 0.90 WHIP. He's coming off a seven inning, one run, ten strikeout performance in Milwaukee. Honestly, Urías might be one of the most underrated pitchers in the league, considering he is probably the fourth-most talented pitcher on his own staff. He matches up Friday night against Griffin Canning, who is getting the whiffs as of lately. That will be key against an underperforming talented Dodgers lineup.
As the Dodgers have lost Dustin May for the season and sixth starters Tony Gonsolin and David Price are currently injured, there will likely be a spot start by Alex Vesia on Saturday. He has just 7.1 Major League innings under his belt, so it will be a good time for him to Cy Rookie us. The Dodgers have a series of off-days, which will allow them to go with a four-man rotation (Kershaw, Buehler, Bauer, Urías) after Saturday's start for the most part. Dylan Bundy still looks for his first Angels win of the year.
As far as things go, to face the Dodgers in a three game set and see Urías, Vesia, and Clayton Kershaw on Sunday is probably the best outcome for which a team could wish. Kershaw is currently padding his Hall of Fame resume, but it is a little weird that he has the highest WHIP of all the Dodger starters (1.03, lol). Even though he's striking out 9.3 batters per nine innings, that is also the lowest tally among Dodger starters. (In case you haven't noticed, they are pretty good.) Kershaw is coming off the shortest start of his Major League career, in which he only lasted one inning. I would expect him to go longer than that on Sunday. He sees a José Quintana that…well…yeah. Not much to say about Quintana at the moment.
Edit: Ignore all of this. Kershaw is starting Saturday on short rest, and Trevor Bauer will pitch Sunday.
Dodgers Bullpen
The Dodgers bullpen consists of relief aces as David Price, Scott Alexander, Caleb Ferguson, Brusdar Graterol, Tommy Kahnle, Corey Knebel—
Sorry, those are the relief pitchers on the injured list. Wow! Their injured pitchers are probably more talented than the Angels bullpen.
Those are a lot of blown saves in the last week. The group is still incredibly stacked. Kenley Jansen decided to regain his velocity, and now he's elite again. Oh well. Try not to be behind in the late innings.
Series Prediction
The Angels will sweep the Dodgers, because baseball doesn't make any sense.
(Title photo cropped from Dodgers Twitter)