David Fletcher is one of the most fascinating players in baseball today.
From a sheer value standpoint, Fletcher has been one of the better position players in baseball since he debuted in June of 2018. Since that time, Fletcher is the 43rd-best position player by Fangraphs Wins Above Replacement (6.8), sandwiched around names such as Ozzie Albies, Max Kepler, Matt Olson, and Marcell Ozuna. By fWAR, he's been better than Jose Altuve, J.D. Martinez, and Tommy Pham. With exactly league average offensive production (100 wRC+) and above-average defense at multiple positions, Fletcher has acted like the swiss army knife for the Angels, adding immense value in the process.
I could spend the rest of this article talking about how Fletcher has improved his batting average, on-base percentage, and slugging percentage in each of his seasons. That's certainly a warranted discussion to have! Instead, I'm going to talk about the utterly freakish anomaly that David Fletcher is. I won't rehash all of the numbers in-depth but you know about the annual rising strikeout rates and home run rates in the game. Very few players are immune to these massive changes that have altered the aesthetic of the game. Fletcher, however, really is in a company of his own.
Fletcher is the game's premier bat-to-ball hitter. There aren't many guys you could realistically throw an 80-hit tool on in the game right now. Fletcher might make it on that short list. The 26-year-old Fletcher has hit for average everywhere he's been. Fletcher hit .318 with a 9.3 strikeout percentage in two collegiate seasons at Loyola Marymount. He hit .294 with a 10.2 strikeout percentage in four minor league seasons. He's hit .292 with a 10.3 strikeout percentage in his first 283 MLB games. Since debuting in 2018, only two players (minimum 1000 PA) have a lower strikeout rate than Fletcher's 10.3 mark. Fletcher has three of the top-5 individual seasons (minimum 200 PA) by whiff rates in that time. This is a track record of undeniable contact abilities, some that were probably overlooked by scouts and people within the game.
Nobody has made more contact than Fletcher since coming into the league. Since 2018, no player has posted a higher contact rate than Fletcher (91.3 percent). Only him and Michael Brantley are above 90 percent. Fletcher ranks second only to Brantley in in-zone contact rate (96 percent) and no player has made more contact on pitches out of the zone (83.5 percent). It's simply difficult to pitch to a guy who makes this kind of contact and garners good results from it. Furthermore, he also isn't a super-swing happy guy who flailing at everything just to make contact. In that same timeframe, only three players (Alex Bregman, Mike Trout, Brett Gardner) have a lower swing rate than Fletcher (37.4 percent). This is a guy who knows what he wants to do at the plate.
Because of these outrageous bat-to-ball skills, Fletcher has made contact on pitches that very few others have the ability to do. These are some of the crazy pitches that Fletcher hasn't just managed to put the bat on but actually turn these pitches into positive results.
How about this pitch low-and-away?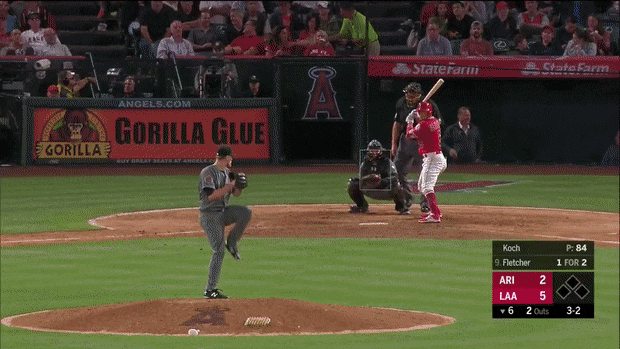 What about a 95 mph heater well above the top of the zone?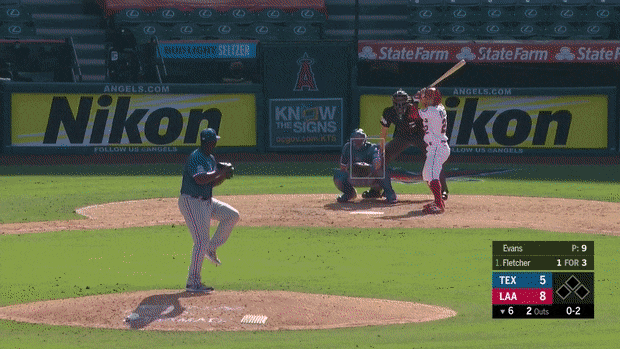 This next one is quite impressive. Nearly pulling an 83 mph change-up way in on the hands for a home run is hard to do.
But this final one is the wildest one of them all, a pitch that no hitter has any business making contact with.
Just to really emphasize that last one, here's the side angle of that ball Fletcher turned into a double.
This became a recurring theme in the shortened 2020 season. It felt like Fletcher was doing this every night. There's a preternatural ability to put the bat on pitches that are either supposed to be chase pitches or total waste pitches. Unlike the many other players who make contact on pitches like this, however, Fletcher does have a good eye at the plate. It's hard to pitch to a guy who can not only make contact on pitches like these but has also cranked up his walk rate from 4.9 percent in 2018 to 8.7 percent in 2020.
This is who David Fletcher is. He's the diminutive 5-foot-9-inch infielder who despite his career .386 slugging percentage, is one of the better and more underrated position players in the game. Not only can Fletcher get lost in the shuffle across the sport but he's even overshadowed by members of his own team. That'll happen when you play with the generational talent in Mike Trout, a top-10 position player in Anthony Rendon, and the electric two-way play of Shohei Ohtani.
Make no mistake about it though. David Fletcher is an extremely good player, one who has an absurdly good talent to make contact with any pitch in any zone.